The fennel seed is a a beautiful ingredient for bread baking – think subtle aniseed with warm, sweet aromas. This fennel seed bread recipe brings out the best of the seed's aromatic flavours. A flavoursome breakfast bread for any day of the week!
For my fennel bread recipe, I've chosen a combination of flours: strong white wheat, semolina and  maize flour. Taking a look at other bakers' recipes, there are plenty of fennel and nut combos, specifically hazelnuts (e.g. Ottolenghi's fennel seed crackers or Hamelman's hazelnut and fig bread with fennel seeds and rosemary). Dried fruits such as raisins, cherries or figs are also popular fennel seed companions (e.g. Andrew Whitley's semolina, raisin and fennel bannock). As such, I've opted for a fennel bread which includes nuts and dried fruit and it works beautifully.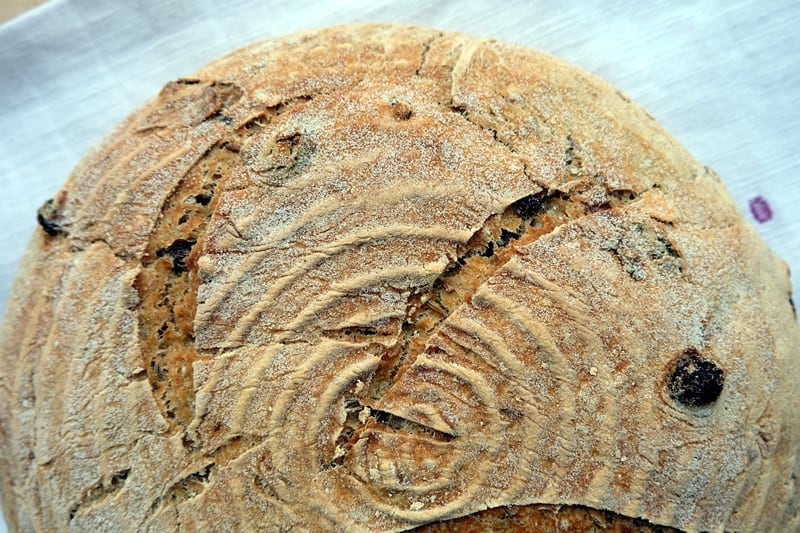 Fennel Seed Bread Recipe
My recipe uses a fruit, nut and fennel seed soaker to infuse some of the liquid that goes into the dough to extract some extra flavour from the seeds and to soften the raisins pre-bake.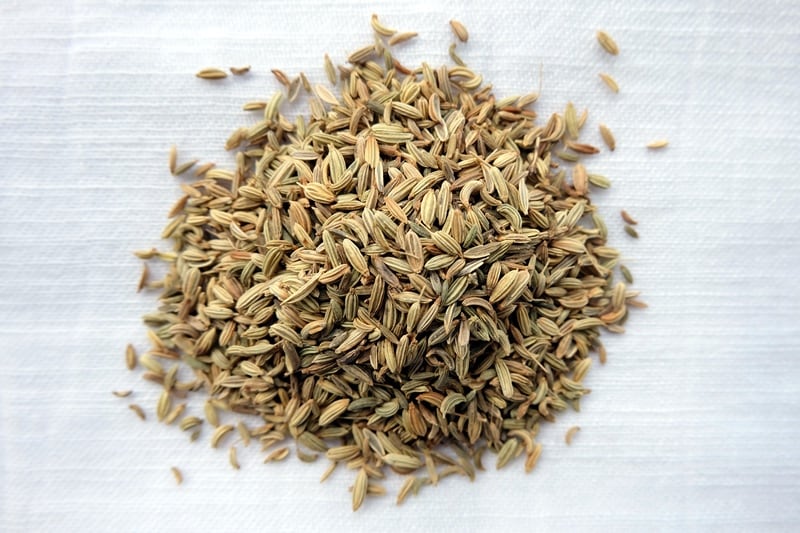 Ingredients
Soaked raisin, hazelnut and fennel seed mix
50g raisins
50g hazelnuts, roughly chopped
6g fennel seeds
100g water, hot
Main dough
325g strong white wheat flour
125g semolina
75g maize flour
9g salt
5g dried yeast
315g water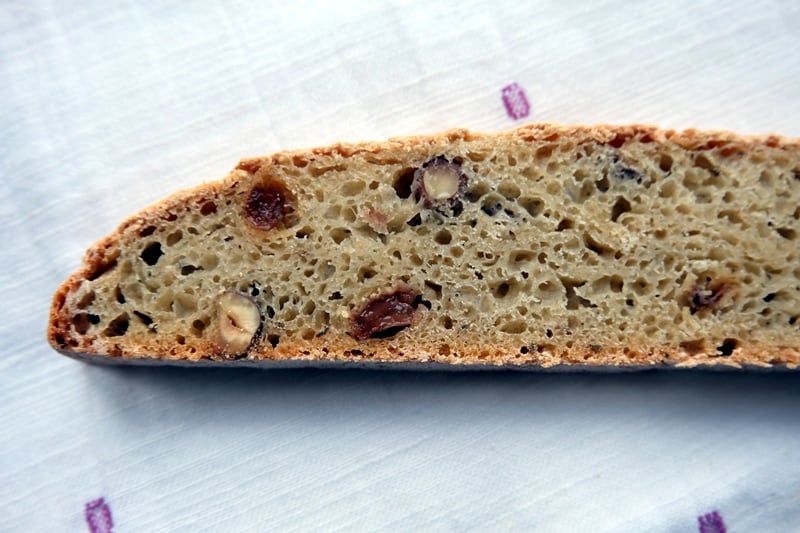 How to make fennel sead bread
Prepare the raisin, hazelnut and fennel seed soaker by lightly toasting the fennel seeds in a frying pan for a few minutes until fragrant. Transfer to a mortar and roughly crush with the pestle. Combine the fennel seeds and other soaker ingredients in a bowl, stirring before covering the bowl. Leave to rest for a few hours or overnight.
After this, combine all of the main dough ingredients and add the liquid from the soaker.
Form a dough and knead for 10 minutes.
Place in a bowl and cover for about an hour. The dough will have visibly risen by then.
Take the dough back out of the bowl and fold in the raisin, hazelnut and fennel seed soaker until distributed evenly throughout the dough.
Shape the dough into a round loaf, cover the outside with flour and place into a pre-floured proofing basket.
Cover the proofing basket in a polythene bag to prevent the dough from drying out.
Rest for an hour or two until the dough is fully proofed.
Preheat the oven to 220°C and – if you are using a baking dome – preheat the dome from cold at the same time.
Turn out the fennel seed loaf onto the baking dome plate (or otherwise a baking tray lined with baking paper) and score the bread with a scoring knife. Cover the dome if using.
Bake at 220°C for 10 minutes, then turn down the temperature to 200°C for another 45 minutes. Take off the baking dome lid for the final 10 minutes to brown the loaf nicely.
Cool on a wire rack.
Enjoy!
I also used fennel seeds in this Moroccan bread recipe.