In times like these, we are all looking for home comforts. For me, there are some recipes which always make me feel great, even preparing them brings joy. One particular favourite is Kaiserschmarrn – especially when I can have it with the traditional Zwetschkenröster (plum compote) on the side.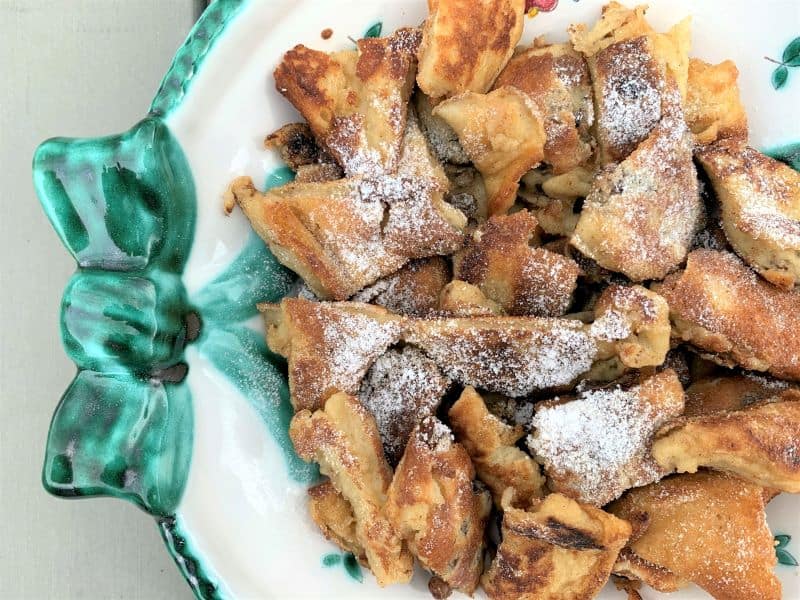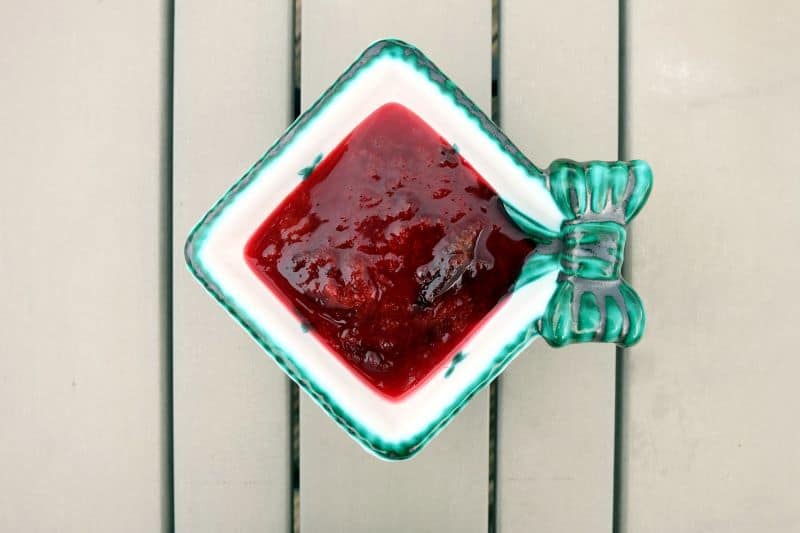 Kaiserschmarrn is a ski hut favourite, and if you are looking for some more ideas to take you back to the good old days of spending time on the slopes, you might also want to try my Germknödel recipe.
Kaiserschmarrn Recipe
This recipe makes enough for 2-3 people, but you can easily double the recipe. Please don't look for a low calorie version of this recipe. It won't be Kaiserschmarrn or taste anything like it if you don't use plenty of butter! At the same time, don't be tempted to add more sugar into the batter. Instead, you can increase the sweetness of the Kaiserschmarrn by adding icing sugar before serving. You probably won't need much sugar at all if you are serving it with plum compote.
Ingredients
Ingredients
50

g

raisins

3

tbsp

rum

I use Stroh rum or water (if you are making this for kids)

3

egg yolks

1/2

tsp

vanilla paste

1/2

tbsp

sugar

1

pinch

of salt

125

g

plain flour

250

g

milk

25

g

butter

melted

3

egg whites

2

tbsp

icing sugar

Butter

approx. 20g per pan
Instructions
How to make Kaiserschmarrn
Place the raisins in a small bowl and add 3 tablespoons of rum (or cognac if you don't have rum; or water if you are cooking for children or you don't want to you alcohol).

In a medium bowl, combine the egg yolks, the vanilla paste, half a tablespoon of sugar and a pinch of salt.

Use a hand mixer to mix until creamy.

Add flour and milk, not everything at once, but bit by bit, mixing as you go along.

Continue until you have added in all the flour and milk.

Pour in the melted butter. Don't worry if the batter is rather runny, that's perfectly fine.

Cover the bowl with a kitchen towel or lid and leave to rest for 30 minutes at room temperature.

After that time, use the hand mixer once more to briefly whisk the batter.In another medium-sized bowl, whisk the egg white to stiff peaks.

Slowly and carefully add the whisked egg whites to the main batter until fully incorporated.

Finally, add the strained raisins (i.e. without the liquid) to the batter.

Add the butter to the frying pan.

Once melted, pour in the batter – approximately 1cm high. Depending on the size of your pan, you might have enough for two pan fulls.

Over a medium heat, let that batter brown on one side without disturbing it.

Use a spatula to carefully check the browning process.

Once browned enough, quarter the batter with your spatula and turn the pieces.

Brown these pieces as well, then divide into bite-size pieces with the spatula while still in the pan.

Add a teaspoon of sugar, turn the pieces and briefly leave to caramelise briefly.

Serve with a dusting of icing sugar. If you want to keep it warm, use a baking tray lined with baking paper or a casserole dish and keep warm at 80°C (upper and lower heat is best here; don't use a fan to avoid drying the Kaiserschmarrn out).

If you have enough batter for a second pan-load, give the batter a quick whisk to distribute the raisins which have sunk to the bottom of the bowl and make sure you add more butter to the pan before pouring in the batter.
Plum Compote Recipe (Zwetschkenröster)
I've only ever made this recipe with Austrian Hauszwetschken, grown on my family's fruit trees, but I'm sure you can make an equally tasty compote with other types of plum or damsons. It's a quick and simple recipe, makes enough for several portions of the plum sauce and can easily be frozen.
Ingredients
Ingredients
125

g

water

2

cloves

1

small cinnamon stick

1

lemon

juice only

150

g

sugar

1

kg

plums

de-stoned and halved
Instructions
How to make plum compote (Zwetschkenröster)
Place the water, cloves, cinnamon stick, lemon juice and sugar in a large pot.

Bring to a boil, simmer for a few minutes, then add the de-stoned and halved plums.

Bring to a boil, then cover with a lid.

Slowly simmer until the plums have softened sufficiently.

Once the skin is coming off and curls up and the plums dissolve, the compote is ready.

Set aside to cool. Serve warm or cold.