Just before Christmas, I received a beautifully presented package from Eezi-Slice, a company centered around its founder's invention; the Eezi-Slice bread slicer. I agreed to review the bread board so here are my thoughts after having used the board for a month.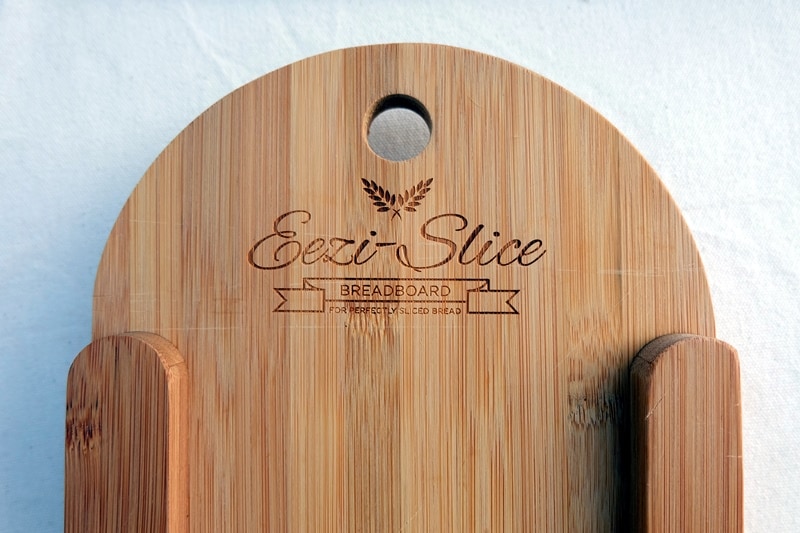 How does the Eezi-Slice bread board work?
The Eezi-Slice bread board is unique in what it does, the design is simple yet effective. The board has two sides which allows you to either cut a "thick" (19 mm) or a "thin" (12 mm) slice of bread (the maximum slice width is 127 mm). That's the simple premise. If you follow the instructions (see image below), it works perfectly every single time. It's easy to use and unexpectedly addictive!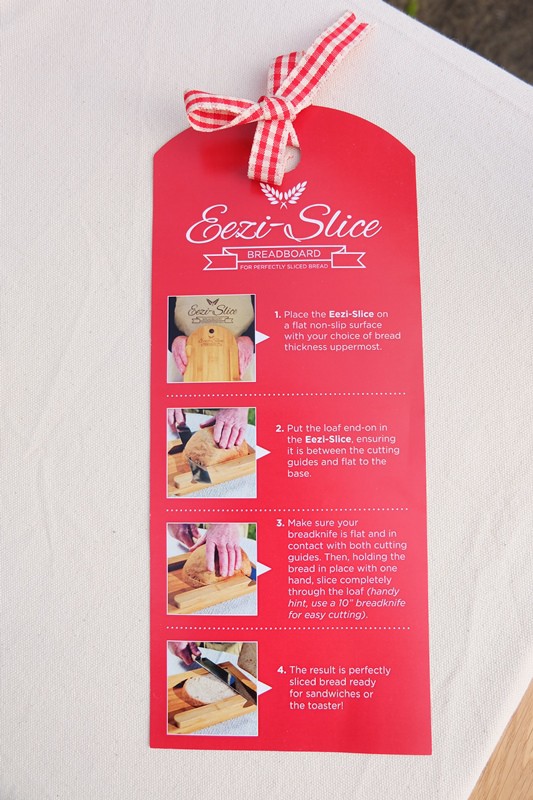 Tip: To avoid the board from sliding while cutting just put a moist sponge cloth (or other non-slip material) underneath.
See a demonstration video (by the inventor!) over on the Eezi-Slice website.
How has it performed in my test kitchen?
Having used the Pumpernickel), it absolutely delivers on all of its promises and is now the only way I cut bread.
Having uneven, sometimes broken-up slices of bread had not particularly bothered me in the past. After all, it was always predominantly about the taste for me. However, having the bread board in use has made me less anxious (who knew I was?!) about cutting up my homemade breads. The breakfast serving of bread is now completely predictable. My guests get to taste good bread which is now also impeccably presented.
It's also great for getting those unstable and shaky ends of bread loaves sliced up without the usual hassle. Just watch your fingers and lay your hand flat on the top of the bread to slice safely.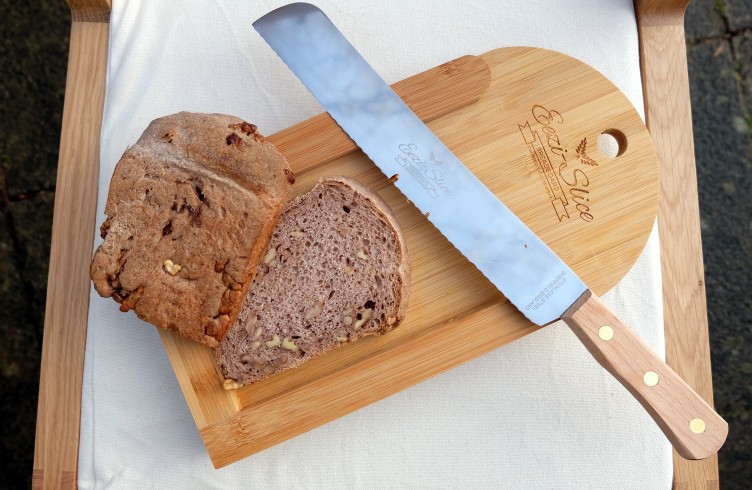 The lack of crumb catching (a feature pointed out as a must-have in this previous post on bread cutting boards) is not a huge issue as the crumbs are mostly contained by the sides (cutting guides) of the board.
The sturdy wooden board is made from sustainable sources. The website states it's made from woods 'such as bamboo', so I'm not sure if the whole board is bamboo or if other kinds of wood are used as well.
I also love the bread knife which can be acquired with the board. It's absolutely perfect for the board and cuts superbly – even through very hard crusts and stale bread loaves.
In terms of alternative bread slicing tools, I can compare it only to the electric slicer my parents have in use. The electric bread slicer does win when it comes to versatility. The bread board offers a thick and a thin slice, but my ideal slice would perhaps be somewhere in between. However, the Eezi-Slice wins on style, it saves space and is obviously specifically designed with bread in mind (always a winner in my books).
So if you are considering buying a board, rest assured it's a high-quality, well designed and highly useful utensil for the perfectionist baker, bread lover and/or host.