After a mini break from blogging due to the arrival of my sweet little baby daughter, I wanted to share my current go-to sourdough bread recipe with you. This multigrain sourdough bread has been the weekly staple loaf in our house over the last six months. It's a super easy, yet wholesome and delicious recipe which I found easy to integrate into my new-baby-routine.
As with most sourdough recipes, it's not difficult to fit the required steps into your day. A few small steps at a time, 5-10 minutes here or there, is easy to fit around even a newborn baby's needs.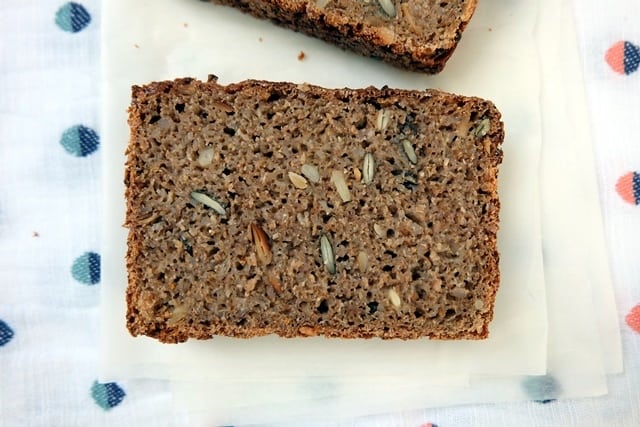 Since giving birth, I use my grain mill a lot more. I now just have bags of grains (wheat, spelt, rye, oat, barley) at home and mill to fine flour or more roughly chopped grain mixtures as I see fit. I still need to use white flours as all flours milled by the grain mill are naturally wholegrain.
Multigrain bread recipe
Don't be put off by the amount of steps needed – you will only need a few minutes at a time to bake this delicious multigrain loaf. This is a solid loaf of bread full of delicious chopped whole grains and toasted seeds. It tastes delicious with both sweet and savoury toppings.
Multigrain bread recipe
With my grain mill it's easy to make any combination of multigrain flour, three grain bread, four grain bread etc. This particular five-grain sourdough bread recipe uses a five-grain mix but you could easily use fewer grain varieties to the same effect, according to what you have at home or personal preference. The recipe for this bread is a modified version of the loaf '5-Korn-Kruste' from the book Rustikale Brote in Deutschen Landen.
Ingredients
Multigrain bread ingredients
If you are using a mill at home to prepare the flour and chopped grains

prepare the various portions as needed on the day.
For the sourdough
120

g

wholemeal rye flour

120

g

water
For the toasted seed and grain soaker
50

g

sunflower seeds

50

g

pumpkin seeds

150

g

roughly chopped grains

a combination of wheat, spelt, rye, oat, barley grain - e.g. 30g each

3

g

salt

210

g

boiling water
For the main dough
220

g

wholemeal wheat flour

80

g

wholemeal rye flour

160

g

water

13

g

salt

1

tbsp

malt extract
For the topping
A

handful of

chopped grains
Instructions
How to make multigrain bread
Day 1
Combine the sourdough ingredients in a medium bowl. Mix well and cover. Keep at room temperature for about 16-24 hours.

To prepare the toasted seed and grain soaker, toast the seeds in a frying pan (without oil i.e. dry) until they start to release their nutty smell. Take the pan off the heat and add the chopped grains and salt. Mix well, then cover with boiling water. Cover the pan and leave to rest at room temperature for 16 hours.
Day 2
Combine 240g of the refreshed sourdough with the seed and grain soaker and the other main dough ingredients in a large bowl.

Knead for 10 minutes, then cover the bowl and leave to rest for about 45 minutes at room temperature.

Prepare a bread tin (approximately 23 x 11 x 9.5 cm) and brush with sunflower oil.

Knead the dough for another 5 minutes, then shape into an oval to fit into your bread tin.

Brush the surface of the bread oval with water before rolling it in roughly chopped grains.

Place in the bread tin, cover and proof at room temperature for several hours until it has risen to the top of the bread tin.

Preheat the oven to 250C.

Bake the loaf on the second lowest oven shelf for 15 minutes at 250C. Turn down the temperature to 180C and bake for a further 45 minutes.

For a nice crust take the bread out of the tin at the end and place it back in the oven for another 15 minutes at 180C.

Cool on a wire rack.