With the coronavirus COVID-19 situation still very much unfolding, my family (including our 2-year old toddler) have been working from home now for the last 8 weeks. With lockdown fatigue firmly setting in, I wanted to share this comfort-food bread recipe with all of you. This sourdough cinnamon raisin bread is the perfect treat to cheer you up for breakfast or as part of your (new) morning or afternoon snack time. At least in our house, we now have five mealtimes a day…!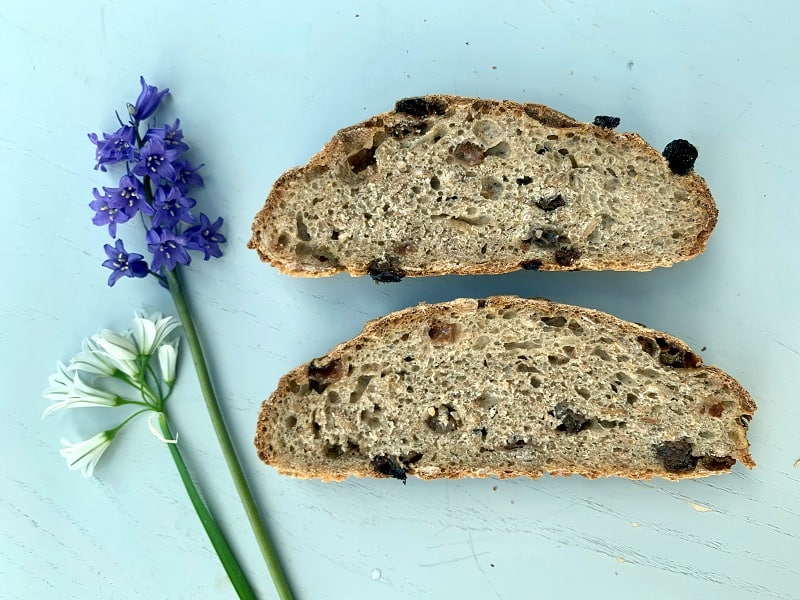 Sourdough cinnamon raisin bread – an easy but delicious treat
This easy cinnamon raisin sourdough bread recipe doesn't need yeast and you won't need many ingredients; wheat and rye flour, rye flakes or oats, cinnamon, raisins, salt and water are all you need. I like to have my sourdough cinnamon raisin bread slices toasted with butter. My husband adds a little bit of honey. Whatever way you decide to serve it, I'm sure it'll receive a 'loud, resounding cheer' (there's been a dramatic increase in storytime reading during lockdown and I find myself using Julia Donaldson's language from her books more than can be considered normal!) from all who have gathered around the table.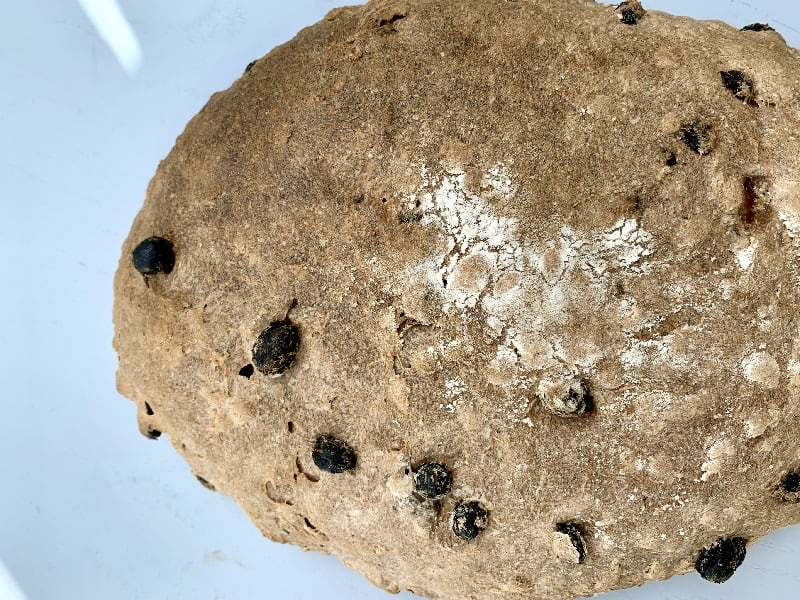 Before I share the recipe, a couple of interesting points to note about…
Baking with cinnamon
Cinnamon is a strong spice and adding it to bread dough markedly changes the flavour of the loaf.
Adding cinnamon greatly impairs yeast activity. The chemical compound 'cinnamic aldehyde' is responsible for this. If you are using a significant amount of cinnamon in your bread (e.g. 1-2% of cinnamon when compared to the flour amount), you would need to increase the amount of yeast you use, or in the case of a sourdough recipe, the fermentation process will take a lot longer. In my recipe below, I'm only using 0.4% of cinnamon based on the flour content, so the impact is minimal.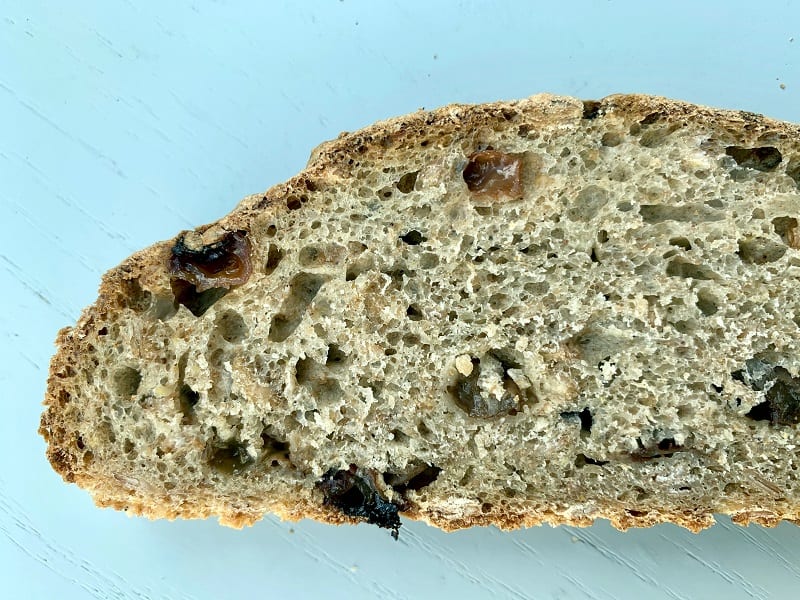 Sourdough cinnamon raisin loaf recipe
This raisin and cinnamon loaf is rich and plump with fruit, without making the raisin content an overbearing ingredient. The raisins complement the rye-infused sourdough flavours of this bread nicely, while the cinnamon offers that irresistible fragrance.
Ingredients
For your starter
50

g

sourdough starter

50

g

water

tepid

50

g

wholemeal rye flour
For the main dough
350

g

strong white wheat flour

100

g

wholemeal rye flour

50

g

rye flakes or oats

10

g

salt

125

g

raisins

2

g

ground cinnamon

375

g

water

tepid
Instructions
How to make sourdough cinnamon raisin bread
On day 1, prepare the sourdough by combining 50g sourdough starter, 50g water and 50g wholemeal rye flour in a medium bowl. Cover the bowl and leave to rest at room temperature for 16-24 hours. Your refreshed starter will be full of bubbles and will rise considerably during that time.

On day 2, start by making a raisin mush. Combine 125g raisins and 375g warm water. Leave them to soak for at least 30 minutes. You can also soak them overnight if more convenient.

Next, combine all the dry ingredients in a bowl: 350g strong white wheat flour, 100g wholemeal rye flour, 50g rye flakes or oats, 10g salt and 2g cinnamon. Use a balloon whisk to mix the ingredients together well.

Strain the raisins, but keep the raisin water.

Add 100g of your sourdough and raisin water to your dry ingredients to form an evenly combined dough.

Knead for 10 minutes.

Place the dough back in the bowl, cover and leave to rest for 1 hour.

Add the raisins and fold in until evenly distributed throughout the dough.

Lightly flour the work surface, then shape the dough into a rectangular loaf – lots of the raisins will pop out on the dough surface, but that's ok and will make for a very nice look – dip it in flour all-round, so it doesn't stick, then place on a baking tray lined with baking paper to proof.

Cover with a moist (but clean) dish towel and leave to proof for 2-4 hours depending on your room temperature.

Preheat the oven to 210°C.

Bake in the centre of the oven for 45 minutes, or until the loaf is a good brown colour and the temperature is at least 93°C. I usually cover the top of the loaf with tin foil for the last 10-15 minutes to prevent the raisins from burning.

Cool on a wire rack.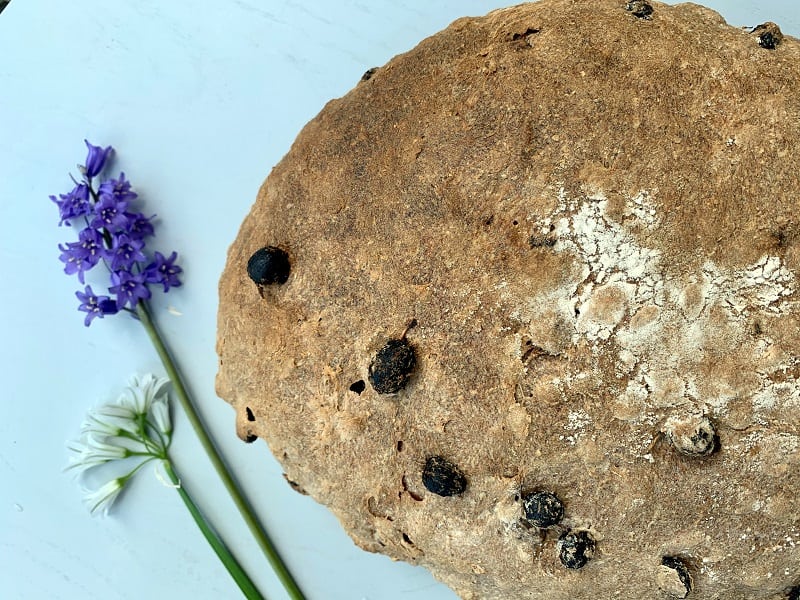 If you like fruited breads, here are some other options for you to try: