My standard mid-week breakfast consists of porridge (in the winter), granola (in the summer) and a slice of bread with butter and honey or jam. Saffron bread and a plain old-fashioned milk loaf work well as breakfast breads and so do fruit and nut breads. This dried apricot bread with walnuts – baked in honour of this month's #BreadBakers theme 'stone fruit' hosted by The Schizo Chef – is amazing for breakfast and sets you up for a nutrient-rich start into your day. It also works well with soft cheeses if you are, like me, a regular after-work, pre-dinner snacker.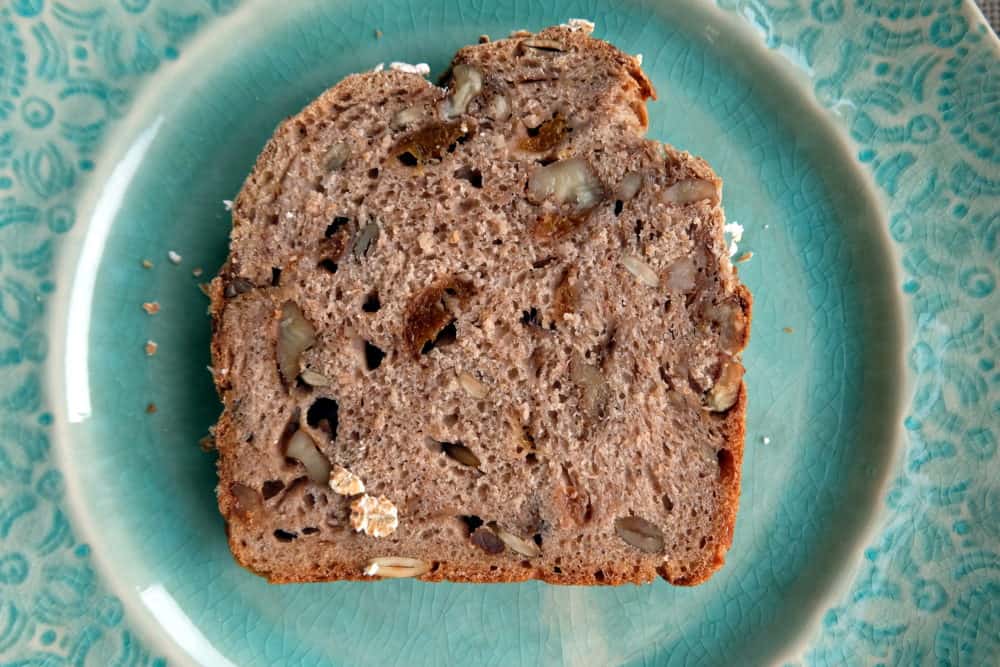 Dried apricot bread recipe with walnuts
Over the years, I have tried and tested quite a few variations of this dried apricot bread, using different types of nuts and seeds. The apricot, walnut and pumpkin seed combination gets my vote, but feel free to experiment with other nuts and seeds to create your own favourite dried apricot bread combination.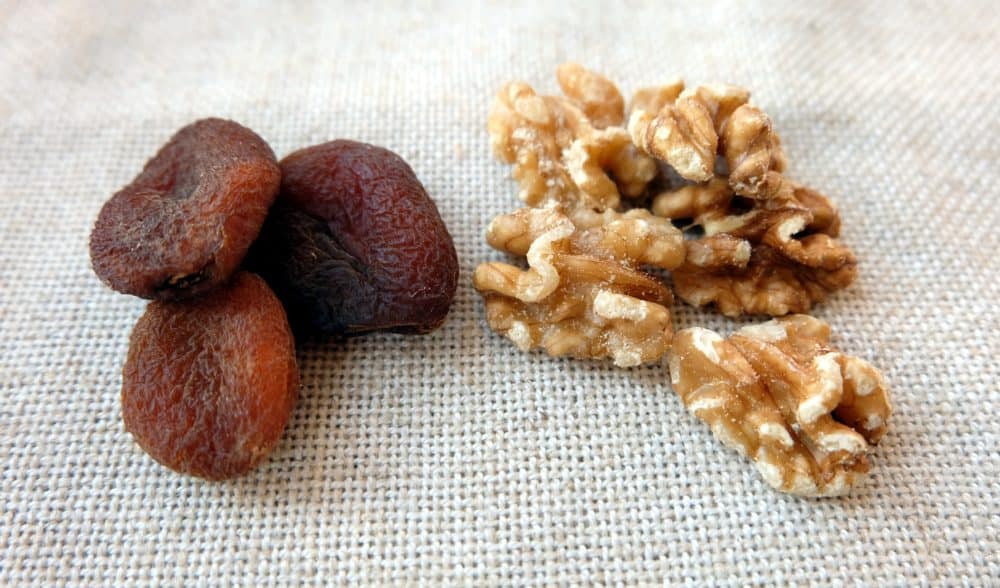 Dried apricot bread ingredients
300g strong white flour
100g wholemeal flour
100g dark rye flour
7g salt
5g dried yeast
150g whole milk, at room temperature
150g water, tepid
100g dried apricots (unsulphured and organic are best), chopped into 0.5cm dice
50g walnut halves, chopped into quarters
50g pumpkin seeds
2 tbsp oat or rye flakes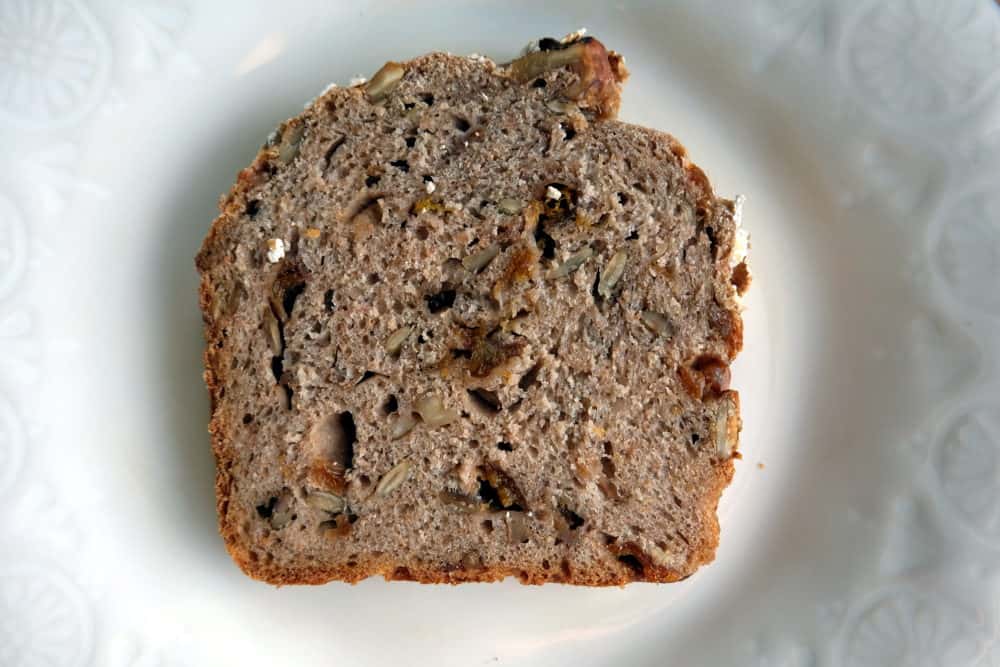 How to bake dried apricot and walnut bread
For the sponge, combine 100g strong white flour, 150g milk and 5g yeast in a medium bowl. Cover and keep at room temperature for approx. two hours until bubbly.
Toast the pumpkin seeds.
Place the apricot pieces into a large bowl and add 150g water. Cover and leave to stand at room temperature for approx. two hours until the apricot pieces have softened and soaked.
Put the apricot and water mixture through a sieve and keep the water.
In a large bowl, combine the bubbly sponge, the remaining flours (250g strong white and 150g dark rye) and salt.
Add 150g water (use the apricot water as part of this).
Prepare the dough and knead for about 10 minutes.
Add the soaked apricot pieces, the walnuts and pumpkin seeds and work into the dough until evenly distributed.
Place the dough back into the bowl, cover and leave to rest for about an hour or so.
Lightly oil a 30cm baking tin.
Punch down the dough and shape into an oblong to fit into the baking tin. It will fill roughly half of the tin. Make sure the dough is evenly filled into the tin.
Sprinkle with oats or rye flakes.
Cover with a polythene bag and set aside to proof.
After a few hours, once roughly doubled in size, it's ready to be baked. Make sure to preheat the oven in time.
Bake for 10 minutes at 240°C, then for a further 40 minutes at 200°C.
Cool on a wire rack.
#BreadBakers – Stone Fruit
#BreadBakers is a group of bread loving bakers who get together once a month to bake bread with a common ingredient or theme. Follow our Pinterest board right here. Links are also updated each month on this home page.
We take turns hosting each month and choosing the theme/ingredient.
If you are a food blogger and would like to join us, just send Stacy an email with your blog URL to foodlustpeoplelove@gmail.com.