My childhood memories of Kletzenbrot, an Austrian Christmas fruit bread, are somewhat limited as I was never a huge fan. The Kletzenbrot (which translates as 'dried pear bread') I was typically presented with was always just a little bit too full on for me, too fruit-laden and too overpowering in terms of spices. Kletzenbrot of this kind consists of a fruit-only centre with just a thin layer of dough covering the moist, squidgy mixture. I like a bread with plenty of dough, where the fruit plays an important but supporting role, hence the reason for my dislike! Baking bread at home has allowed me to create my own version of the traditional classic Kletzenbrot recipe. Here is my take on Kletzenbrot, the way I like it.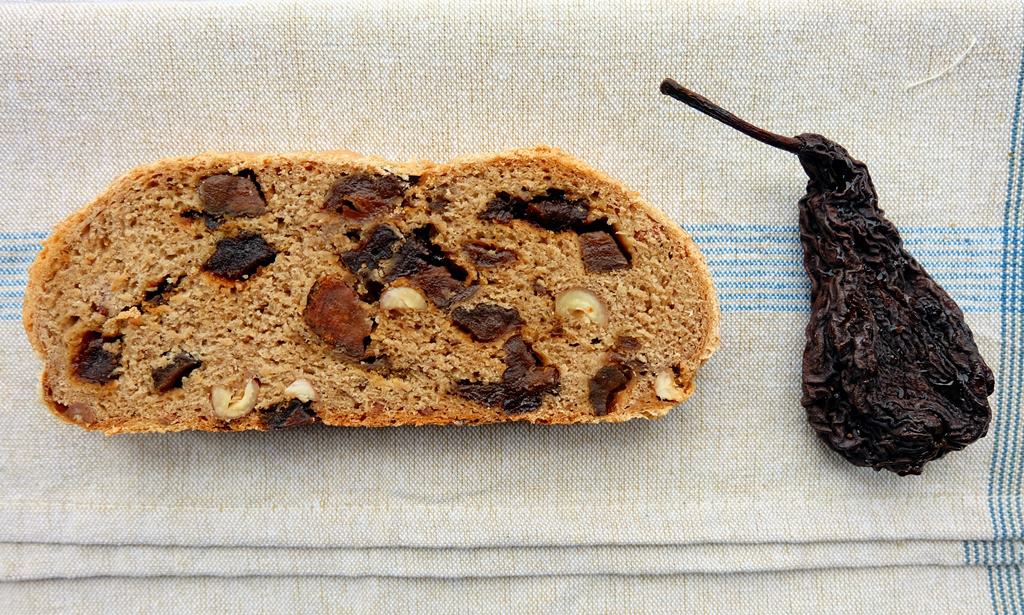 A variety of fruit is commonly used for making Austrian Kletzenbrot including dried pears, figs, dates and raisins. I've always found that the dried pears are a little bit lost in this mix and I wanted their taste to take centre stage. Kletzenbrot should be all about the Kletzen – don't you agree?
Therefore, this is a Kletzenbrot recipe for purists – chunky bits of dried pear (no other fruit) baked into a lightly spiced rye and wheat dough. Try my version of Kletzenbrot – it's a lovely fruit bread all year round.
Where to buy Kletzen?
I usually buy Kletzen in a local market in my home town in Austria. These are different from standard dried pears as Kletzen are made from specific old pear varieties which are grown on Austrian farms specifically for drying. These pears have a firm peel and pulp and a high sugar content but are not usually consumed raw. Instead, they are dried with the peel. If you would like to get the real deal but you don't have access to an Austrian farmers' market, you can order Kletzen online from this Austrian specialties shop.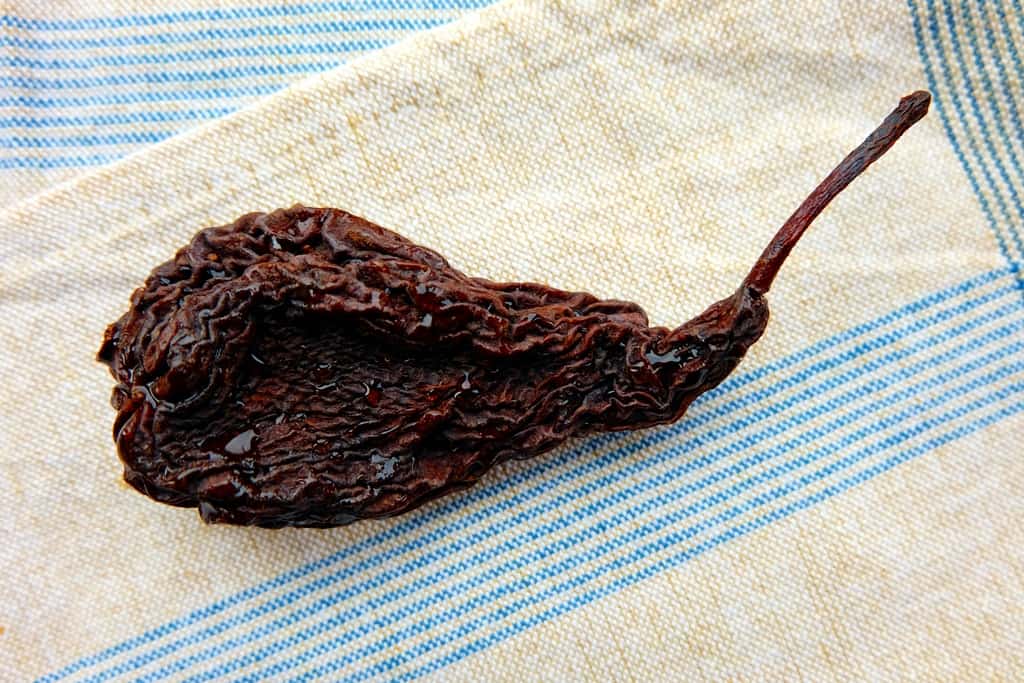 Kletzenbrot Recipe
My Kletzenbrot recipe is prepared with a yeasted dough and, although there are quite a few steps involved, you can complete the bread in an afternoon.
If you prefer more fruit in your loaf, you can easily increase the fruit content. Use the same dough quantities but with more fruit (and nuts) to achieve a fruitier loaf.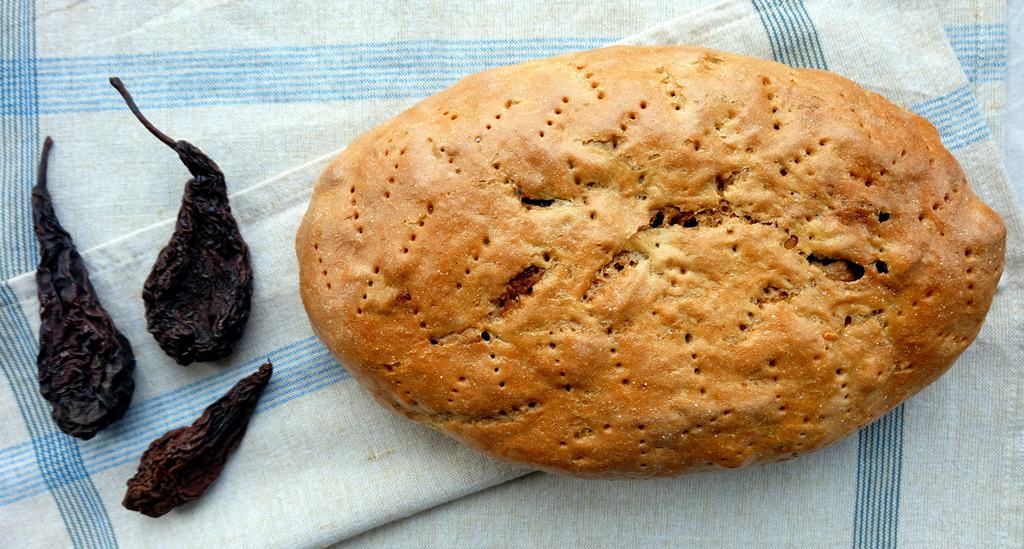 Kletzenbrot Recipe
Make this delicious Austrian Christmas fruit loaf in the run up to Christmas or enjoy any time of the year as a breakfast bread. The Kletzenbrot recipe may seem complicated, but it'll all come together quite easily, give it a go!
Ingredients
For the main dough
350

g

white rye flour

150

g

strong white wheat bread flour

7

g

dried yeast

6

g

salt

Spices:

1/2 tsp ground cinnamon, 1/2 tsp ground coriander, 1/2 tsp ground cloves, 1/2 tsp ground anise

325

g

water

use the water from the fruit and nut mix
For the dough shell
100

g

wheat flour

50

g

rye flour

2

g

dried yeast

A pinch of salt

90

g

water
For the filling
250

g

dried pears

chopped into small pieces

50

g

hazelnuts

cut into halves

40

g

rum
For brushing
65

g

water

3

g

potato starch

3

g

sugar
Instructions
How to make Kletzenbrot Christmas Fruit Loaf
Place the fruit and nuts into a pot, add the rum and enough water to cover the fruit and nut mixture.

Boil up briefly and simmer on a very low heat for 45 minutes.

Strain and keep the liquid so you can use the fruity water for the dough.

Prepare the main dough using the flours, yeast, salt, ground spices and the fruity water. Add more water to make up the required quantity if you don't have enough sieved water.

Knead for about 10 minutes, then add the fruit and nut mix until evenly distributed.

Place the main dough into a large bowl, cover and leave to rest for about 1 1/2 hours at room temperature.

In the meantime, prepare the dough for the outer layer (see ingredients for the dough shell) by combining the flours, yeast, salt and water.

Knead for 10 minutes, then place the dough into a small bowl and leave to rest for about 1 1/2 hours at room temperature.

Go back to the main dough once risen, punch down and divide the dough into two equal parts.

10. Shape each part into a flattish oval loaf and place them on two baking trays lined with baking paper.

11. Take the dough you prepared for the outer layer of the loaf. This is going to be the outside hull which is going to be used to avoid the fruit from burning. Divide into two equal parts and, with a rolling pin, roll out the dough to about 3 mm in thickness. Roll out with a view to wrap the two fruit loaves you prepared, then gently cover the loaves. The dough shell doesn't need to cover the fruit dough at the bottom, simply tuck in the outer layer so it doesn't peel off during the bake. Finally, make sure the outer and inner dough parts are well connected.

12. Use a fork to make a decorative pattern on each of the loaves.

13. Rest for 30 minutes and preheat the oven to 190°C in the meantime.

14. Brush the loaves with water and bake at 190°C for 10 minutes. Turn down the heat to 170°C and bake for a further 25 minutes. Cover the loaves with tin foil in case they brown too quickly.

15. Just before you take the loaves out of the oven, prepare the mixture for brushing by bringing the water, potato starch and sugar to the boil. Watch carefully and take it off the heat as soon as it has gelatinised.

16. Brush on the mixture when the loaf is still hot.

17. Cool on a wire rack.

18. Serve with butter, it's delicious!