Dark chocolate and sour cherry is one of my favourite flavour combinations. You will know how well they work together if you have ever tasted a good Black Forest Gateau. When the Bread Bakers Facebook group opted for the topic 'cacao' this month, I wanted to bring these flavours to life in a swirl bread and decided to adapt a stunning Ploetzblog recipe for chocolate & cherry swirl bread rolls. The recipe was inspired by the blooming cherry trees in North Rhine-Westphalia and I can't wait for this year's blossoms to perform their annual show!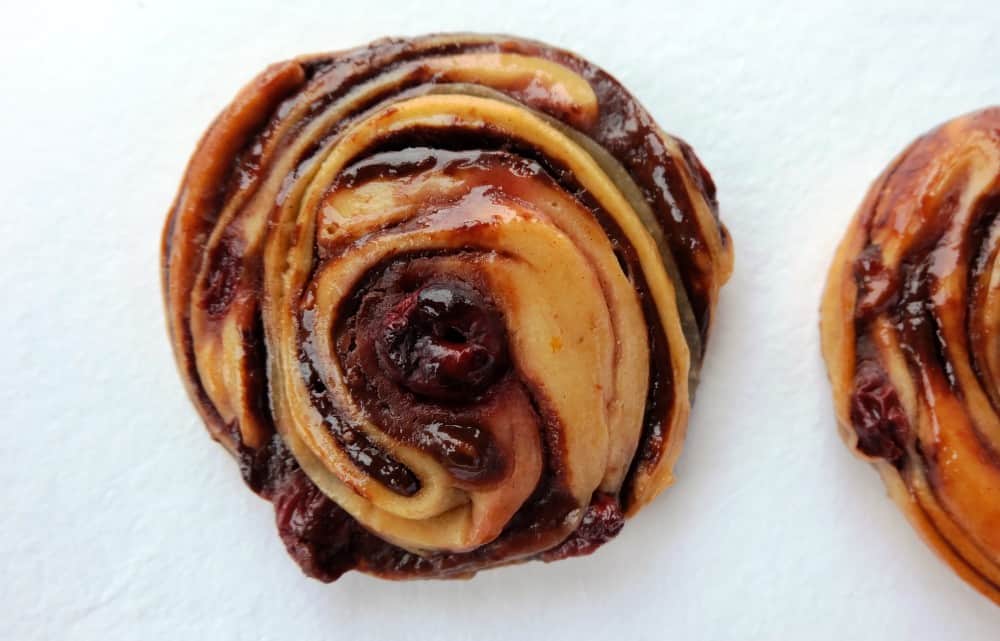 There is a good bit of time and effort involved in making these chocolate & cherry swirl bread buns, but they are exquisite and light so well worth the effort. I truly love how the flavours of cacao, dark chocolate and sour cherries come together in these swirling beauties.
Chocolate & Cherry Swirl Bread Recipe
Ingredients
Sponge
35g strong white wheat flour
50g whole milk
1 pinch dried yeast
Water roux
15g strong white wheat flour
75g water
Chocolate dough
1 egg white
20g strong white wheat flour
80g water
20g cacao
50g sugar
10g butter
15g good quality dark chocolate
Cherry dough
1 egg white
20g wheat starch
100g sour cherries from a jar (de-stoned)
80g cherry juice (from the jar)
35g sugar
40g strong white wheat flour
10g butter
Main dough
250g strong white wheat flour
25g whole milk
3g dried yeast
75g cream
1 egg yolk
40g sugar
3g salt
Jam glaze
1 tsp apricot jam
1/2 lemon, juice
2 tsp water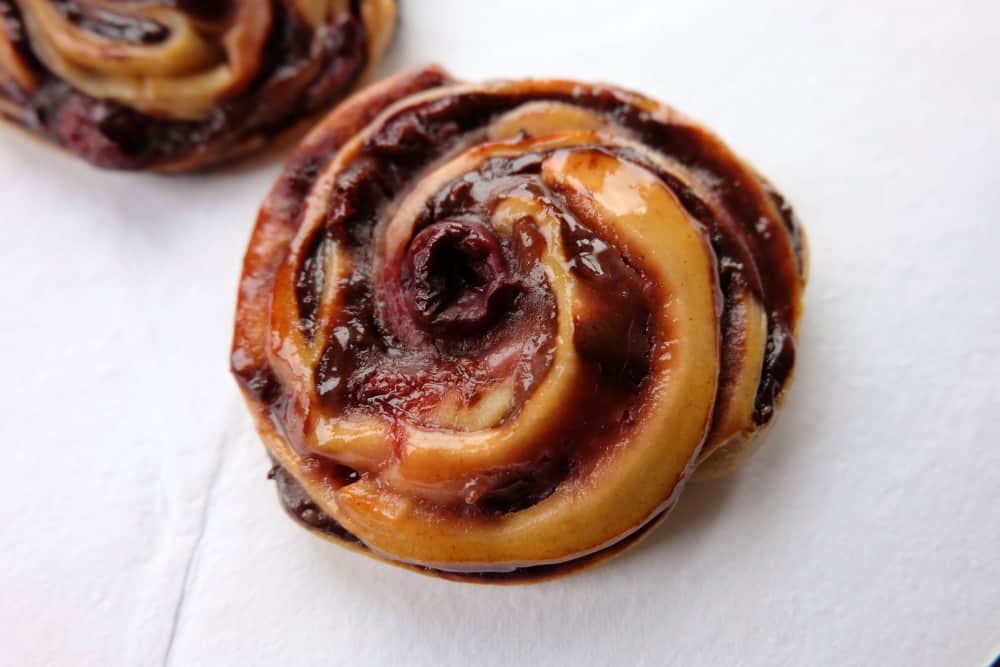 How to make chocolate & sour cherry swirl breads
Day 1
Make the sponge by combining the sponge ingredients in a small bowl. cover and put into the fridge to rest for 16-18 hours.
Prepare the water roux by combining the flour and water in a small saucepan. Mix well then heat up on a medium heat, stirring all the time until it has thickened. Place in the fridge overnight .
Prepare the chocolate dough. Combine the egg white and flour in a small bowl, stirring until there are no lumps. Combine the water, cacao and sugar in a medium saucepan and bring to the boil on a low heat, stirring while you do so. Add the egg white and flour mixture and stir until the mixture thickens. Then, on a low heat, add the butter and chocolate and stir until viscid (continue until the mixture has thickened; it should no longer be liquid but still spreadable; if the mixture is not thick enough it will be difficult to contain within the main dough later). Prepare a piece of cling film, spread the mixture to a square of 20 x 20 cm. Cover with another piece of cling film and store in a cool place.
Prepare the cherry dough. Combine the egg white and starch in a small bowl, mix until there are no further lumps. Squash the cherries with a fork, then combine with the juice, sugar and flour in a small saucepan. Heat up on a low heat, then add the egg white and flour mixture. Finally, add the butter and stir continuously to the same consistency as the chocolate dough. Spread on cling film in the same way, cover and store in a cool place.
Day 2
Prepare the main dough by combining the sponge, water roux and all main dough ingredients except the sugar and salt. Knead for 10 minutes.
Add the sugar and salt and knead for a further 5 minutes.
Shape into a ball, place in a bowl, cover and leave to rest for 1 hour at room temperature.
Deflate the dough and roll out to 25 x 40 cm. You can follow visual instructions here.
Place the chocolate and cherry dough plates on top of each other onto the centre of the dough.
Flap the right and left dough corners over the two plates.
Now roll out the dough to a 1 cm thick rectangle.
Fold like a letter (fold the left third of the dough to the middle then the right third over the folded dough).
Repeat the rolling and folding two more times.
Roll out the dough to 30 x 30 cm.
Roll from one side into a Swiss roll shape.
Cut off 2 cm thick slices and place each slice on baking paper (to fit your baking tray).
Decorate with cherries.
Cover and leave to proof for 90 mins.
Preheat the oven to 180°C.
Bake for 20 mintues.
In the meantime, prepare the glaze by combining the jam, lemon juice and water in a small saucepan. Heat up until it has a gooey consistency. Sieve.
Cool the freshly baked swirls on a wire rack and brush with the glaze while still warm.
Invite your friends around so you can have them all while they're fresh!
Breads with Cocoa, Cacao or Carob in any form
Breads with Cocoa, Cacao or Carob in any form
#BreadBakers is a group of bread loving bakers who get together once a month to bake bread with a common ingredient or theme. Follow our Pinterest board right here. Links are also updated each month on this home page.
We take turns hosting each month and choosing the theme/ingredient.
If you are a food blogger and would like to join us, just send Stacy an email with your blog URL to foodlustpeoplelove@gmail.com.