This is a wonderfully easy and delicious recipe I put together for my friend Victoria. Having tasted an exceptional date and walnut bread on a recent trip to the Scottish Highlands, Victoria was looking to replicate this delectable treat at home. It's always nice to be inspired by food when you're travelling and even better to recreate it back in your own home.
This easy date and walnut bread recipe uses white wheat flour and wholemeal rye flour. Chopped dates and walnuts are soaked before being added to the dough. The result is a moist, sweet and nutty loaf of bread. Works great with soft cheeses.
If you are baking this date and walnut bread, make sure you take the time to soak the dried dates and walnuts before adding to the dough in order to prevent them taking moisture from the dough itself during the bake.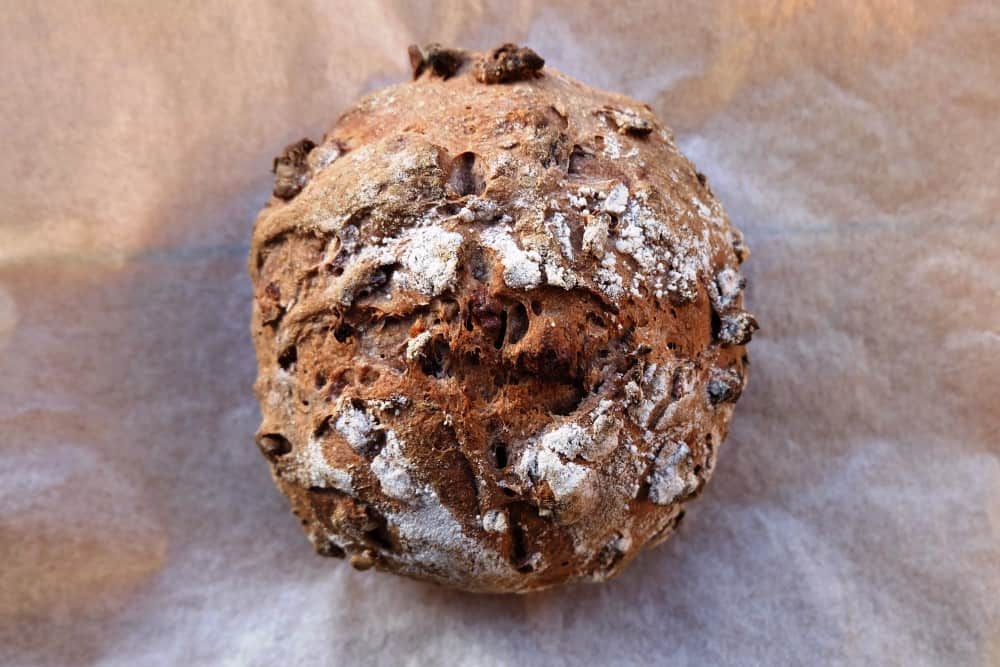 Date and walnut bread recipe
Don't be alarmed if the dough is quite soft and sticky, it's meant to be like that. It's due to the high rye flour content. When you add the pre-soaked dates and nuts, it'll get particularly squidgy, but stick with it, it'll all come together in the end.
Ingredients
Ingredients
300

g

strong white wheat flour

200

g 

wholemeal rye flour

7

g

dried yeast

8

g

salt

370

g

water

50

g

shelled walnuts

chopped into quarters

125

g

dates

chopped into thirds
Instructions
How to make date and walnut bread
Place the chopped dates and walnuts into a medium bowl. Add 175g of the water, mix well, then cover the bowl. The fruit and nuts should be covered by the water. Leave overnight or for at least 4 hours.

Once soaked, strain the fruit and nut mix and set aside. Make sure to keep the strained water for the dough. It'll add extra flavour to the bread.

Combine the flours, yeast, salt and water (use the strained date and walnut water and add additional water to make up 370g in total) in a bowl. The dough should be quite firm at this stage, although it will be slightly sticky due to the rye content.

Turn the dough out to your working surface and knead for 10 minutes. Use a dough cutter or two to handle the dough.

Shape the dough into a ball, place it back into the bowl, cover and rest for 30 minutes. The dough will visibly expand during that time.

After this 30 minute rest, carefully work the moist date and walnut mix into the dough. This isn't the easiest task but combine it all until the dates and walnuts are evenly distributed. More moisture is being added to the dough here from the soaked fruit and nuts, so it's a very squidgy task.

Once incorporated, shape the dough into a ball, place it back into the bowl, cover and rest for 1 hour or more until the dough has grown significantly in size.

Turn out the dough onto a floured surface.

Use your

dough cutter

to divide the dough into two even parts.

With floury hands, shape each part into a neat round loaf. Try to cover the outside of the dough with a thin layer of flour to help with the shaping but try not to fold any additional flour into the dough itself. It'll become much easier to handle once you flour the outside.

Place the date and walnut loaves on a baking tray covered with baking paper. I usually try to fit both loaves onto one sheet of baking paper. Leave enough space between the loaves and the baking tray edges to allow for expansion.

Cover with a clean kitchen towel and prove for 1 hour or more. The loaves will almost double in size during this final proof.

Preheat the oven to 220°C  approximately 1/2 hour before baking.

Score the loaves at the top, a simple cross pattern works well.

Bake at 220°C for 10 minutes, then turn the temperature down to 200°C for a further 25 - 30 minutes until the loaf has fully baked through (I use my

Thermapen

to ensure the loaf is at least 95°C in the centre).

Cool on a wire rack.
Bestseller No. 1
Bread Baking Kit Gift Set | 9" Banneton Bread Proofing Basket | 2 Baguette Baking Pan | Bread Lame | 100% Flax Linen Couche Made in France | Dough Scraper | Dough Cutter
Banneton Proofing Basket with Linen Liner – All natural non-toxic splinter-free authentic Indonesian rattan banneton is used to shape a round boule loaf during the rising process and also to wick excess moisture away from the dough, producing an excellent crust. Use without the liner to get the traditional spiral design or with the liner for a smooth boule. Dimensions: 8-1/2" diameter x 3-1/2" deep (22 x 9 cm).
100% Linen Baguette Couche – Shape perfect baguettes, the French way, using this authentic French linen couche during the rising process. Made in France. Dimensions: 16" x 24" (40 x 60 cm).
Bread Lame Scoring Tool – Create decorative patterns in your baguette or boule using a traditional bread lame dough scoring tool. Made from 100% Stainless Steel. Dimensions: 7" (18 cm) Includes 1 blade.
Baguette Pan - Finish your baguettes by baking them on a specially designed non-stick aluminum pan. Designed to bake two perfectly shaped baguettes. Vented design allows air to circulate around the bread, creating an excellent crust. Dimensions: 15" long x 6.5" wide (38 x 16 cm).
Stainless Steel Dough Cutter and Scraper Tools – Scrape, manipulate, divide, and move dough effortlessly using the dough scraper and cutter tools Made from 100% stainless steel and heat proof BPA-free Silicone. Scraper Dimensions: 4" x 5" (10 x 13 cm). Cutter Dimensions: 4.5" x 6.5" (12 x 16 cm).
Sale
Bestseller No. 2
Sale
Bestseller No. 3