This week I'm celebrating sweet breads with #twelveloaves and I have chosen to bake this wonderful saffron bread. Saffron adds a mellow, slightly bitter taste to the bread which works well with the sweetness of the raisins. This saffron loaf is a beautiful breakfast bread, delicious with honey.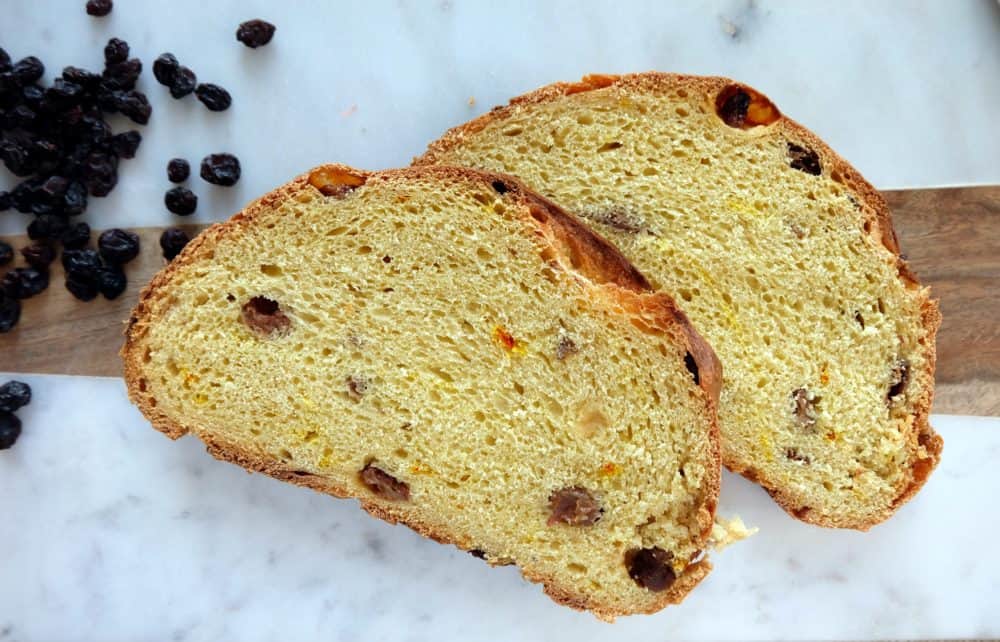 Breads similar to this are traditionally served in Sweden on December 13 to commemorate St. Lucia.
Saffron bread recipe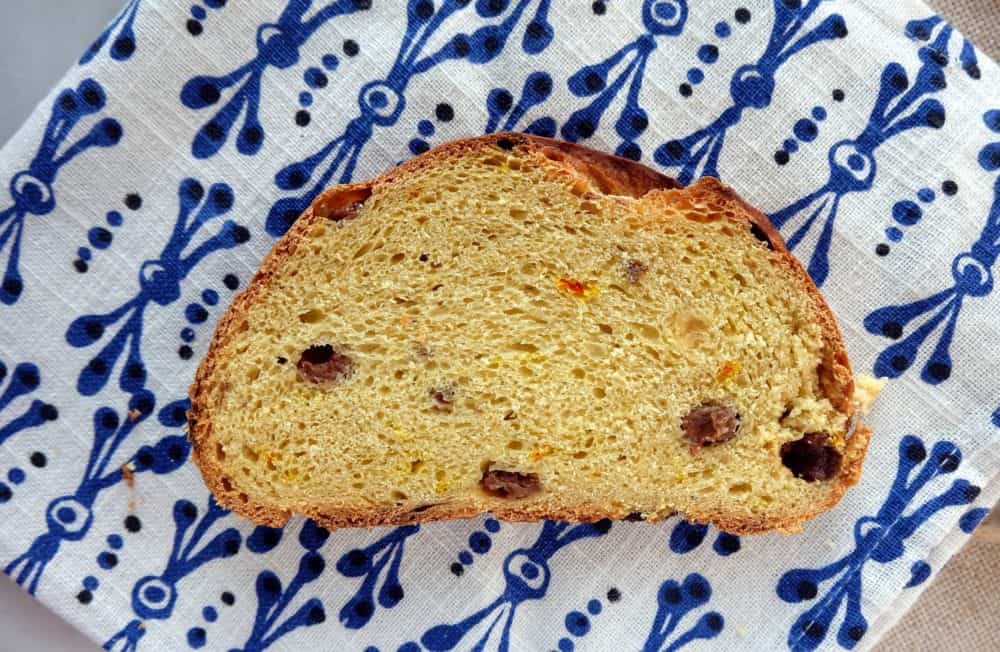 Saffron bread ingredients
Sponge
100g milk, lukewarm
1g dried instant yeast
100g plain flour
Dissolve the yeast in the lukewarm milk. Add the flour and mix well. Cover and rest for an hour or more until frothy.
Saffron infusion
1/2 teaspoon saffron threads, broken up (I would recommend not using more than this as the bread can otherwise have a very overpowering saffron taste – a little saffron can go a long way)
50g raisins
150g hot milk
In a small bowl, pour the hot milk over raisins and saffron threads and let stand for 10 mins to release the saffron's natural colour and aroma.
Final dough
250 strong white bread flour
1 tbsp runny honey
A pinch of salt
30g butter, softened
Just before baking: 1 egg for the egg wash
How to bake saffron bread
Combine the sponge, saffron infusion and final dough ingredients in a large bowl.
Knead for 5-10 mins until have a smooth and elastic dough.
Place back in the bowl and leave to rest for approximately 1 hour or longer, depending on the temperature in your room, until well risen.
Knock down the dough and shape into a boule or loaf. Traditional Swedish loaves are shaped into an S-shape; however, I prefer a simple round loaf.
Place on a baking tray lined with baking paper, cover with a tea towel and proof until the loaf has sufficiently increased in size.
Preheat the oven to 200°C half an hour before baking.
Brush the loaf with egg wash just before baking, then bake for 25 mins at 200°C then turn the heat back slightly to 190°C for another 25 minutes. After 25 minutes you may also want to cover the loaf with tin foil to ensure the crust is not darkening too much.
Cool your saffron-infused, raisin-studded bread on a wire rack and enjoy!
#TwelveLoaves is a monthly bread baking party created by Lora from Cake Duchess and runs smoothly with the help of Heather of girlichef, and the rest of our fabulous bakers.
Our theme this month is A LITTLE SOMETHING SWEET. For more bread recipes, visit the #TwelveLoaves Pinterest board, or check out last month's mouthwatering selection of #TwelveLoaves Mexican Breads!
If you'd like to bake along with us this month, share your "A Little Something Sweet" Bread using hashtag #TwelveLoaves!