At home in Austria for the week, I was keen to bake some traditional Austrian Schwarzbrot (black bread) with my family. It was a good team effort! My grandmother provided the recipe for Hausbrot, my mum prepared the rye sourdough and got the various ingredients ready and I did the dough work.
There are many different recipes for Austrian Hausbrot ('bread of the house') but all of them have the following ingredients in common –
A variety of flours whereby rye flour is always used but usually mixed with wheat or spelt flour
Sourdough
Yeast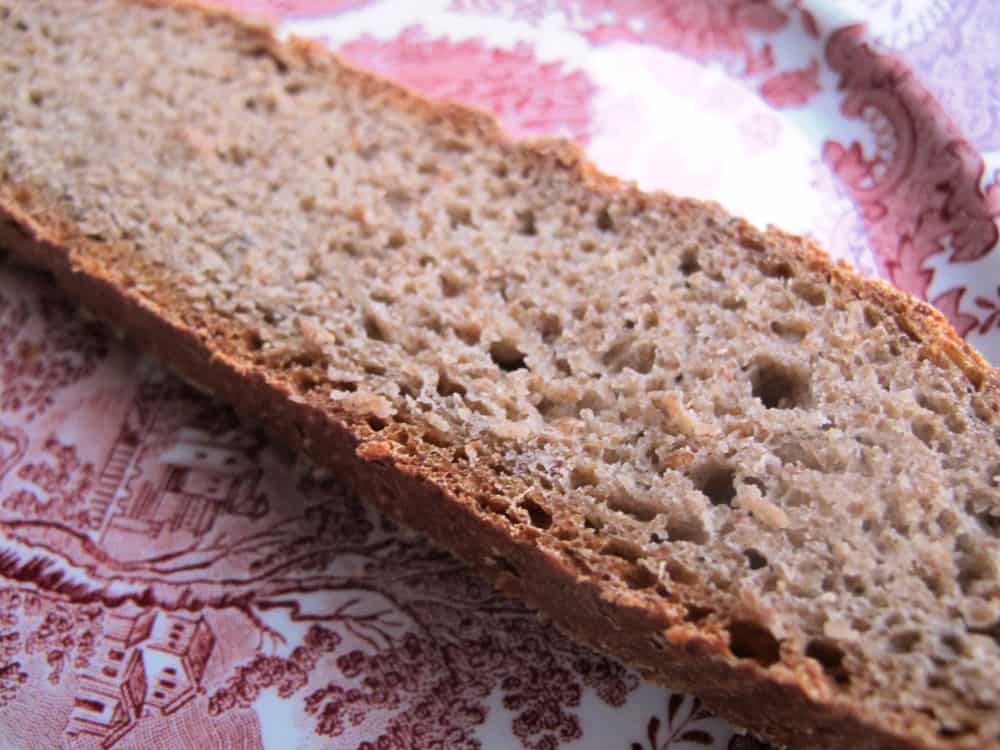 Typically, proving baskets/bannetons (called Simperl or Gärkörbchen in German) made of cane or rattan are used to rest and prove the bread and mould its final shape. These bread baskets come in round or oval shapes and different sizes. Proving baskets are perfect for soft and loose doughs and give your bread loaves uniform-ish shapes.
Hausbrot Austrian Schwarzbrot Recipe
A true taste of Austria, try this Austrian bread recipe (my grandmother's authentic family recipe) with a creamy Austrian potato soup or hearty Goulash soup.
Hausbrot ingredients
Sourdough
250g wholemeal rye flour
250g water
Sponge (preferment)
1g dried yeast
150g wholemeal wheat flour
150g water
Remaining dough ingredients
150g plain wheat flour
100g white rye flour
8g salt
3g dried yeast
1 tablespoon fennel seeds, lightly crushed with a pestle and mortar
1 tablespoon Austrian bread spices
How to make Austrian black bread: Hausbrot
24 hours before the bake
Prepare the sourdough and preferment in two separate bowls and cover. Keep at room temperature for about 16-24 hours.
Baking day
Combine 500g of the sourdough (the rest goes back into the fridge for your next bake), the preferment, plain flour, rye flour, salt, yeast, fennel seeds and Austrian bread spices to make a soft dough.
Knead for approx. 10 minutes. The dough will be quite sticky due to the high rye flour content in this recipe but should be manageable.
Shape the dough into a ball and place it into a bowl, cover and keep at room temperature until it has doubled in size (approximately 1 to 2 hours depending on the temperature of the room).
Prepare the proving basket by lightly dusting it with flour. If you don't have such bread baskets to hand, you can also use a bowl lined with a kitchen towel and flour. This technique will support the shape of the dough and will ultimately avoid that the dough flattens when it expands.
Give the dough another quick knead and form a loaf.
Cover the dough surface with flour (I tend to do this on a floured work surface and with floury hands) and place it in the proving basket.
Leave to rest for another 2 hours or so for the bread's final prove. Again, this may take longer depending on your room temperature.
20 minutes before baking, preheat the oven to 250°C. If you have a La Cloche baking dome, preheat this in the oven from cold at the same time. If you don't have a baking dome, preheat a baking tray.
Turn out the loaf from the proving basket onto the hot baking dome plate or baking tray (line the tray with baking parchment first).
Score the dough with a bread scoring knife and cover with the baking dome if using.
Place in the oven and bake for 10 minutes at 250°C and for another 50 minutes at 200°C.
Cool on a wire rack.
Wait until the next day to cut and eat the bread.