This is simply the best potato soup ever. It's made entirely without the help of ready-made stock. Instead, lots of fresh vegetables, herbs and spices are used to give it its wonderfully wholesome taste!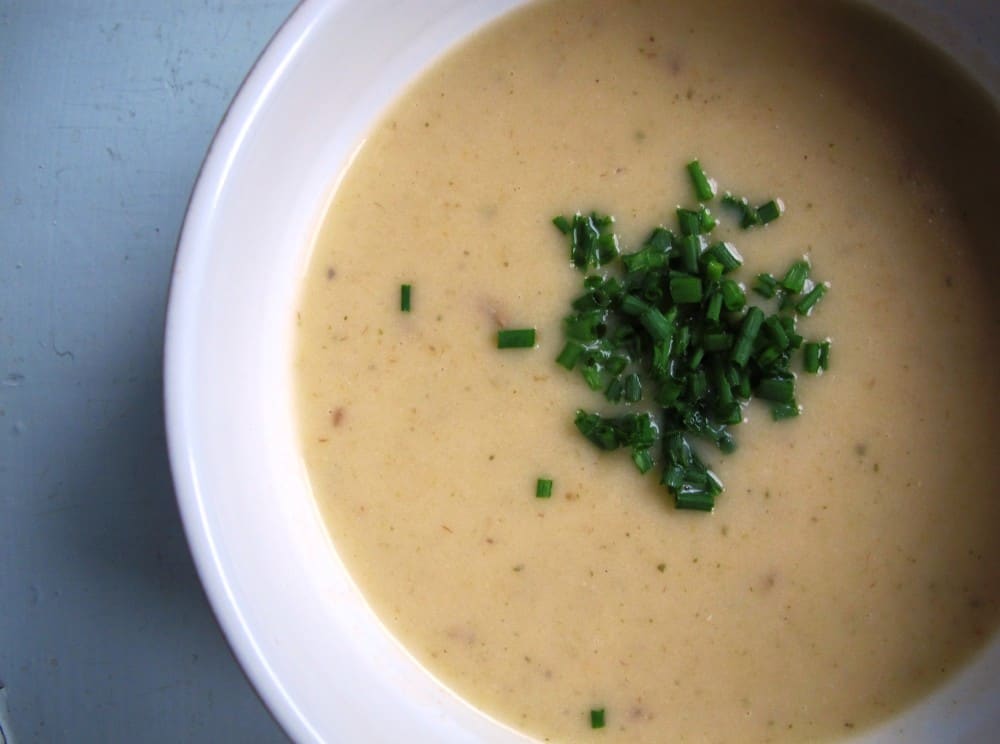 My Mum's Austrian Potato Soup (makes 8 large portions)
Ingredients
750g potatoes, peeled
1/4 celeriac
1 celery stick with some of the leaves
1 small leek
1 small carrot
1 small onion
1 garlic clove
1/2 root parsley
A few lovage leaves
1 tbsp caraway seeds
2 bay leaves
3 juniper berries
8 pepper corns
Water
3 tbsp balsamic vinegar
A few good splashes of Worcester sauce
6 tbsp sour cream
3 tbsp cream
Salt
How to make Austrian Potato Soup
Roughly chop the vegetables (potatoes, celeriac, celery stick, leek, carrot, onion, garlic, root parsley) and place them in a large pot.
Add the lovage leaves, caraway seeds, bay leaves, juniper berries and pepper corns.
Add water to cover the vegetables, herbs and spices.
Add 1 tbsp of salt, stir well, then bring to the boil and simmer for 45 minutes.
Take out the bay leaves, then puree the soup.
Add the vinegar, Worcester sauce, sour cream and cream and puree again.
Season to taste.
Pumpernickel Croutons
A few slices of pumpernickel or similar dark rye bread, cut into cubes and lightly toasted.
Enjoy! For me, this potato soup is synonymous with the very best flavours of home. It's perfect for autumn and winter evenings.