Looking for a bread recipe full of wholesome goodness? This loaf of brown seeded wholemeal bread is bursting with healthy seeds and kernels. Great for using up the various bits and pieces you might have waiting in your store cupboard!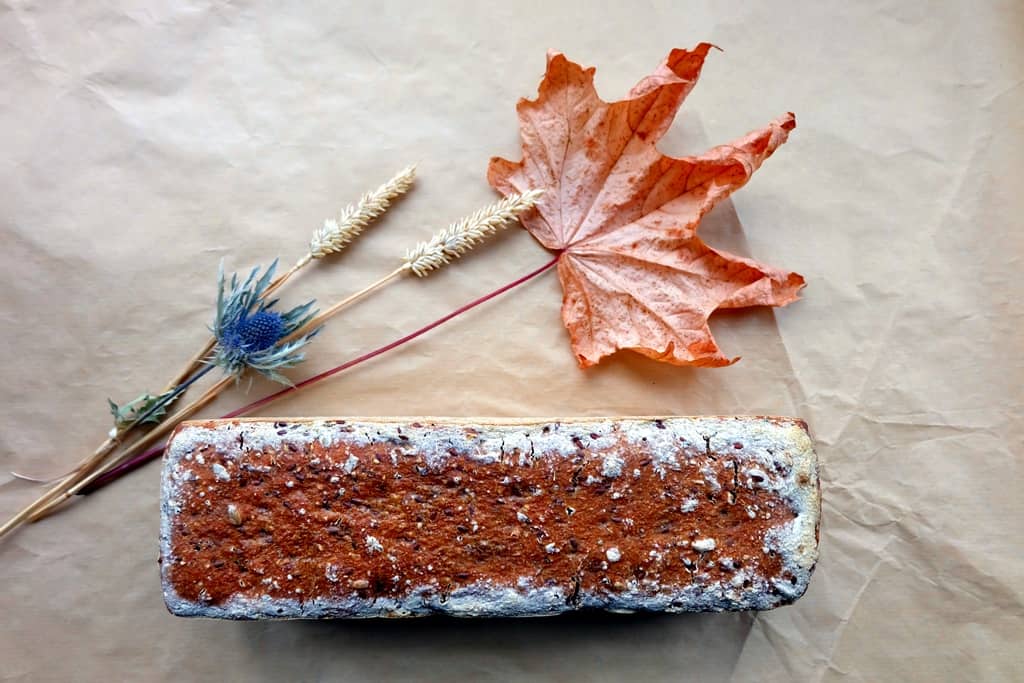 Seeded wholemeal bread recipe
Makes one loaf of brown seeded bread.
Day 1 – Prepare sourdough & flaxseed soaker
Sourdough
50g dark rye flour
100g wholemeal flour (wheat or spelt)
150g water
Combine these ingredients in a medium bowl, cover and keep at room temperature for approx. 16 hours.
Flaxseed soaker
40g flax seeds (golden or brown)
100g water
Combine in a small bowl and cover for approx. 16 hours.
Day 2 – Prepare the toasted seeds & dough
Prepare the toasted seed mix 
3 tbsp sunflower seeds
3 tbsp pumpkin seeds
2 tbsp sesame seeds
You can replace some of the above and mix in some rolled oats or poppy seeds or even some chopped nuts, whatever you have available or feel like.
Place the seeds in a frying pan (no oil!) and toast the mixed seeds for about 10 minutes, stirring frequently, then leave to cool. (Alternatively, you can toast the seed mix in the oven at 150°C).
Prepare the main dough
300g sourdough from day 1
Flaxseed soaker from day 1
Toasted seed mix (as per the above)
600g wholemeal flour (wheat or spelt)
340g water
13g salt
Combine the sourdough, flaxseed soaker, wholemeal flour, water and salt in a large bowl, then knead for 10 minutes. It's important to get the consistency of the dough right, so make sure it's not too dry and not too wet. Add some more water if the dough is hard to knead. If in doubt – wetter is better!
Add in the toasted seed mix until evenly distributed.
Cover and leave to rest in a warm place for ½ hour.
Butter a lidded pullman loaf tin, then move the dough from the bowl into the tin. Squash the dough in quite firmly and evenly.
Cover the tin with the lid and place in the fridge overnight or approx. 12 – 16 hours.
Day 3 – Bake
Take the pullman loaf tin out of the fridge and  preheat the oven to 190°C for 20 minutes.
Brush the top of the dough with water and sprinkle some more sunflower seeds on top.
Bake at 190°C for 1 hour. Remove the bread from the tin approx. 15 minutes before the hour is up and put back into the oven – the bread will get a much better crust that way.
Remove from the loaf pan, wrap in a clean kitchen towel and leave to cool on a wire rack.
The brown seeded wholemeal loaf is delicious for breakfast and perfect also with salted butter and peppered, smoked mackerel or potato, root vegetable and sour cream soup.