Last Sunday I was invited to a Thanksgiving dinner and my friend Mariel from NY put on a huge feast for us (great homemade rum ice cream also by Rich!). Of course, my contribution to the dinner was going to be bread related and for this occasion it had to be cornbread (the savoury kind). This is my very own savoury cornbread recipe, tried and tested many times.
First of all, some clarification on cornmeal since I live in the UK and this is a typical US dish. Cornmeal (the finely ground version you need for cornbread) is also referred to as maize flour in the UK or you might get finely ground polenta.
Traditionally in the States, a skillet (a cast iron pan with slanted sides) is used for baking cornbread. The skillet is the only way to make it all-round crispy and crunchy. Unfortunately, I'm currently lacking a skillet (not much longer I hope!) so I used a baking tin. You can use the same recipe to make savoury cornbread muffins. Just divide the mixture among the muffin tins and bake for slightly shorter than in the below recipe (about 20 minutes overall).
The best savoury cornbread recipe
Ingredients for savoury cornbread
100g maize flour
100g plain white flour
2 tsp baking powder
½ tsp bicarbonate of soda
½ tsp salt
50g butter, melted (traditionally bacon fat is used, but I prefer to use butter) plus 1 tbsp of butter for the onions
2 eggs
1 tbsp runny honey
175g buttermilk (or full-fat milk with a bit of lemon juice)
100g sweetcorn (from the tin), chopped
1 large onion, finely chopped
2 fresh green or red chilli, deseeded and finely chopped
125g of cheddar, grated
How to make cornbread
Preheat the oven to 200°C.
Line a baking tray with baking paper. In terms of baking tray size, the above recipe will fill a 23cm square (or round) baking tin, about 4cm deep.
Melt a tablespoon of the butter in a frying pan and sautée the onion for 2 minutes.
Add the chili and fry for another 5 minutes until the onions start to brown.
Add the chopped sweetcorn kernels and stir for another 2 – 3 minutes.
Set aside to cool.
In a large bowl, mix the maize flour, plain flour, baking powder, bicarbonate of soda and salt. Stir the dry ingredients with a balloon whisk until well blended.
In a separate bowl – mix together the butter, eggs, honey and buttermilk – again a balloon whisk works best.
Add both mixtures (the dry and wet ingredients) together, mix it all up carefully until combined.
Gently fold in the onion, chili and sweetcorn mixture and ⅔ of the grated cheddar. You should now have a creamy, thick, barely pourable batter.
Pour the batter into the baking tin and bake at 200°C for about 15 minutes.
Remove from the oven to quickly sprinkle the remaining ⅓ of the grated cheese on top.
Return to the oven and bake for another 15 minutes or until the cornbread turns golden brown.
Check that the bread is baked through by inserting a toothpick into the centre – it should come out completely clean.
Allow the bread to cool in the baking tin for about 10 – 15 minutes before you move it onto a wire rack.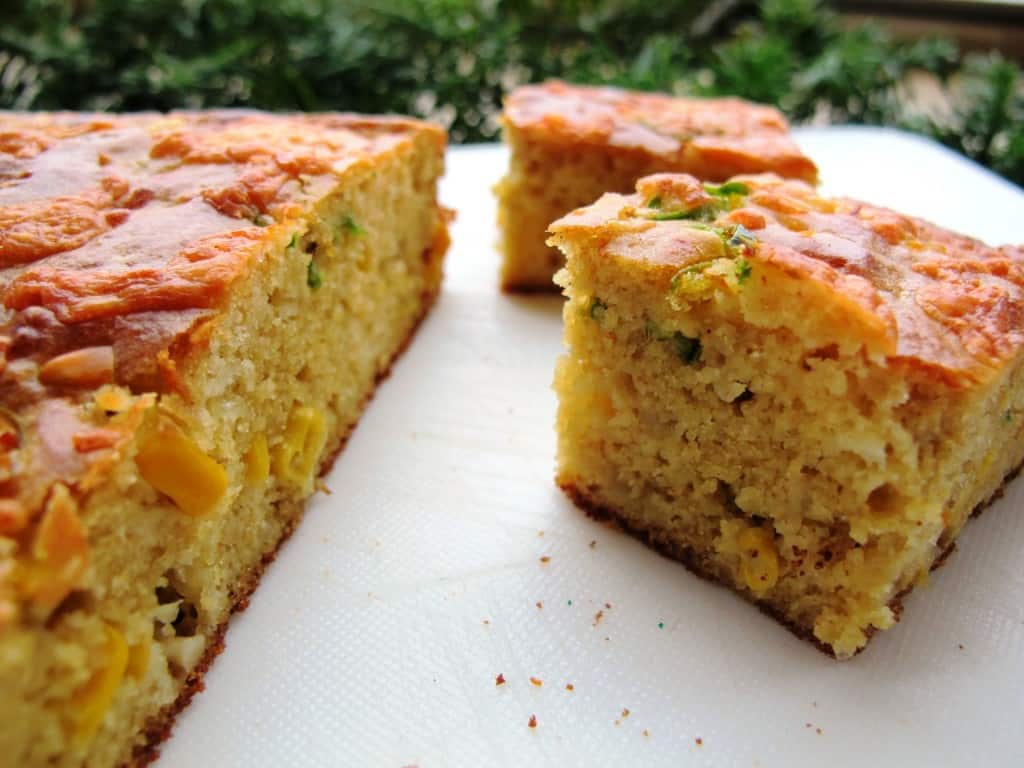 What a wonderfully colourful bread! Soft and moist on the inside with a deep golden brown crust.
This savoury cornbread recipe works really well with soups, starters, grilled meat or salads. Try to fry slices in butter, it's delicious.
Experiment with the ingredients, take out the chili and just add some fresh herbs such as thyme. Build a basic cornbread batter and add whatever you are in the mood for – sun-dried tomatoes or olives for example. Note that you might need to adjust the amount of buttermilk you use as the consistency of the batter will be determined by the moisture content of your selection of savoury ingredients.
Wrap any leftovers in foil and reheat in the oven for 10 – 15 minutes.
Happy Thanksgiving!