New Year's resolutions abound and healthier living and eating aspirations are plentiful with the beginning of the New Year. I'm hoping that for many, a healthier bread diet constitutes part of their New Year's resolutions. For you special people, I have put together a healthy bread recipe to get you on the right track. If you are in an energetic, I-will-eat-better-in-2017 phase right now, give it a go!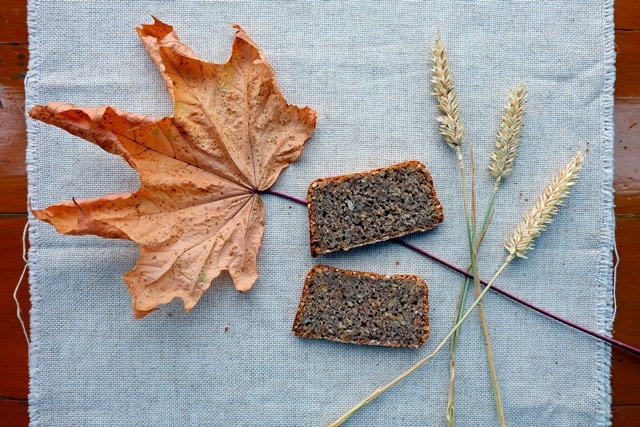 What constitutes healthy bread?
Here is my checklist for the make-up of a healthy bread.
Organic ingredients

As beautifully described by Andrew Whitley in the book Bread Matters (see page 43), "when we choose a loaf of bread,… we can also choose how its basic ingredient is grown. We can opt for bread made with organic flour, milled from wheat grown in soil kept fertile by compost, crop rotation and green manures… Bread's roots are in the soil."
"In bread we gain access to the vitality of the seed."
Andrew Whitley
Naturally leavened

The process of slow fermentation and using sourdough makes the nutrients in wheat flour more available for digestion and the simple sugars less available, which helps with blood sugar control, particularly for people with Diabetes.

Wholemeal flour


White flour is made from heavily refined and processed wheat grains, while wholemeal flour is made from grains that have not undergone heavy processing. Wholemeal and white flours differ in their nutritional value, with wholemeal containing additional fibre and vitamin content as well as a lower GI (Glycaemic Index) value.

Whole grains

For the same reasons, I like to add whole grains to my healthy bread recipes. While wholemeal flour undergoes some processing, whole grains are as good as it gets when it comes to adding cereal into your bread; they come with lots of fibre, minerals, vitamins and antioxidants.

Seeds

Seeds contain protein, essential fats, dietary fibre and micronutrients and I particularly like adding sunflower seeds to bread. Toasted, they taste amazing and add significant amounts of vitamin E, magnesium and selenium.

Spices


Bread spices such as fennel, coriander, caraway and anise seeds provide properties which are beneficial to the digestive system and plenty of flavour. Take a look at my post on bread spices and prepare a batch for your next bake.


No sugar

Baking breads at home allows you to avoid hidden sugars found in some shop-bought loaves. Read my post about sugar-free baking for additional information.

DOn't let 'Gluten-free' deceive you


Gluten-free bread isn't 'a healthier option' if you don't suffer from coeliac disease or other gluten-related disorders. The majority of flours and starches used to make gluten-free breads are high glycaemic with little fibre. Shop-bought varieties often contain certain industrial type binders such as xanthan gum which is highly processed and far away from the basic ingredients (flour, water, salt) of bread. If there is no medical reason for eating gluten-free, I would discourage you from seeking gluten-free bread options for health reasons. Healthy bread is based on natural ingredients and slow fermentation – rarely something connected to gluten-free nor supermarket-bought breads.

Source: Fix.com Blog
Healthy bread recipe
Here's my healthy bread recipe for your new healthier lifestyle! As per my notes above, use organic ingredients throughout.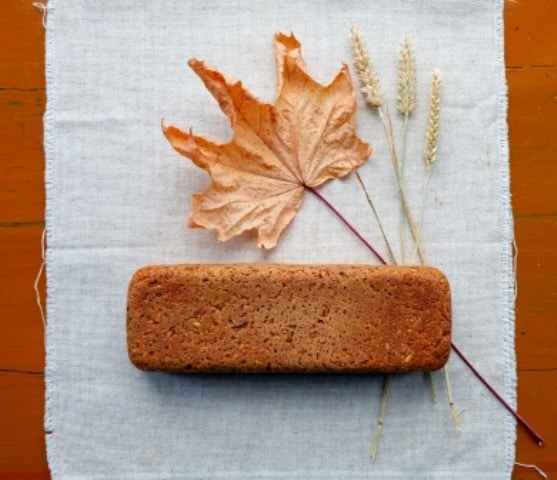 First of all, a summary of all ingredients for my healthy bread recipe:
50g rye sourdough starter (make from scratch or use a starter you have previously prepared)
250g wholemeal wheat flour
50g cracked rye kernels
175g wholemeal rye flour
100g sunflower seeds
10g salt
1 tsp coriander seeds and 1 tsp fennel seeds, crushed
415g water
A splash of sunflower oil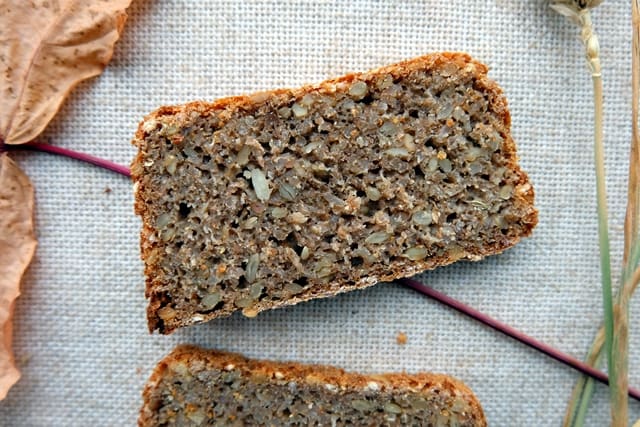 How to bake my healthy whole grain bread
If you don't already have a sourdough starter, start by preparing this from scratch. Follow my guide to make a rye sourdough starter – with all organic ingredients. You'll only need to complete this process once, so don't be put off by it taking a few days to complete. It's worth it! I've had my starter since January 2012 and have not looked back since.
Day 1
Step 1 – Refresh your sourdough starter
In a medium bowl, combine 50g of your rye sourdough starter with 50g wholemeal wheat flour, 50g cracked rye kernels and 100g water.
Cover with a lid or plastic foil and leave to stand at room temperature for 12 to 14 hours.
Step 2 – Prepare the seed and grain soaker
Dry roast 100g sunflower seeds in a frying pan releasing the wonderful nutty flavours.
Place the toasted seeds in a bowl and cover with 125g boiling water.
Cover and leave to rest at room temperature for 12 to 14 hours.
Day 2
Step 3 – Prepare the production dough
Combine the following ingredients in a large bowl and form into a dough
200g of your refreshed starter mixture from day 1 (the rest goes back into the fridge for your next bake)
The sunflower seed soaker from day 1
200g wholemeal wheat flour
175g wholemeal rye flour
160g water
10g salt
1 tsp coriander seeds and 1 tsp fennel seeds, crushed
Knead for 10 minutes, then place the dough back into the large bowl, cover with a lid and leave to rest for about an 1 hour at room temperature.
Step 4 – Prove the dough
Once rested, give the dough another quick knead.
Prepare a loaf tin for baking and lightly oil the tin using sunflower oil and a baking brush.
Prove for several hours at room temperature until the loaf has risen well.
Step 5 – Bake
Preheat the oven to 220°C.
Bake for 10 minutes at 220°C and a further 40 minutes at 180°C.
Cool on a wire rack.
—
I'm in good company with my healthy whole grain bread recipe this month. Check out the healthy breads that my fellow #BreadBakers have baked:
#BreadBakers is a group of bread loving bakers who get together once a month to bake bread with a common ingredient or theme. You can see all our of lovely bread by following our Pinterest board right here. Links are also updated after each event on the #BreadBakers home page.
We take turns hosting each month and choosing the theme/ingredient. If you are a food blogger and would like to join us, just send Stacy an email with your blog URL to foodlustpeoplelove@gmail.com.