Packed with omega-3 fatty acids, antioxidants, calcium and fibre, chia seeds are all the nutritious rage at the moment. I've been crunchifying chia seeds in my home-baked granola for a while – the best breakfast! – and recently also started working on a chia seed bread recipe. Using chia seeds in baking is a great way of integrating these little nutri-bombs into your diet and while the seeds won't add much in terms of taste, your breakfast slice of high-energy chia bread will certainly keep you going for longer.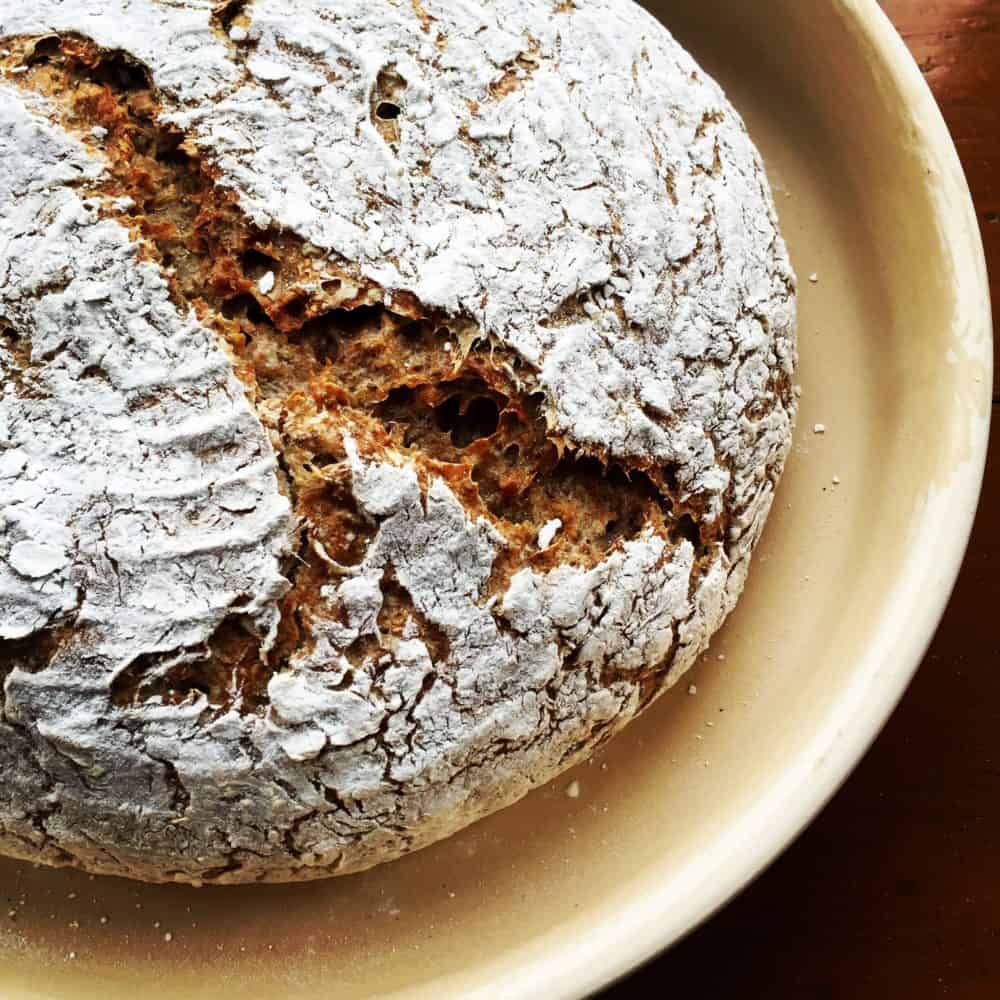 My picks of the best chia bread recipes
Here are the top 5 recipes from across the web for using chia seeds in bread baking.
Buckwheat & chia bread (a gluten free option) by Thehealthychef.com
A life-changing loaf (muesli in a loaf) by My New Roots
A wonderful apple-blueberry-chia sourdough loaf by Bread & Companatico
My own recipe for an easy and very tasty chia seed loaf with rye flour and rye flakes (see below)

Chia Seed Bread Recipe
Here is my own chia seed bread recipe which I have been using now for several years – and it still is one of my very best recipes, perfect for a nutrient-rich slice of breakfast goodness.
Chia Seed Bread Recipe
My recipe adds chia seeds into the bread dough by preparing a chia gel (combining chia seeds and water). This chia gel retains water and keeps the bread nice and moist once baked.
Ingredients
Chia bread ingredients
275

g

white bread flour

175

g

wholemeal rye flour

75

g

rye flakes

you can also use oat flakes, toasted

9

g

salt

7

g

dried yeast

50

g

chia seeds

415

g

water

300g to make the chia gel and the remaining 115g to be added to the main dough
Instructions
How to make chia bread
In a medium bowl, combine 300g of the water with the chia seeds and stir. Immediately, the chia seeds will start absorbing the liquid and within 30 minutes you will have a thick gelatinous liquid. This chia gel will help keep the bread moist.

While the chia gel is maturing, combine the flours, rye flakes, salt and yeast in a large bowl.

Add the chia gel and the remaining water (115g).

Knead for 10 minutes.

Place the dough back into the bowl and cover with a lid. Rest for about an hour at room temperature.

Deflate the dough and shape into a round loaf on a lightly floured work surface.

Prepare a proofing basket and place the loaf into the floured basket for its second rise. Cover with a polythene bag to keep the moisture in. Depending on the temperature in your room, the second proof may take approx. 1 or 2 hours. The fully proofed loaf will have expanded significantly.

Preheat the oven to 220°C for about 20 minutes.

Turn out the loaf onto a baking tray lined with baking paper or onto the preheated La Cloche baking dome (as I did for the loaf in my photo).

Bake for 10 minutes at 220°C before decreasing the temperature to 200°C and bake for another 45 minutes.

Cool on a wire rack.