This German sunflower seed bread recipe makes a delicious loaf of rye-based bread which is infused with the earthy flavour of dry-roasted sunflower seeds. The recipe is inspired by Gerhard Kellner's "Rustikale Brote aus deutschen Landen". A great way to use sunflower seeds in bread baking!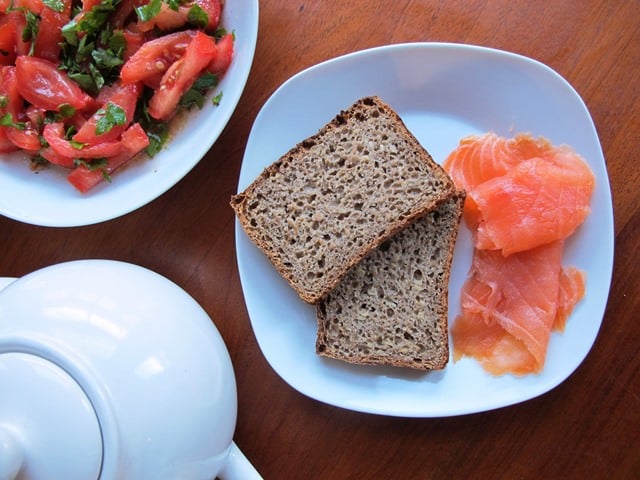 German sunflower seed bread recipe
On the day before baking
Prepare the sourdough
90g cracked rye
100g wholemeal rye flour
290g water
30g rye sourdough starter
Combine all ingredients in a bowl, mix thoroughly, cover and keep at room temperature for 16 to 18 hours.
Prepare the sunflower seed soaker
100g sunflower seeds
100g water
Dry-roast the sunflower seeds in a frying pan, then finely chop the seeds in a food processor. In a bowl, combine the chopped seeds with the water and cover for 16 to 18 hours.
On the day of baking
480g sourdough
Sunflower seed soaker
165g wholemeal rye flour
135g wholemeal wheat flour
70g white strong bread flour
13g salt
For the tin: 1 tsp olive oil
Combine all ingredients (except the oil) and knead for a few minutes.
Place the dough into a bowl and cover.
Keep at room temperature for about an hour.
Grease a 30 cm loaf tin.
Put the dough in the baking tin; use wet hands to distribute the dough evenly.
Depending on the temperature in the room, the proofing process will take between four and ten hours (the warmer the room, the quicker the proofing).
Preheat the oven to 250°C.
Bake for 15 mins at 250°C, then reduce the heat to 180°C and bake for a further 40 minutes.
Cool bread on a wire rack.
Delicious with smoked salmon and salads, enjoy!
A shout-out at this point also to Roland and Romana, loyal readers of TheBreadSheBakes – thanks for your support!