I love polenta and it tastes awesome in bread. Here is my polenta bread recipe for a sourdough loaf with pumpkin and sunflower seeds inspired by Dan Lepard's polenta bread in The Handmade Loaf.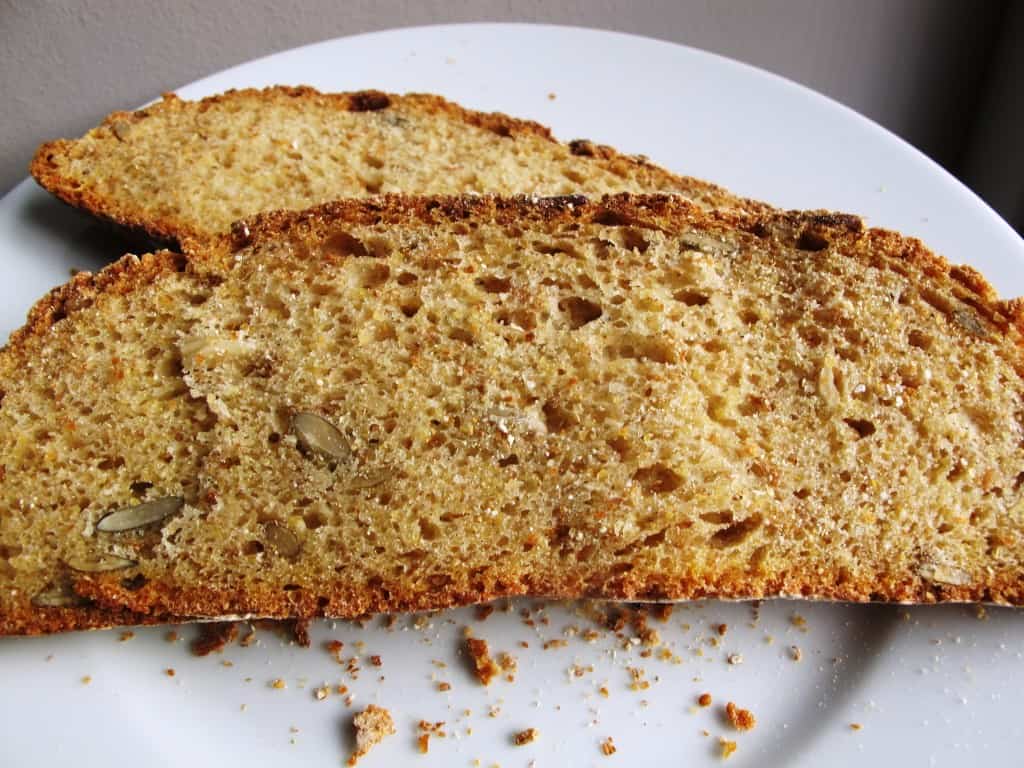 Polenta bread recipe with seeds
Day 1
Sourdough
50g 100% hydration sourdough starter
100g strong bread flour
100g fine wholewheat flour
200g water
Combine the above ingredients in a bowl and cover for 24 hours.
Toasted Seed Soaker
2 tbsp sunflower seeds, toasted
2 tbsp pumpkin seeds, toasted
80g water
Toast the seeds in a small saucepan and cover with the water. Cover for 24 hours.
Day 2
50g polenta
175g water
1 tsp of olive oil
300g white flour
50g maizemeal
7g salt
Oil a dinner plate with the olive oil (use a brush to spread).
Place 50g polenta and 100g water in a small saucepan and bring to the boil; stir while it thickens and wraps itself to the stirring spoon.
Remove from the heat and from the pan right away; spoon the polenta onto the dinner plate and flatten it out across the whole surface.
Place another dinner plate (up side down) on top and leave to cool slightly.
Combine the flours and salt, the cooled down polenta, the remaining water (75g), 400g of the sourdough and the seed soaker in a large bowl.
Knead for 10 minutes.
Place back into the bowl, cover and leave for about 1.5 hours.
Give the dough another quick knead.
Prepare a proving basket by flouring the surface in order to prevent the wet dough from sticking. Alternatively, if you have one, use a Lékué bread maker, it'll make the proving and baking process much easier.
Shape the dough into a loaf and move around in a flour bath (covering the whole loaf surface) before placing it into the proving basket seam-side up.
Cover with a polythene bag and keep in a warm place for 3-5 hours until well risen. The time may vary widely based on the temperature in your room. Give it some extra time if the dough needs to rise more.
Preheat the oven to 220°C.
Line a baking tray with baking paper.
Turn out the dough onto the baking tray and score the dough by making several diagonal incisions.
Bake for 50 to 60 minutes.