It's hard to find a good recipe for traditional German Pumpernickel so I thought I would try and fill this gap! Here you'll find a step-by-step guide to baking the real thing as well as some interesting Pumpernickel facts. Give it a go – you won't be disappointed!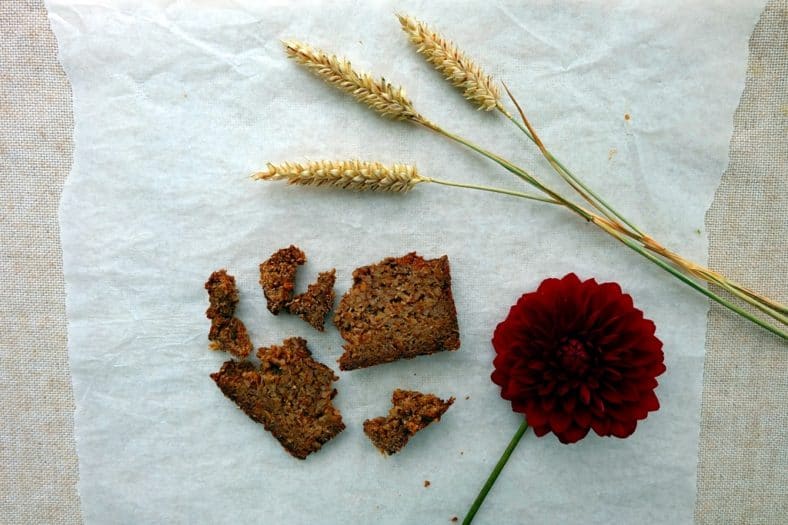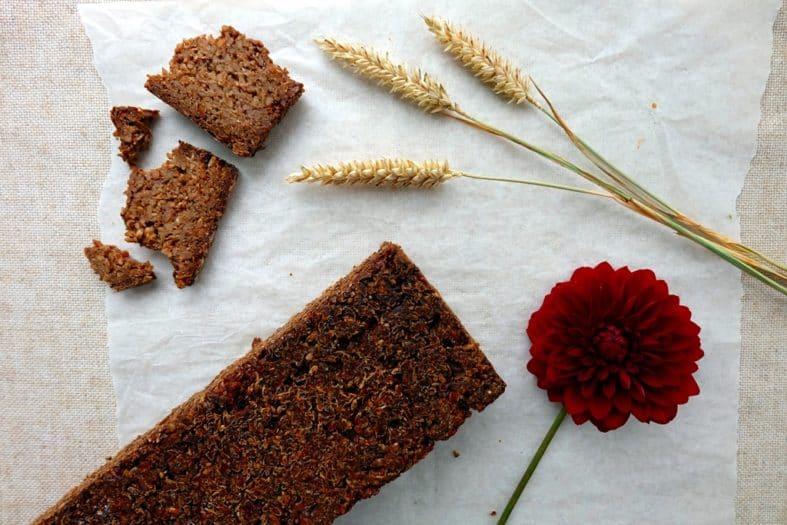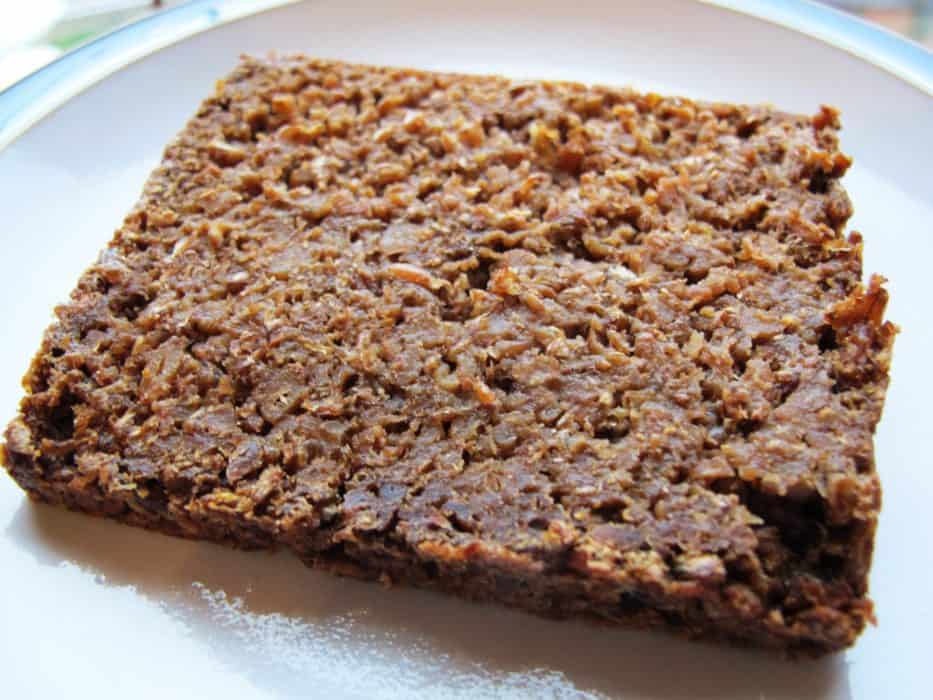 What is Real German Pumpernickel?
100% rye bread (only whole rye grain and cracked rye is used for the dough, no milled flour – Pumpernickel has humble origins and for a long time it used to be peasant fare for people with no access to a proper mill)

Rich dark-brown colour, but no crust (it's baked in fully covered baking tins)

A very heavy bread with a darkly sweet aroma and earthy in taste (rye has 7% natural fruit sugar, compared to wheat at 4%, which caramelises during the bake)
How to make traditional German Pumpernickel?
All you need is a rye sourdough starter, rye grains, cracked rye, salt, water and syrup.

No colouring agent such as caramel colour is added.

The characteristic dark colour is achieved through a very long baking period (about 14 hours in a low temperature of around 120°C) and caramelising fruit sugars.

In this process it's important that the steam doesn't escape – otherwise the bread will completely dehydrate during the long bake. The moisture can be retained by wrapping your baking tin with a few layers of tin foil. However, I invested in two Pullman Pans (one large, one small), loaf tins with a lid that slides on top to keep the loaf entirely contained. I still wrap a layer of tin foil around to be doubly sure.

The bread should mature at least 24 hours before cutting to allow the crumb to fully develop (all-rye breads tend to otherwise gum up due to the high percentage of pentosans – read all about this and what makes rye different over here at Azélia's Kitchen)
Is Pumpernickel healthy?
Yes, the starches of real Pumpernickel have undergone so much of a transformation that they are quite easily digested (source: "Bread" by Jeffrey Hamelman)

Whole-grain rye contains nearly 15% fibre

Pumpernickel also has a low glycemic index (less likely to increase in your blood sugar level)
Where to buy Pumpernickel ingredients?
Organic rye grains (also called rye berries or kernels) from health food stores like Real Foods

Organic cracked (or chopped) rye and rye flours directly from the mill e.g. Shipton Mill. While Shipton Mill produces coarse cracked rye, I like to mix this up with fine cracked rye by The Prior's Flour

Both Real Foods and BakeryBits ship worldwide
Pumpernickel bread recipe ingredients
This recipe bakes one large loaf.
Preferment
Scalded Rye Berry Soaker
200g rye berries, 200g boiling water
Cracked Rye Soaker
150g cracked rye, 150g water
Additional dough ingredients
550g cracked rye

150g water

22g salt

120g maple syrup (traditionally cane sugar syrup is used but I prefer maple syrup)

A little dark rye flour for dusting
How to make Pumpernickel bread
Prepare the preferment, scalded rye and rye soaker on day 1.
Put together the main dough, prove and slow-bake for 14 hours on day 2 and overnight into day 3.
Enjoy authentic Pumpernickel bread on day 4.
All the exact instructions to bake Pumpernickel can be found below. I've included sample timings for a weekend bake – starting Saturday, completing the bake on Monday morning and enjoying Pumpernickel bread on Tuesday for breakfast…
Day 1 (Saturday noon/early afternoon)
Prepare the preferment. Combine in a bowl, cover and leave to ripen for 16 – 24 hours.

Prepare the scalded rye. Pour the boiling water over the rye grains and leave overnight.

Prepare the rye soaker. Combine in a bowl, cover and leave overnight.
Day 2 (Sunday noon to Monday morning)
12pm
Add one litre of water to the scalded rye soaker, bring to a boil and simmer for approx. 1 hour until soft.

1pm
Strain the rye and discard any remaining water.
In a bowl combine 700g of sourdough, the cooked rye berries, the cracked rye soaker, the 550g extra cracked rye and mix well.
Add the water, salt, maple syrup and mix until the dough comes together well. The dough should not be wet, but slightly sticky. It should peel off the side of the bowl easily.
2pm
Leave to prove for 3 hours.
4.30pm
Preheat the oven to 150°C.
5pm
Brush the top of the dough with a little water.
Fully wrap the baking tins with two tight-fitting layers of tin foil to avoid the dough drying out during the long baking process.
Place the wrapped tins at the bottom shelf of the oven and bake for approximately 14 hours (best done overnight).
6pm
Turn down the temperature to 120°C.
7am
After baking, turn off the oven and leave the baking tin in the cooling oven for another hour.

8am
Take the loaf out of the baking tins and wrap in a kitchen towel, baking paper or tin foil for another 24 hours.
Day 3 (Tuesday morning)
Cut into thin slices and enjoy with butter and jam or smoked fish for a hearty breakfast!