Watching the first episode of Ottolenghi's Mediterranean Feast set in Morocco, I was (of course) inspired by the industriousness in the Moroccan bread bakery. It brought back memories of my first authentic Moroccan meal, sitting on a balcony overlooking the bustling Jemaa el-Fnaa in Marrakesh.
If you love Middle Eastern & Mediterranean food as much as I do, Yotam Ottolenghi's cookbooks are an unbelievably wonderful resource:
Now For The Khobz Recipe…
This authentic Moroccan bread, called khobz, is a round, flattish bread with plenty of crust making it an ideal bread for dipping and scooping up tagines and salads.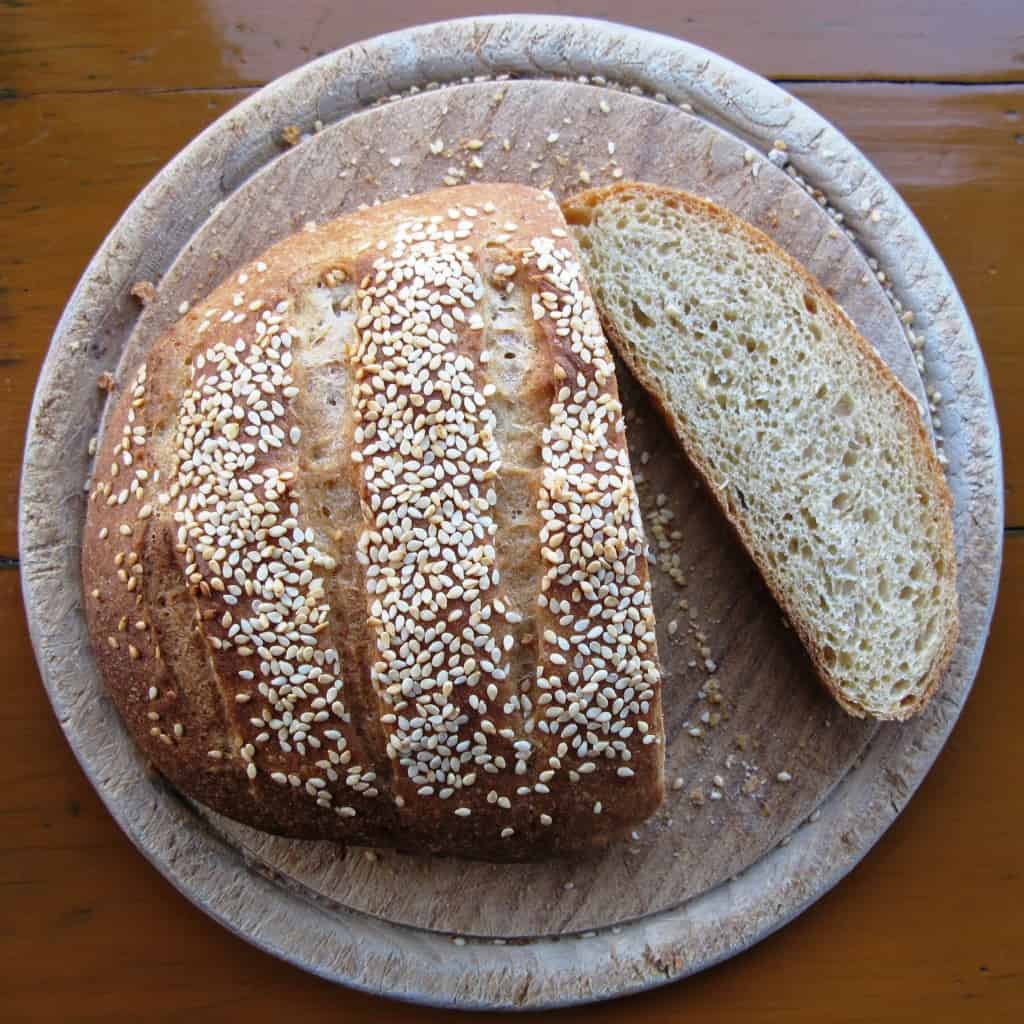 I found a wonderful recipe for Moroccan bread on the Culinary Anthropologist blog and have adjusted it slightly by using wholegrain spelt instead of wholemeal wheat flour. The bread is usually flavoured with anise seeds; however, I used fennel seeds instead which worked well.
Ingredients for 2 khobz loaves (enough for 6 people)
325g strong white bread flour
50g wholegrain spelt flour (use wholemeal wheat flour as an alternative)
125g maize flour or fine polenta
9g salt
5g dried yeast
350g tepid water (add slightly more if needed)
2 tsps sesame seeds
1 tsp fennel seeds
Sesame seeds for the topping
Olive oil to grease the bowl and brush the bread
How to make khobz bread
Combine the flours, salt, yeast and water in a large bowl.
Knead for 10 minutes.
Knead in the sesame and fennel seeds.
Lightly grease the bowl with olive oil.
Shape the dough into a ball, place in the bowl (moving it around to cover the dough with olive oil), then cover the bowl.
Prove the dough for approx. 2 hours (depending on the temperature in the room; it should rise significantly).
Divide the dough into 2 halves with a dough scraper and shape each part into a ball.
Prepare a baking tray and line with baking paper.
Place the dough balls onto the baking tray and flatten them with your hands to about 4 cm in height.
Sprinkle the loaves with the sesame seeds and use your flat hand to carefully press them into the dough.
Cover the loaves with a tea towel and leave for their second prove. This should take about an hour.
1/2 hour before baking, preheat the oven to 240°C.
Just before baking, brush the loaves with olive oil and make a few incisions.
Bake for approx. 30 mins.
Cool on a wire rack.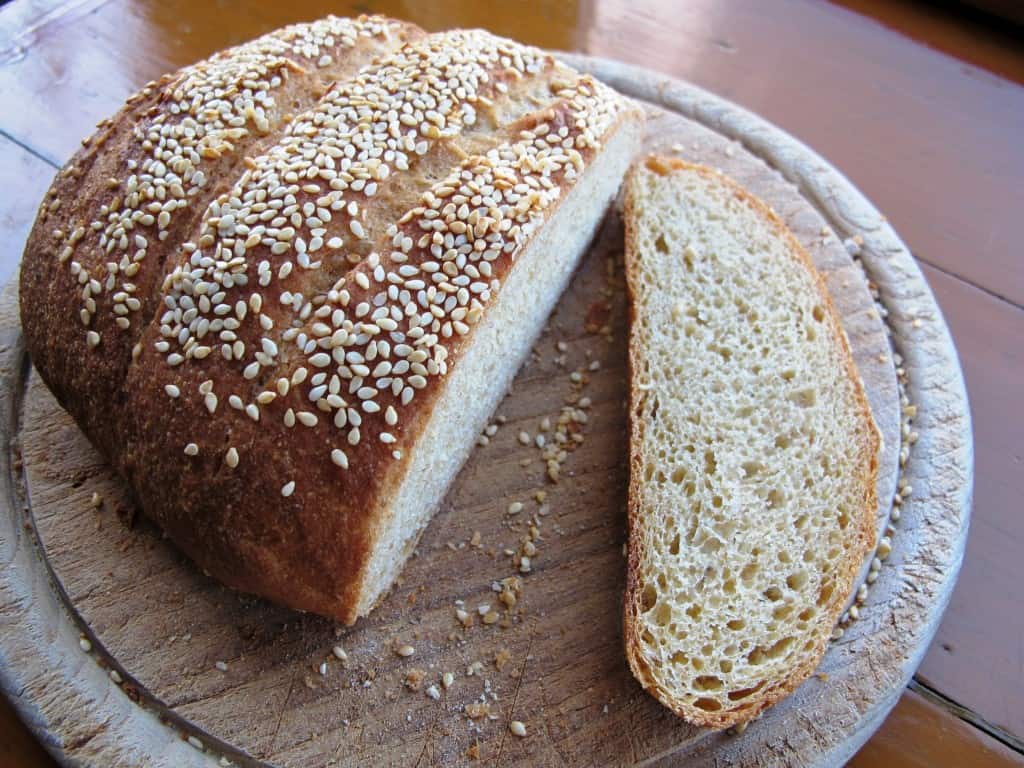 Khobz is best eaten on the day of baking. We had it with this super-tasty lamb tagine, a recipe by Antony Worrall Thompson.
If you have any leftover khobz, try this spicy Moroccan bread salad recipe.
Enjoy!