This is a recipe my aunt from Höhnhart, Upper Austria shared with me (thank you Berta :-)). Berta and I are connected by our passion for bread and while she has been a master for years, I'm just at the beginning of my bread journey!
This bread is super-delicious with just butter and cheese. Add carrots, celery and some chutney and you have a perfect afternoon snack!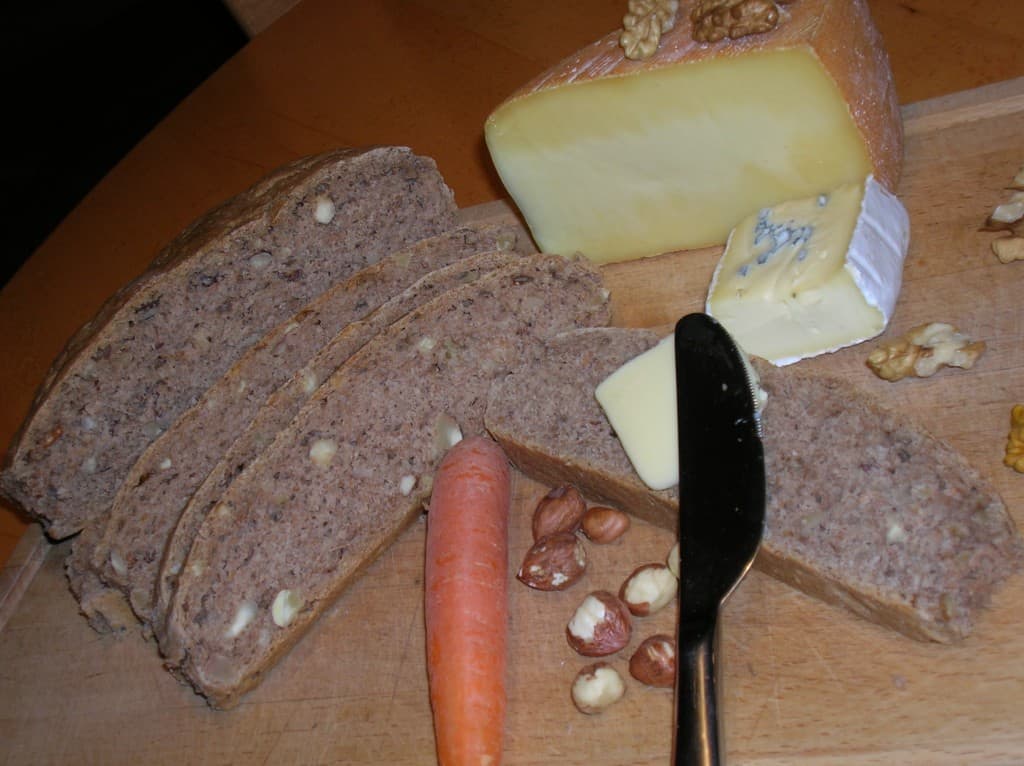 Ingredients (makes 2 breads)
21g fresh yeast (or 7g dry yeast)
200g strong white bread flour
200g rye flour
6g salt
200g water, lukewarm
50g olive oil
150g roughly chopped nuts (almonds, hazelnuts, walnuts – whatever you have)
How to make the breads
If you are using fresh yeast, mix the yeast with 200g lukewarm water. (With dry yeast, simply add all ingredients together in one go.)
In a separate bowl, mix the flours and salt with a balloon whisk.
Add the dissolved yeast and water, olive oil and the mixed nuts to the flour bowl.
Use the dough hooks of your hand mixer and knead the dough until smooth. Alternatively, hand-knead for 5 minutes or so. I added a little bit more water to get the right hydration as the rye flour I used was very coarse.
Cover the bowl with a clean kitchen towel and leave to rest in a warm place for 45 minutes until the dough has doubled in size.
Preheat the oven to 180°C (gas mark 4).
Line a baking tray with baking paper.
Turn the dough out onto a clean work surface and knead for a minute.
Divide the dough into two parts.
Roll out each part to reach 25cm in length. You can work with a rolling pin or just work the dough into a round or oval shape with your hands.
Place the loaves onto the baking tray.
Bake for 25 – 30 minutes.
Cool on a wire rack.
Thanks for the tasty recipe Berta!