Having been home in Austria for Christmas, I brought back a big pack of shelled walnuts from the trees in my parents' garden. A good time to experiment with walnut bread! Try my walnut bread recipe below – a sourdough walnut loaf using white wheat and wholegrain rye flour.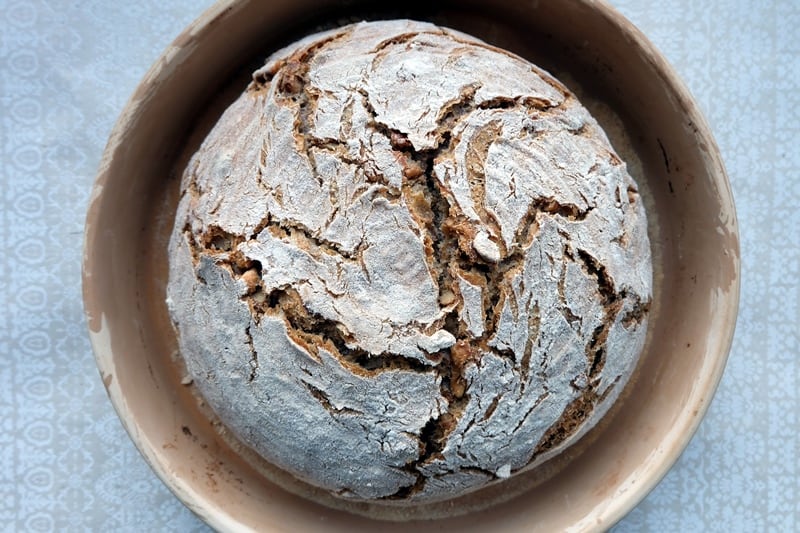 My walnut bread is a slightly sweet bread and as such makes a great accompaniment to cheese boards with grapes, apricots or figs.
Walnut Bread Recipe – In Four Variations
Walnuts are super versatile and can be incorporated into bread in various different ways. Although the main walnut bread recipe remains the same, have a look through the walnut preparation options below to pick your favourite before starting.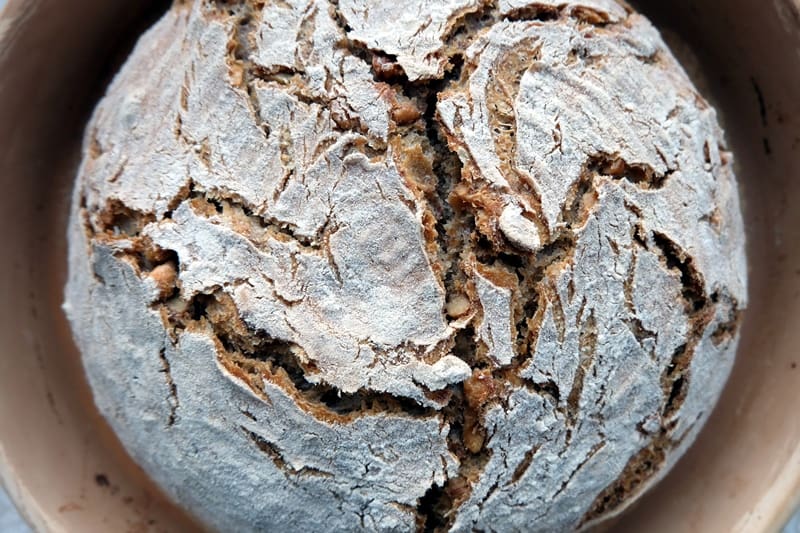 Ingredients
Sourdough
50g rye sourdough starter
100g wholegrain rye flour
100g water
Main dough
350g strong white flour
50g wholegrain rye flour
8g salt
190g water, lukewarm, if using the walnut paste (described below) OR
260g water, lukewarm, for the other variations (as below)
1 tbsp walnut oil (optional)
200g walnuts in either of the below variations (e.g. 100g lightly crushed walnuts, 100g walnut paste or 200g caramelised walnuts). Lightly crushing your walnut halves with a rolling pin makes it easier for the oils to be released into the dough.
Four different ways of preparing the walnuts –
Caramelised walnuts
Finely chop fresh rosemary leaves, you need 1 tbsp. Dry-roast 200g walnuts in a frying pan (i.e. without any oil). Add the finely chopped rosemary and 2 tbsp of honey and caramelise the walnuts. Be careful not to burn them. Let them cool on a plate.
Mixed nuts with rum
From the book Rustikale Brote aus deutschen Landen
by Gerhard Kellner.
For this recipe, you need 100g of walnut halves, lightly crushed, as well as 100g hazelnuts.
Dry-roast the hazelnuts in a frying pan (no oil). Pour over 35ml of lukewarm water once finished roasting. In a separate pan, dry-roast the walnuts and cover with 3 tbsp of rum.
Leave to soak overnight and drain any excess liquid.
Walnuts soaked in milk
Heat some milk until boiling – you'll need enough to cover 200g walnuts in a small bowl. Cover the walnuts with boiling milk and leave to cool.
Once cooled, drain any excess liquid.
Walnut paste
As per Dan Lepard's book 'The Handmade Loaf'.
Make 100g walnut paste and also add 100g of halved or crushed walnuts into your final dough.
For the paste, you need 50g of walnuts, 50g of water, 2 tbsp of honey, 20g melted butter (lightly browned) and a pinch of salt.
Place all ingredients into the bowl of your hand blender and blend until you have a soft, smooth paste.
How to make walnut bread
Day 1
Combine the sourdough ingredients in a medium bowl, cover and leave to rest at room temperature for 16 to 24 hours.
Day 2
Combine 200g of sourdough (the rest goes back into the fridge for your next bake) with the main dough ingredients and walnut paste if using, but don't add the whole walnuts at this point.

Knead the dough for about 10 minutes. 

Shape into a ball, place in a lightly floured bowl, cover and keep at room temperature for an hour or so. The dough should have visibly expanded during this time.
Turn the dough out onto a floured surface.
Use your fingers to flatten the dough and sprinkle the (lightly crushed, caramelised or soaked) walnuts over the surface.
Work the dough to distribute the nuts evenly.
Shape the dough into a round and place into a pre-floured proofing basket.
Leave to rise for several hours at room temperature until fully proofed.
Preheat the oven to 200°C and preheat your La Cloche baking dome at the same time (from cold) if using.
Transfer the bread from proofing basket to the La Cloche plate or onto a baking tray lined with baking paper.
With a sharp knife, make a few criss-cross cuts into the loaves just before baking.
Bake for about 50 minutes. Take the La Cloche lid off for the last 10 minutes if using.
Transfer to a wire rack and leave to cool.
I love baking with walnuts. If you'd like to try a different walnut bread recipe, take a look at these posts also: