I'm a big fan of using seeds in bread baking – why not add extra nutrition and taste in the form of seeds when baking? One minor complaint I have about most seeds I usually use (sunflower, pumpkin, flax chia) is that they lose their crunch when baked into bread dough. However, I have just found a seed that is as crisp as ever when added to bread. Whole hemp seeds (i.e. hemp seeds with their outer shell still on) lose none of their toasted crunchiness which makes them a fun and unexpectedly unique addition to breads. Here is my wheat and rye based hemp seed bread recipe, give it a try!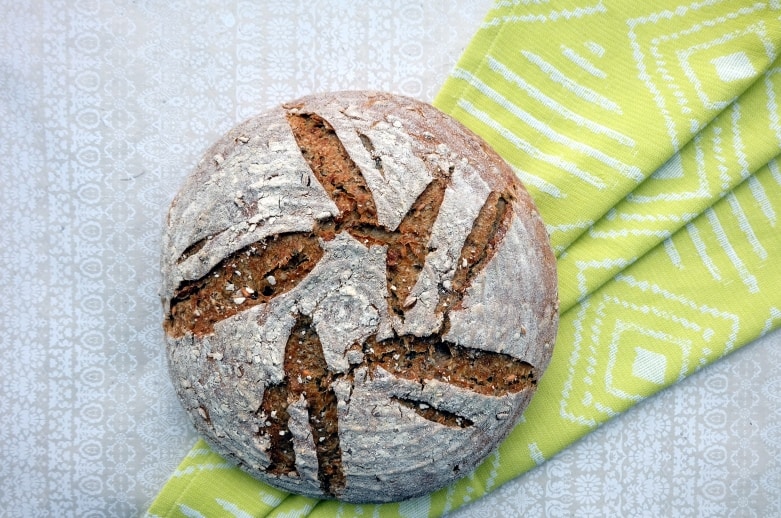 From a nutritional perspective, whole hemp seeds are a good source of insoluble fibre, protein, essential amino acids, omega 3 fatty acids and minerals including iron, magnesium and potassium.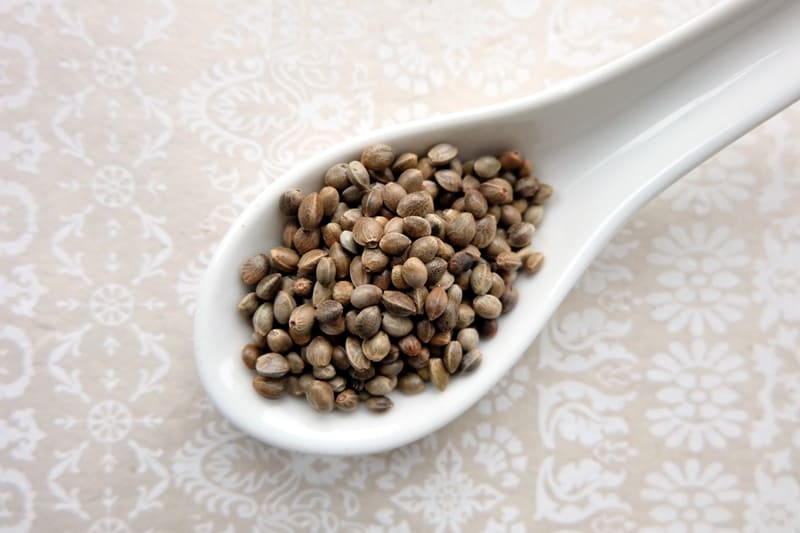 Hemp Seed Bread Recipe
This sourdough bread recipe with whole hemp seeds creates an unusual loaf with plenty of crunch.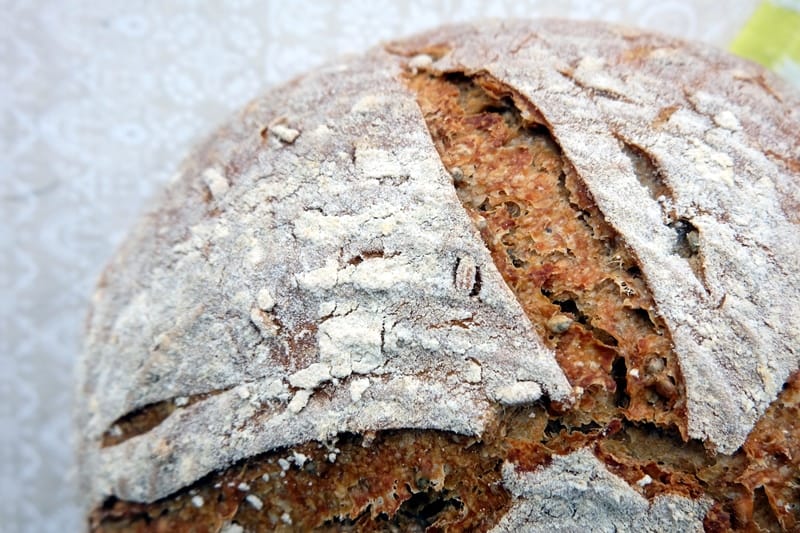 Hemp Seed Bread Ingredients
Sourdough
125g wholegrain rye flour
125g water
25g mature 100%-hydration sourdough starter
Whole Grain Soaker
50g grains e.g. spelt or rye grains
50g water
Main Dough
400g flour
125g wholegrain rye flour
280g water
11g salt
75g toasted hemp seeds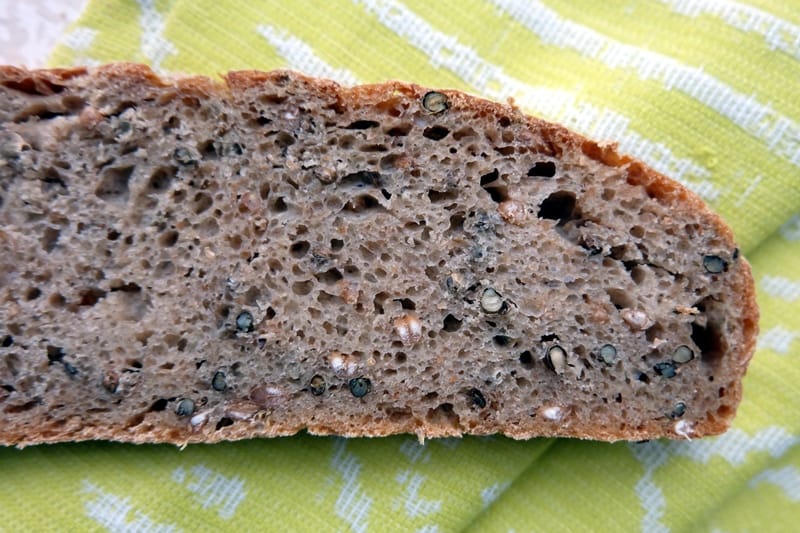 How To Make Hemp Seed Bread
Start by preparing the sourdough and the whole grain soaker.
Firstly, combine all sourdough ingredients in a medium bowl. Mix well, then cover and set aside at room temperature for 16 to 24 hours.
In a small bowl, combine the whole grain soaker ingredients, cover and set aside for 16 to 24 hours as well.
On day 2, combine 250g of the sourdough starter (the rest goes back into the fridge for future sourdough bakes), the whole grain soaker and all main dough ingredients except the toasted hemp seeds in a large bowl.
Form the dough, then turn out the dough onto your work surface to hand-knead for about 10 minutes.
Add the toasted hemp seeds and knead them all in until evenly distributed.
Put the dough back into the large bowl, cover and rest for about an hour or two. During this time, the dough should visibly expand.
Turn out the dough and give it another quick knead before shaping it into a round loaf.
Cover the loaf with flour before placing it seamside up into the pre-floured proofing basket.
Cover with a polythene bag to ensure the dough doesn't dry out and leave to rest for several hours at room temperature (how long exactly will depend on the temperature in your room; it took three hours in my kitchen) until fully proofed.
In time, preheat the oven to 220°C and, if you are using a La Cloche baking dome, (as I did), preheat this from cold at the same time.
Turn the loaf out onto the baking dome plate or onto a baking tray lined with baking paper.
Bake at 220°C for 10 minutes before turning the temperature to 190°C for another 50 minutes. If you are using the baking dome, take the lid off for the last 10 minutes to further strengthen the crust.
Cool on a wire rack.