I finally invested in a La Cloche baking dome earlier this year and what an amazing purchase it was. My loaves now brown more beautifully and I'm able to achieve a delicious looking and tasting crust while retaining a moist and chewy crumb. The baking dome arrived well-wrapped in its box and was immediately used to bake this beautiful loaf of sourdough bread. My positive experience has prompted me to write this raving review and mini guide.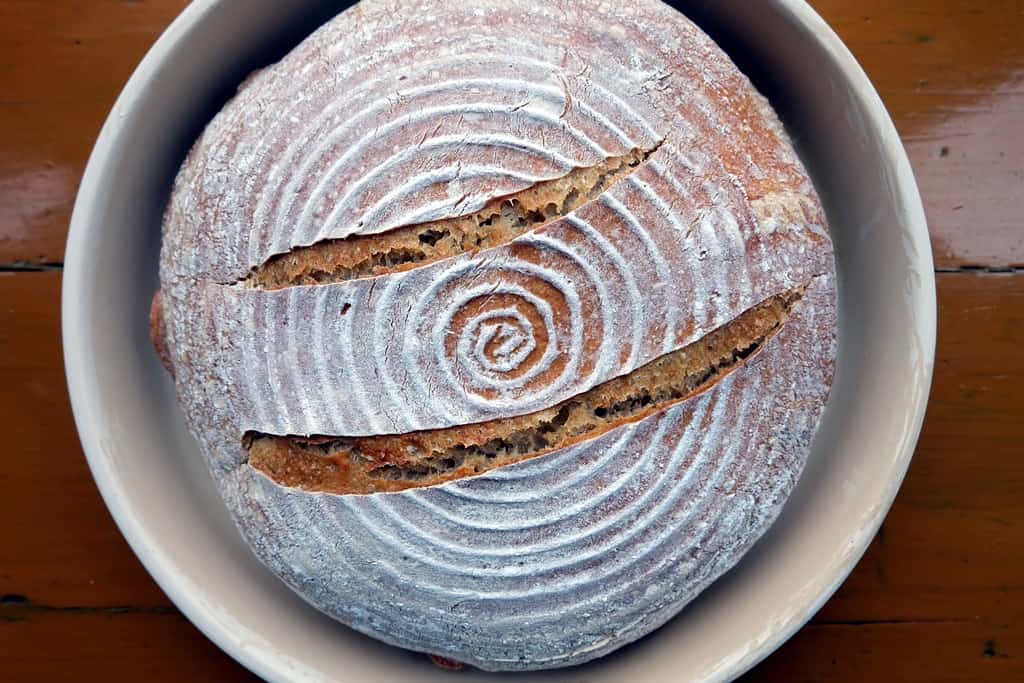 What is the La Cloche baking dome?
Unglazed stoneware baking dish which consists of a clay base and domed lid
Measures 27.9 cm x 27.9 cm x 19.7 cm
Weighs 4.1 kg and is heavy enough to retain heat for the baking process
Ideal for a 1 kg round loaf
How does the baking dome work?
The baking dome traps steam from the dough within the dish.
The clay pot is porous and moisture is trapped, but also conducted away from the surface as the bread bakes.
The only initial treatment you will need to give the bread cloche is to brush the bottom with vegetable oil (sunflower oil for example) to give it a light coating. The inside of the bottom piece (the bell-shaped top part of the dish) doesn't need it.
To use it, turn out your proved loaf into the preheated clay baker and bake the bread in the covered dome.
Tips when using the La Cloche clay baker
Always heat the clay baking dome with the oven, from cold to hot. Don't put the clay baker in an already hot oven.
Never make the mistake to spray the hot clay surface with cold water.
In general, don't do anything to cause the clay baker to suffer any sort of thermal shock in order to prevent it from cracking.
Use a thin layer of semolina or corn meal in the interior base before you turn out your bread onto the clay bottom in order to prevent sticking.
Uncover the bread loaf for the last 10 minutes of the bake to strengthen the crust.
Why buy the La Cloche baking dome?
Bread aesthetics
Make better looking loaves of bread in your oven at home as the dome mimics a baker's oven. If you are baking in a standard home oven, using the stoneware baking dome will almost definitely improve the aesthetics of your loaves.
Crust and crumb perfection
Achieve a sublime golden-brown bread crust and a chewy and moist crumb.
It's easy
The La Cloche baking dome is easy to use, maintain and clean. You don't need a baking stone, you don't need to introduce water into the oven for steam, and you don't need to dampen the cloche. All the moisture you need comes from the dough and is trapped inside.