I love pancakes and am very excited indeed about all the pancake recipes coming out of this month's #BreadBakers theme, kindly hosted by Mayuri Patel blogging at Austrian Palatschinken to Indian Dosa, from sorghum flour pancakes to these galettes de sarrasin, a buckwheat flour pancake recipe from the North of France.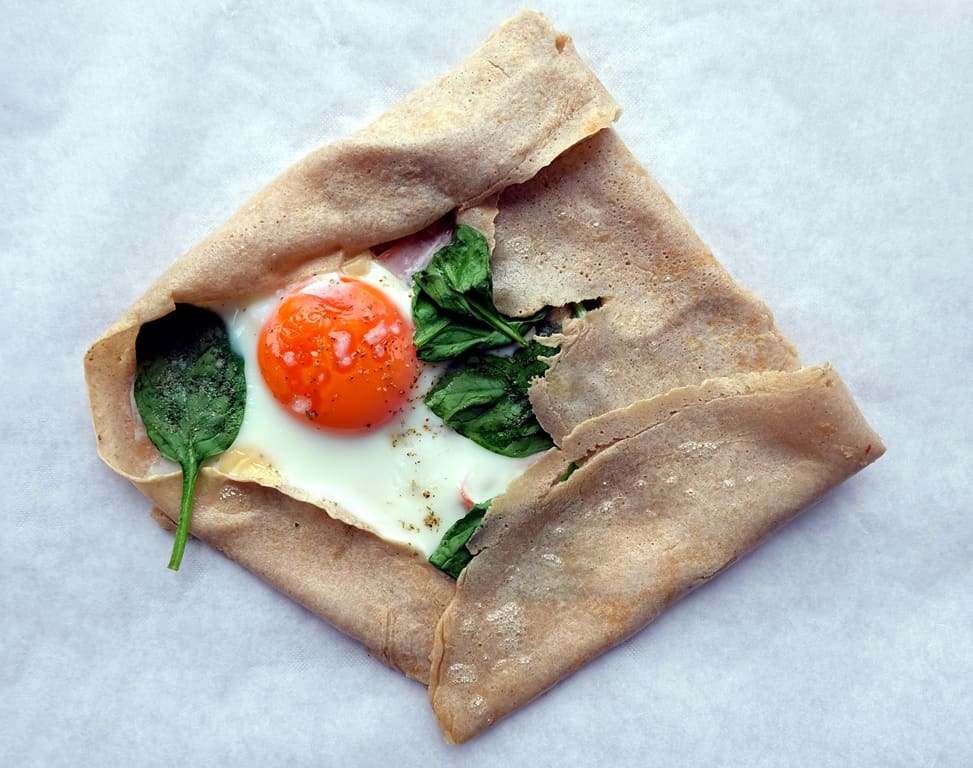 This recipe uses 100% buckwheat flour. The buckwheat flavours mingling with the ham, cheese, spinach and eggs are simply divine! For a lighter buckwheat pancake, take a look at my recipe for buckwheat groats pancakes, using a mixture of buckwheat and wheat flour.
Galettes de sarrasin recipe
Prepare the batter the night before baking the pancakes. The galettes de sarrasin are easily assembled and make for a stand-out weekend breakfast!
For the batter
150g buckwheat flour
5g salt
225g milk
115g water
1 large egg
Butter for the frying pan
For the filling – per galette
20g cheese, grated (use Comté for a more traditional galette de sarrasin; mature cheddar will also work well)
1 egg
1 thin large slice of good-quality ham
A few baby spinach leaves
Freshly ground black pepper
How to make galettes de sarrasin
Make the batter in the evening before making the pancakes. In a medium bowl, combine the buckwheat flour with the salt, milk, water and the egg. Whisk thoroughly. The batter should have the consistency of pouring cream.
In the morning, heat a large frying pan (I used a pan 30 cm in diameter) to a medium heat and add about 1 teaspoon of butter to the pan and use a pastry brush to spread it evenly. Don't be shy about the butter, it ensures the pancake can easily move around.
Pre-heat the grill to a medium heat.
Pour a good ladle of batter into the pan, lift the pan off the heat and swirl to distribute evenly.
Place the pan back on the heat, and when the top is no longer looking wet and runny, flip the pancake.
Place the slice of ham in the centre of the pancake.
Add the egg on top of the ham, ensuring the egg yolk settles in the centre of the pancake.
Scatter over the cheese, add salt and pepper and the baby spinach leaves, keeping the egg yolk centre uncovered.
Fold the 4 edges into the galette, keeping the egg and bits of the filling visible.
Place the pan under the grill to make the cheese melt and to cook the egg to the desired consistency.
Slide off onto a plate and repeat.
If you love the taste of buckwheat and want to bake more with this outstanding flour, take a look at my collection of the best buckwheat bread recipes.