Browsing the local delights of the organic grocery store in my home town in Austria, I picked up a bag of Grünkern. The greenish grains looked pretty and unique on the shelf! Grünkern grains are unripe spelt kernels cultivated predominantly in Southern Germany. Although mainly used for soups and vegetarian burgers, I wanted to incorporate some of this unique green spelt grain in a sourdough Grünkern bread.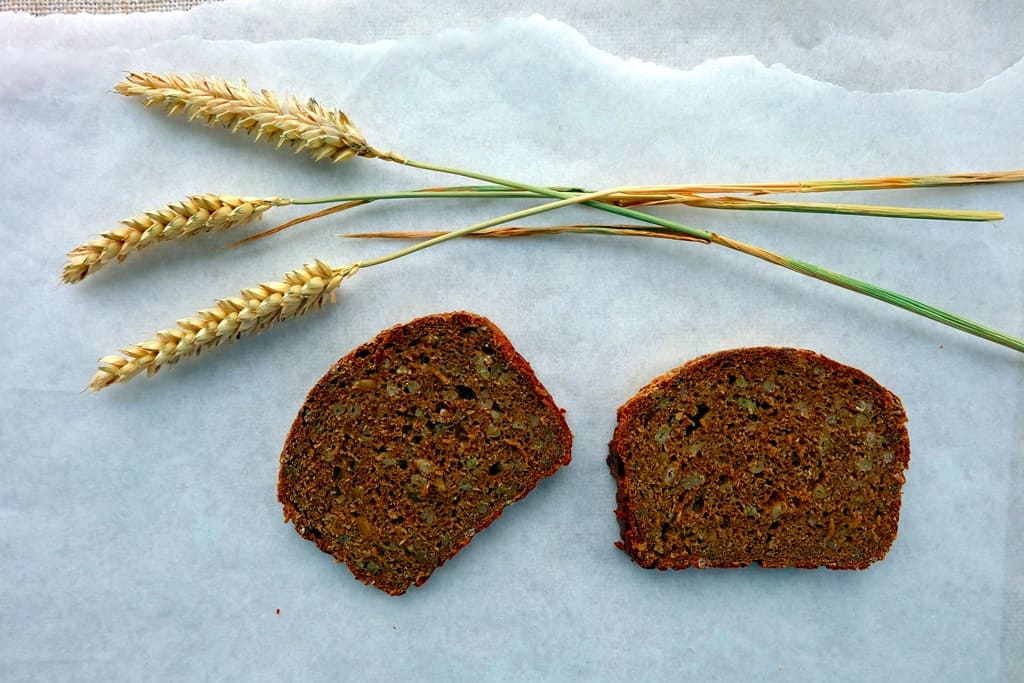 What is Grünkern?
Grünkern (German for 'green kernel') is spelt, harvested when green, in the dough stage of ripening, and then dried. Historically, harvesting spelt so early and before it reaches its full ripeness was a reaction to periods of adverse weather, which destroyed crops and resulted in poor harvests. It was a way to prevent crop failure.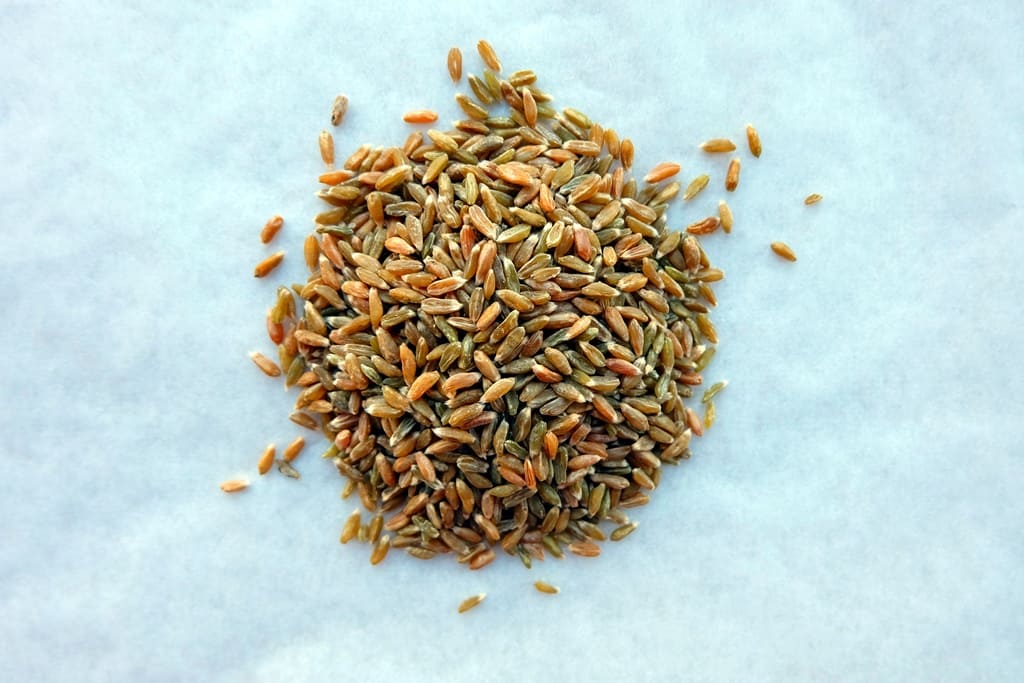 The green spelt grains are harvested when the starch isn't fully developed and the kernels are still soft and juicy at about 50% moisture content. Grains are dried over a beechwood fire or in hot air dryers – right down to a moisture content of 10 to 13%. Once dried, the outer husk is removed. Have a look at gruenkern.de for more information around the harvesting process, then and now.
The dried green spelt kernels smell aromatic and a little bit like fresh hay. The aroma remains uniquely pleasant and hearty when cooked with water, so it became a tradition to harvest a portion of the spelt as Grünkern. Grünkern doesn't tend to be milled and is typically available as whole grains or chopped grains.
If this sounds similar to another grain, Freekeh, then you are right. Freekeh is also harvested green, then roasted. The difference? Freekeh is made from green unripe durum wheat and dates back to the ancient regions of Egypt, Lebanon, Jordan and Syria while Grünkern is made from spelt and is still mainly produced in Germany.
How Grünkern was made
Watch these videos showcasing the Grünkern harvest back in the 1970s in Germany.
Where to buy Grünkern in the UK?
I've only seen Grünkern on Amazon in the UK. Unfortunately, other probable places such as Real Foods or Buy Whole Foods Online don't seem to stock it.
Grünkern bread recipe
This recipe adds Grünkern to a wholemeal spelt sourdough loaf. Adding black treacle enhances the flavours, but you can easily leave out the treacle if you would like to taste the pure Grünkern flavours.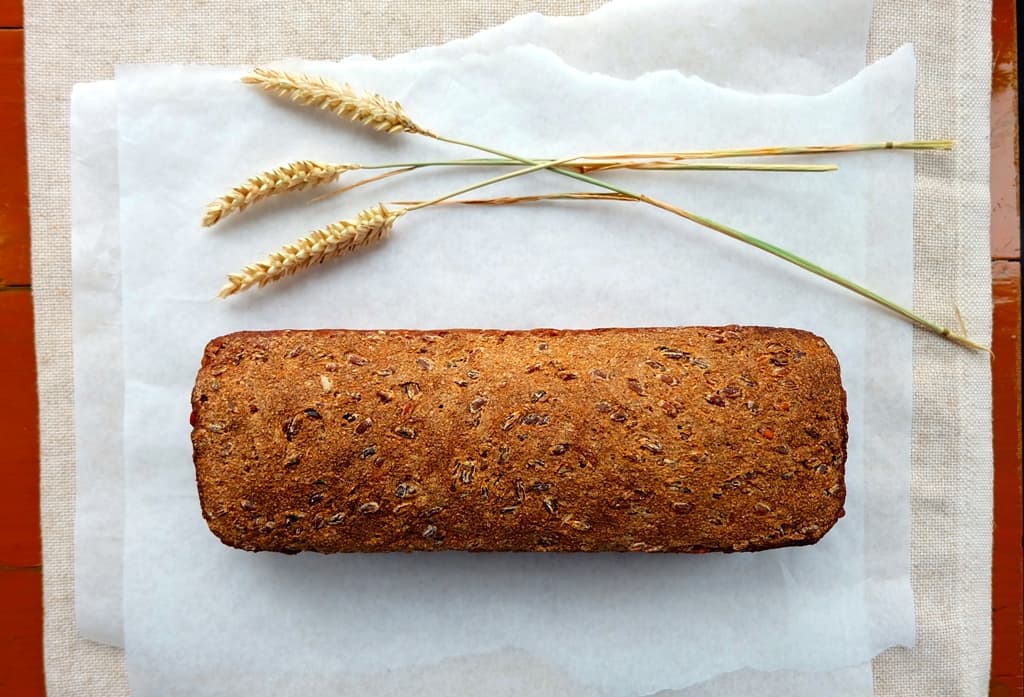 Ingredients
For the sourdough
220g wholemeal spelt flour
220g water
For the Grünkern soaker
For the main dough
220g spelt flour
50g water
14g salt
1 tbsp malt extract
How to bake Grünkern bread
Day 1
Prepare the sourdough by combining your spelt starter with the spelt flour and water. Mix well in a bowl, cover with a lid and leave to stand at room temperature for 16 – 24 hours.
Combine Grünkern and water in a pan, cover and leave to soak overnight.
Day 2
Drain the Grünkern and bring to a boil in a pan with 350g water. Simmer over a low heat for about 15 minutes. Drain any remaining water.
In a large bowl, combine 440g of the sourdough (the remaining 25g go back into the fridge for your next bake) with the main dough ingredients.
Form a dough and knead for 10 minutes.
Add the Grünkern to the dough and knead until evenly distributed.
Place the dough back into the bowl, cover and leave to rest for 1 hour at room temperature.
Prepare a baking tin (23 x 11 x 9.5 cm) by lightly oiling it. I use a silicone brush to do that.
Place the dough into the tin and prove for 2 – 4 hours depending on the temperature in your room. The dough should rise visibly, filling the tin to the top.
Preheat the oven to 250°C.
Place the baking tin on the second layer from bottom up and bake for 15 minutes, then bake for a further 25 minutes at 180°C and a final 10 minutes outside the tin at 180°C.
Cool on a wire rack.