This millet bread recipe makes a perfect breakfast bread and delicious accompaniment for vegetarian stews. The recipe bakes a bread with a moist and spongy crumb and crunchy crust. Little grainy millet beads are baked into the dough. It keeps well and stays moist for days as the millet grains are great for retaining moisture.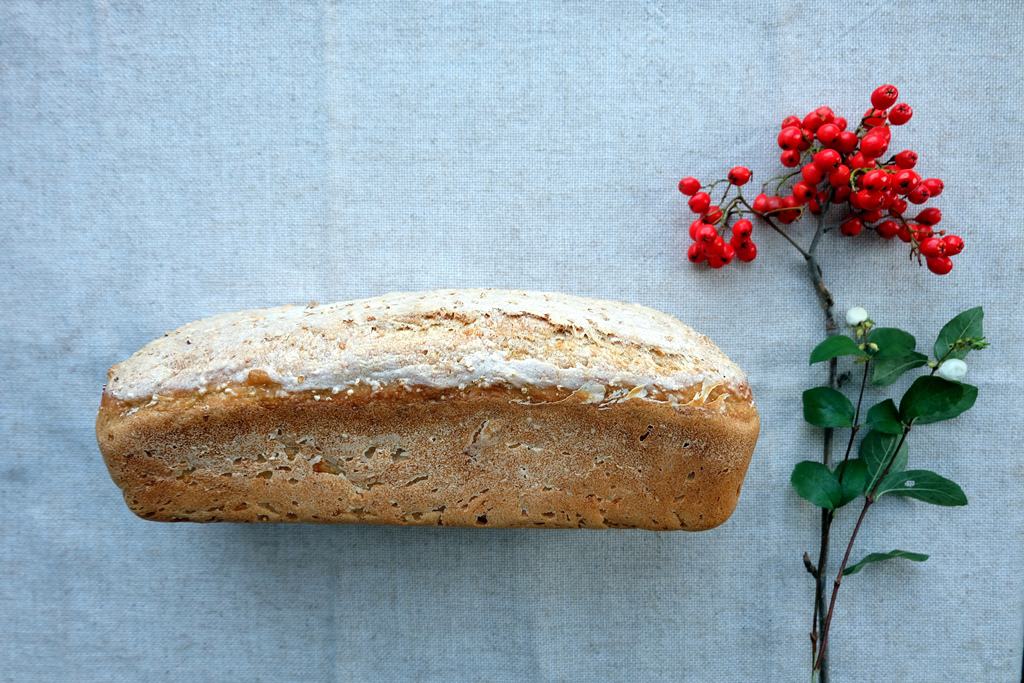 I use yellow millet (panicum miliaceum) grains in this recipe. The toasted, soaked and boiled grains form part of the dough and a small quantity of grains can also be used as topping for an interesting appearance and texture.
Millet bread recipe
This millet bread recipe uses sourdough as the raising agent, no yeast.
Refresh your sourdough on the day before baking and also prepare the toasted millet seed soaker. You'll then prepare the millet polenta, the main dough and proof the dough before baking it.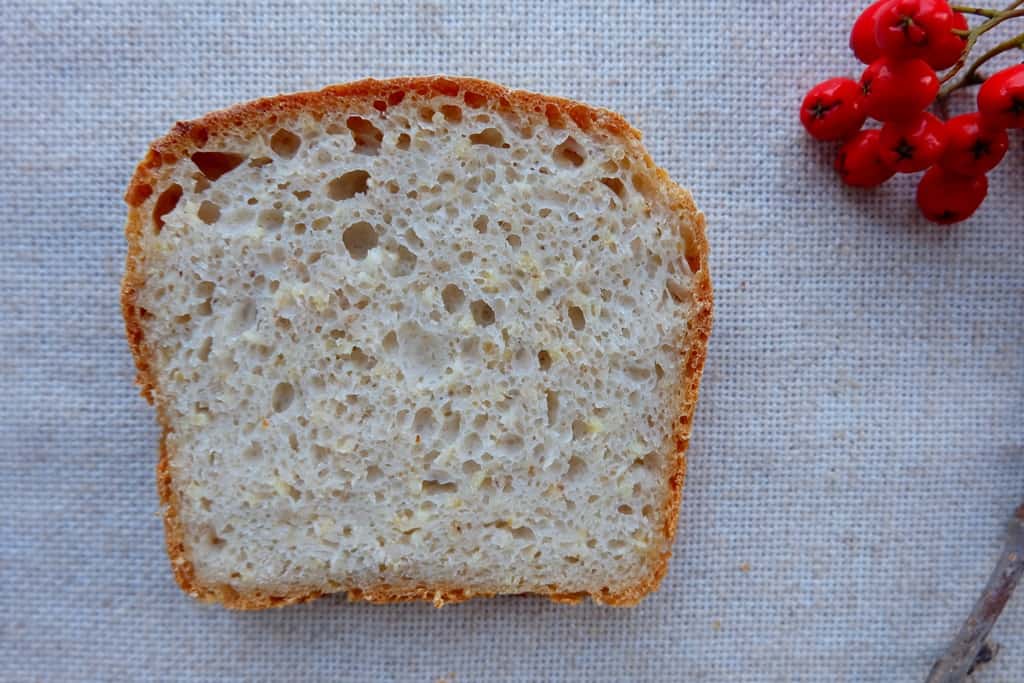 Day 1 – Prepare millet bread sourdough and soaker
Prepare sourdough
40g sourdough starter
100g white rye flour
110g water
Combine all ingredients in a medium sized bowl, mix well, cover and leave to rest at room temperature for about 24 hours.
Prepare millet grain soaker
100g millet grains
250g water
Gently toast the millet grains to darken slightly and release their nutty flavour. Soak the millet grains in the cold water. Cover and keep at room temperature for about 24 hours.
Day 2 – How to make millet bread
Prepare main dough
450g white bread flour (wheat)
245g water
55g yoghurt
9g salt
For the loaf tin
1 tsp sunflower oil
1-2 tbsp millet grains
Pour the millet grains and water into a saucepan and bring to boil. Simmer and cover for about 15 minutes until all the water has cooked away. Be watchful and stir often.
Fluff up the millet with a fork, cover with a clean kitchen towel and set aside to cool.
Combine 210g sourdough (rest goes back into the fridge for your next bake) and all main dough ingredients in a large bowl.
Turn out onto your work surface and knead for about 10 minutes until you get a smooth, elastic dough.
Place the dough back in the bowl, cover with a lid and leave to rest for about an hour.
Add the boiled and cooled down millet, knead in carefully until evenly distributed.
Place the dough back in the bowl, cover and leave to rest for about an hour.
Oil a loaf tin with the sunflower oil. I use a pastry brush to do this.
Deflate the dough, shape into a boule to fit into the loaf tin and carefully place the dough into the tin.
Cover with a polythene bag to proof for 2 to 5 hours (depending on the temperature in your room). Alternatively, you can also proof the dough in the fridge for about 24 hours.
Preheat the oven to 220°C.
Bake for 10 minutes at 220°C, then for a further 40 minutes at 200°C.
Cool on a wire rack.