A month ago, I visited the Zillertal in Austria for a few days of skiing on the Hintertuxer Gletscher. The weather wasn't as good as we'd hoped for, so we visited the village of Mayrhofen, and more specifically the Erlebnis-Sennerei Zillertal on the way there. It's a great place to pick up some local cheeses and other dairy produce. I also picked up a new type of bread – "Schüttelbrot" – which isn't very common in my neck of the woods in the North of Austria but what a revelation!
Eisacktaler Schüttelbrot from the Bäckerei Überbacher in Southern Tyrol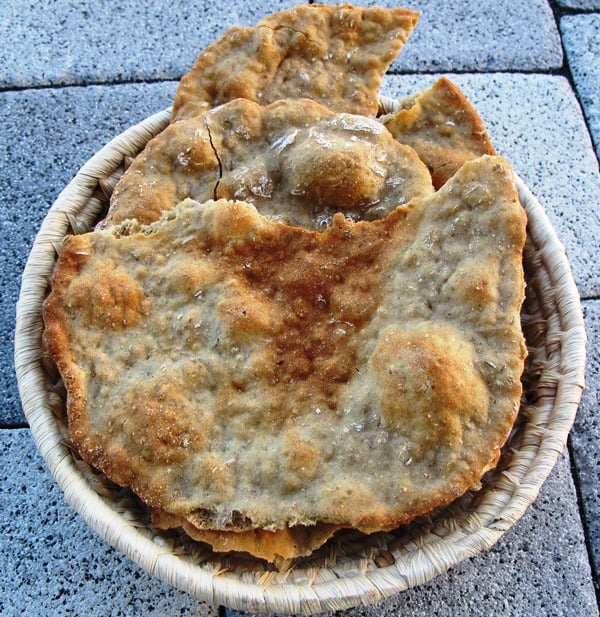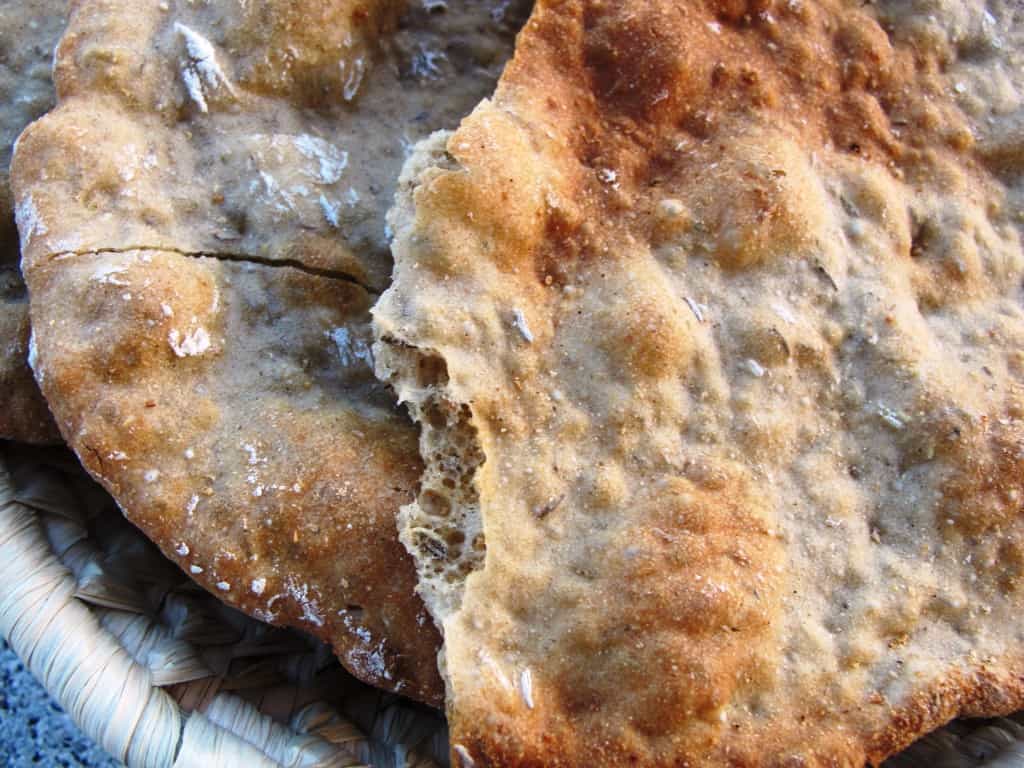 The ingredients on the label are listed as 83% rye flour, wheat flour, yeast, fennel, caraway seeds, salt and blue fenugreek (a spice which I also used over here to bake Vinschgerl – Rustic South Tyrolean Rye Flatbreads.
Schüttelbrot is the smaller, harder and more durable relation of Vinschgerl. Traditionally, Schüttelbrot has been popular on Alpine Tyrolean farms where using fresh produce wasn't really a viable option.
The name 'shake bread' makes reference to shaking during the baking process which loosens and flattens the bread. The flat shape ensures the bread hardens quickly which in turn makes it very durable. The flatbreads need to be stored in an airy, dry space. They taste great with cold cuts of meat and cheese.
Here is my own Schüttelbrot –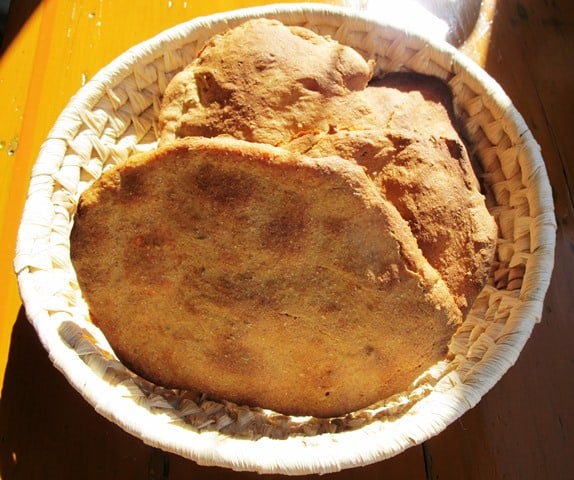 Schüttelbrot Recipe
Day 1 – Prepare the sourdough
25g sourdough starter
125g dark wholemeal rye flour
125g water
Combine the sourdough starter, rye flour and water in a bowl, cover and rest for 16-24 hours.
Day 2 – Prepare the final dough
250g rye flour
125g strong white wheat flour
150g buttermilk
300g water
3g dried yeast
10g salt
2.5g fennel
2.5g caraway seeds
2.5g blue fenugreek
How to make Schüttelbrot
Combine all ingredients including the sourdough starter from the day before.
Cover and rest for 1/2 hour.
Cover a baking tray with baking paper.
Using a dough scraper and take out dough at approximately 150g for each Schüttelbrot piece.
The dough is quite sticky and therefore it can't be rolled out. The dough parts are therefore placed in a baking tray then shaken until each piece has been shaped into a round, flat form a couple of millimeters thick.
Watch these videos for the traditional art of shaking the dough into shape: https://www.youtube.com/watch?v=aUyA5SCOLtA & https://www.youtube.com/watch?v=oYAnIH4fAbI

This recipe produces dough which is even stickier than shown in the videos. By way of cheating, I have been using a silicone spatula to flatten the dough pieces into the appropriate shape! This works really quite well, so for those of us who aren't quite mastering the art of 'Schütteln', this is a good workaround.
Bake the shaken dough pieces at 210 °C for approx. 25 mins.
Cool and dry on wire racks.