My friend Felix from Munich frequently impresses guests with his delicious Flammkuchen, a type of German flatbread with a delicious sour cream, bacon and onion topping. He provided all his Flammkuchen baking insight to me yesterday, so what better way to finish a long week than unwinding with a freshly baked Flammkuchen and a nice glass of Austrian Weißburgunder, watching a movie on the couch wrapped in a cosy blanket. Here is his Flammkuchen recipe for all of you to enjoy!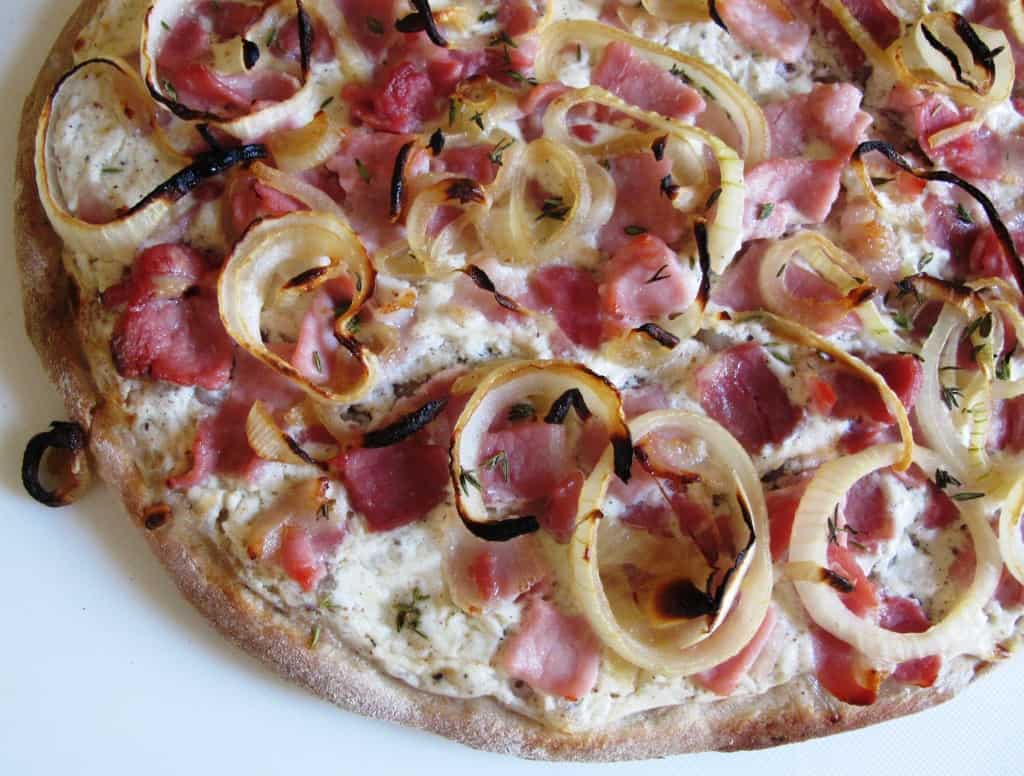 What is Flammkuchen?
Flammkuchen (or Tarte Flambée in French) is an Alsatian dish – it's easy to make and you'll only need a few ingredients. The traditional Flammkuchen toppings are sour cream (Felix recommends crème fraiche as it's thicker), onions and bacon. I'm planning to experiment with different toppings, but to start with, I go all traditional on this recipe.
Flammkuchen recipe
Before I jump into the Flammkuchen recipe instructions, a few additional notes on what Flammkuchen is and what it's not.
Flammkuchen is often referred to as 'German pizza', so I just wanted to set the record straight on this one.
Flammkuchen and pizza use the same base dough. The key difference is that Flammkuchen uses a base of sour cream or crème fraiche while pizza comes with tomato sauce. Flammkuchen is also not to be confused with white pizza which is pizza with a cheese base. Cheese is not traditionally used as a topping for Flammkuchen and the bread dough crust is generally thinner when compared to pizza. And… the Flammkuchen shape is usually rectangular or oval rather than round as it is for pizza.
Flammkuchen Recipe
This delicious Flammkuchen recipe is easy to prepare and rewards your work with delicious flavours. The quantities below are for 4 portions.
Ingredients
Flammkuchen dough recipe
500

g

flour

I used 400g strong white flour and 100g wholemeal flour; however if you can get your hands on strong 00 flour this will work even better

7

g 

salt

7

g 

dried yeast

320

g

warm water

A little olive oil
Flammkuchen sauce and toppings
12 

strips of bacon

cut into small squares or cubes

2

onions

finely sliced into rings

250

g

crème fraiche

or sour cream

230

g

natural Greek Yoghurt

1 

tsp

nutmeg

3/4

tsp

salt

Freshly ground black pepper

Fresh thyme

optional
Instructions
How to make Flammkuchen
Combine all dough ingredients in a large bowl to form a rough dough.

Knead the dough for 10 minutes until you have a smooth, elastic, stretchy and velvety dough.

Place the dough back into your bowl and cover with a lid.

Leave to rest for 1 to 2 hours at room temperature (or overnight in the fridge).

Preheat the oven and a baking tray to 250°C (the highest temperature possible) 30 minutes before the bake. If you have a pizza stone, preheat the oven and the pizza stone 1 hour before.

Divide the dough into 4 parts (8 parts for smaller sized Flammkuchen). I use a dough scraper to do this.

Shape each part into a ball and leave to rest for 10 minutes.

Combine the crème fraiche and yoghurt in a small bowl, add the nutmeg, salt and pepper and mix well.

Roll out the dough pieces (2-3 mm) and transfer to sheets of baking paper.

Cover with a clean kitchen towel and leave to rest for about 15 minutes.

Fry the bacon strips briefly until almost cooked, don't let them get crispy.

Fry the onion rings in the same pan until slightly browned.

If you are making all 4 (or 8 small) Flammkuchen but baking only one, two (or a few) at a time, don't add the topping to all of them at once. One by one works better as the topping doesn't melt into the dough that way.

Evenly and generously spread the cream mixture onto the dough (you want a really thick coating in order for the finished product not to be too dry), leave a small border around the edge (this will turn golden-brown and crispy).

Scatter the onion rings and bacon on top and sprinkle with thyme.

Slide the sheet of baking paper with the prepared Flammkuchen onto the preheated baking tray and bake for about 12 minutes or until the edges are nicely browned and the bottom is crisp. Repeat until all Flammkuchen are baked.

Serve immediately.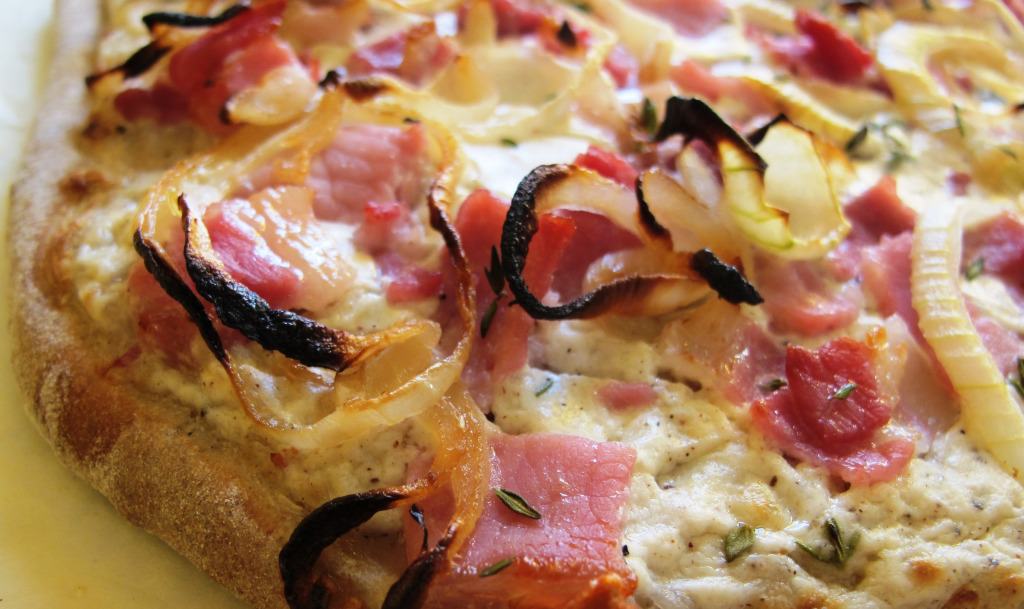 If you have leftover dough, you can refrigerate this in cling film and bake more Flammkuchen the next day.
If baking the next day is not an option, you can freeze it too. Roll out the dough into a base and par-bake (for about 3 mins). It needs to be fully cooled before you freeze it. When you feel like a cheeky Flammkuchen, simply take out the base, add the topping and bake again.
Hope you enjoy this Flammkuchen recipe as much as I do, it's perfect for a night in!
Sale
Bestseller No. 1
Sale
Bestseller No. 2
MasterClass KCMCCB14 Crusty Bake Perforated Pizza Tray with PFOA Free Non Stick, Robust 1 mm Carbon Steel, 32 cm, Grey
NO MORE SOGGY BOTTOMS: MasterClass's award-winning perforated Crusty Bake bakeware lets moisture escape for crispier-than-ever results
VERSATILE: the innovative design allows heat to circulate freely, crisping homemade and frozen pizzas, as well as chips and flatbreads
DOUBLE NON STICK LAYER: Quantum II finish releases food easily, makes clean-ups quick, and is totally free from PTFE, PFOA and BPA
MAXIMUM DURABILITY: made of 1 mm thick electroplated carbon steel, it won't warp or rust, and is oven safe up 220°C (428°F)
USEFUL INFO: this perforated pizza tray measures 32 cm; dishwasher safe; includes MasterClass's 20 years guarantee (5 years non stick)
Sale
Bestseller No. 3
ROCKSHEAT Pizza Stone Bread Baking Stone for Oven and Grill Innovative Double-sided Built-in Design with 4 Handles (30.5 x 30.5 x 1.5cm Rectangular)
PIZZERIA QUALITY PIZZAS AT HOME ANY TIME. You can easily get pizzeria quality pizza in the comfort of your home. In order for you to have an optimal experience of cooking, it distributes heat evenly, provides you a crispy color crust that you always wanted. This stone is not only for making pizzas but can also be used to bake cookies, bread, biscuits and much more. You can even heat ready-made pizzas for better results.
800°C RESISTANCE AND ROBUST THERMAL STABILITY. It is resilient for many years and will not disrupt under 800°C when used normally. It can tolerate an implausible amount of heat.
INNOVATIVE DOUBLE-FACED BUILT-IN HANDLES DESIGN. It has double-faced with handles that are built-in and is designed for convenience. It helps to save space. It is designed in such a practical way which makes transferring easier. One ROCKSHEAT built-in handled stone acts as two normal handled ones.
FOOD GRADE STONEWARE. The stone is burnt in 1200°C kiln, it does not encompass any harmful substance or odor.
FERFECT THICKNESS. The thickness of this stone is 1.5cm and it does not have needless weight. You don't have to preheat it for a long time as compared to the ones which are thicker.