While visiting my parents-in-law this weekend, I decided to bake a big batch of cheese and rosemary scones for our afternoon tea. This recipe makes it easy to have a delicious snack ready within the hour.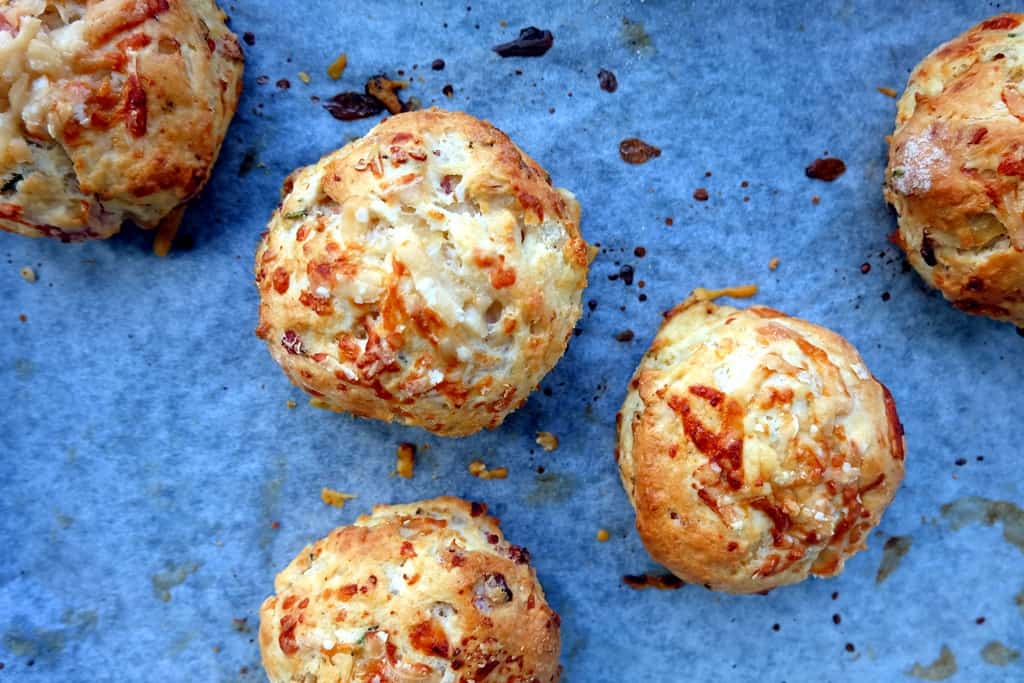 Cheddar cheese, rosemary and onion scones recipe
These scones are delicious and it's easy to adapt the recipe. Add six slices of rashers when you make the onion and rosemary mixture and you have a delicious variation of the recipe: bacon and cheese scones.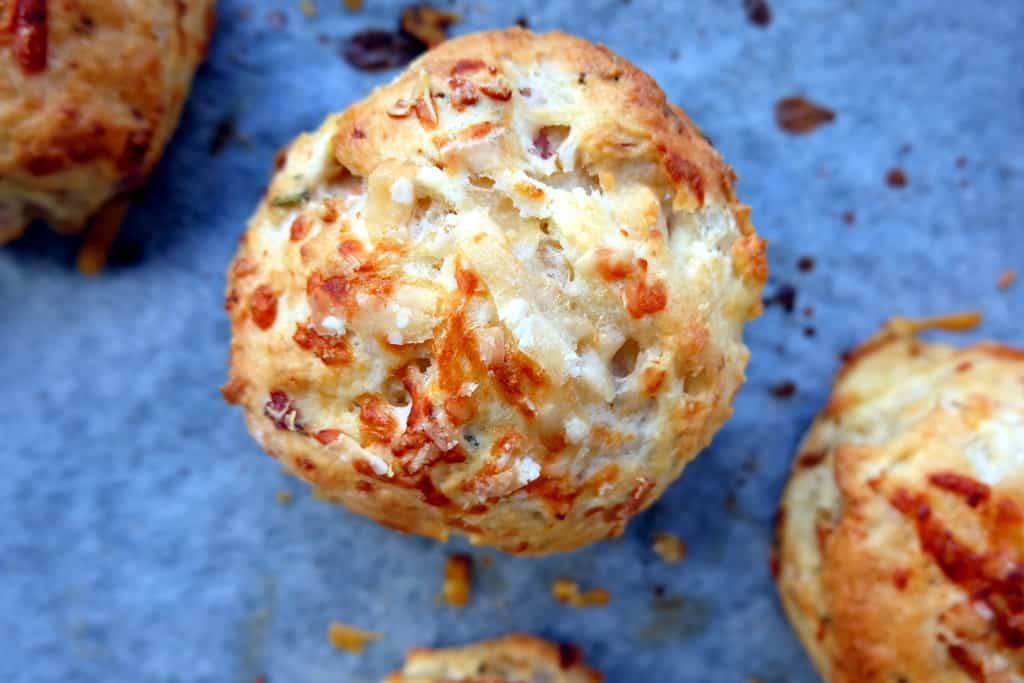 Cheese & Rosemary Scones
Quick and easy to prepare, these scones will be a real treat for your taste buds.
Ingredients
Ingredients for 12 cheese & rosemary scones
A glug of olive oil

2

onions

finely chopped

4

sprigs of fresh rosemary

finely chopped

500

g

plain flour

you can replace up to 1/3 with wholemeal flour if you like

6

tsp

baking powder

(level tsp)

½

tsp

salt

½

tsp

freshly milled black pepper

1

tsp

mustard powder

½

tsp 

cayenne pepper

100

g

cold butter

cubed

150

g

mature cheddar cheese

cut into small cubes

275

g

milk

75

g

natural yoghurt
For the topping
A little bit of extra milk for brushing

50

g

mature cheddar

grated to spread on top
Instructions
How to make cheese and rosemary scones
As always it's best to get all the ingredients ready and chopped before you start. Luckily, I had some family assistance (chopping by my husband, entertainment by my mother-in-law) today and everything was done in no time.

Pre-heat the oven to 220°C and line a large baking tray with baking paper.

Heat the olive oil in a frying pan and fry the chopped onions gently for about 10 minutes. Stir in the rosemary and set aside to cool.

While the onions are frying, sieve the flour and baking powder into a large bowl. Add the salt, pepper, mustard powder and cayenne pepper and whisk to combine.

Add the butter cubes and rub them in with your fingers until your ingredients have a breadcrumb-like consistency, then add the cheese and onion-rosemary mixture and stir until evenly distributed.

In a separate bowl, combine the milk and yoghurt and whisk briefly.

Add the milk and yoghurt mixture to the dry ingredients to form the dough. It doesn't need to be worked too much. In fact, try to work it as little as possible.

Lightly flour your worktop, turn out the dough and carefully flatten to about 3cm without kneading it. Lightly flour the dough surface before continuing.

Use a round cookie cutter or glass with floured rim to cut the scones into round shapes. You'll need to put the dough pieces together a few times until you have no dough leftover.

Put the scones onto the baking tray, brush with a little milk and spread some grated cheddar on top. Make sure you leave some space between the scones as they will expand during the bake.

Bake for about 20 minutes or until golden brown.

Transfer to a rack to cool.
Eat the cheddar and rosemary scones while warm and fresh. Once cooled you can store them in a plastic container for about two days. Just heat them through in the oven for a few minutes and they are as good as new. Scones are great for freezing too.