Dampfnudeln are a regular Friday lunchtime dish in my grandmother's kitchen. Bread buns are placed on a bed of apples and steamed on the hub for about 30 minutes. They are incredibly light and delicious and I wanted to share the Dampfnudeln recipe here on the occasion of this month's #BreadBakers theme 'Steamed Buns'.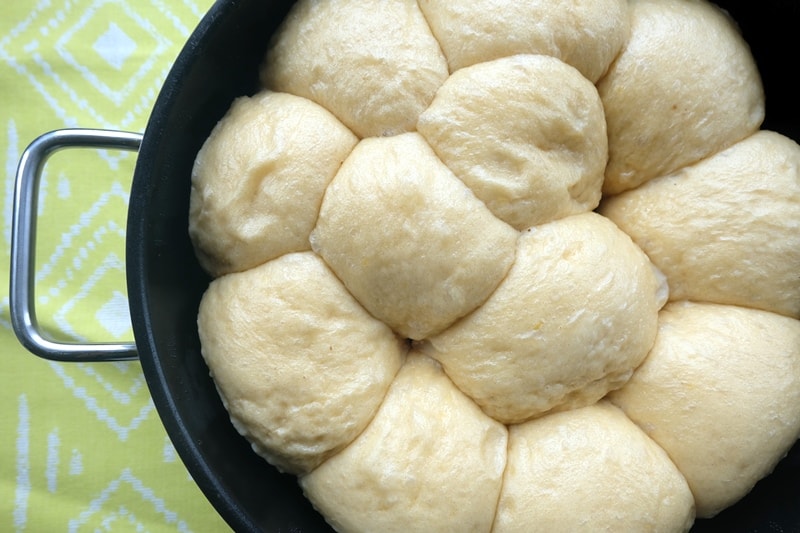 The Austrian/German delicacy also featured in the Great British Bake Off 2016 as a technical challenge.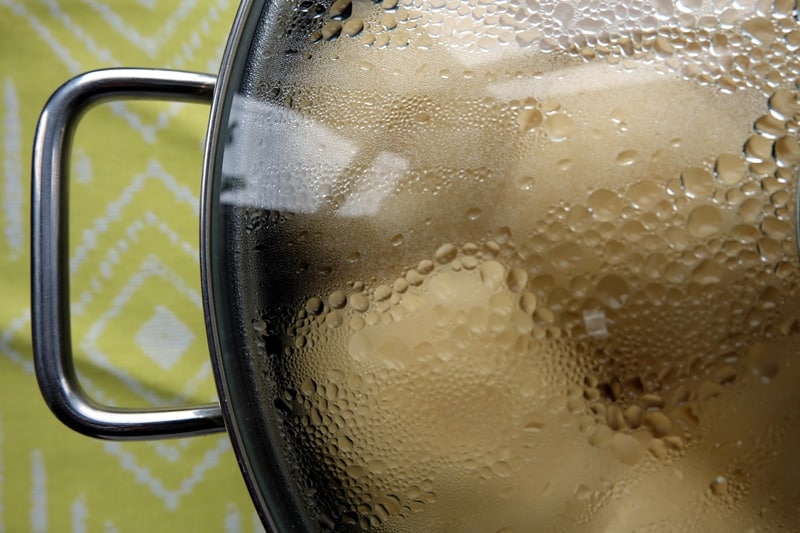 Dampfnudeln Recipe
My granny's recipe, based on Dampfnudel variation from the Innviertel in Austria and I think this version of the recipe is also popular in neighbouring Bavaria. The Dampfnudeln are steamed on a bed of lightly spiced apples. This recipe provides 6 portions.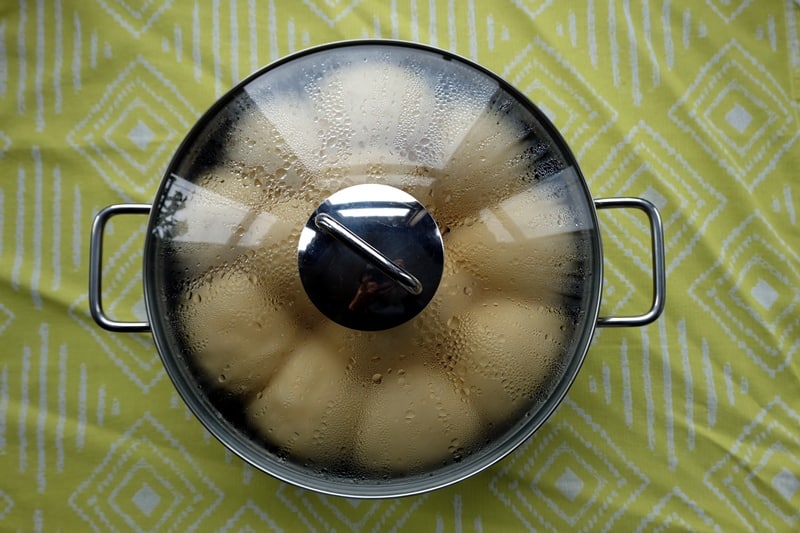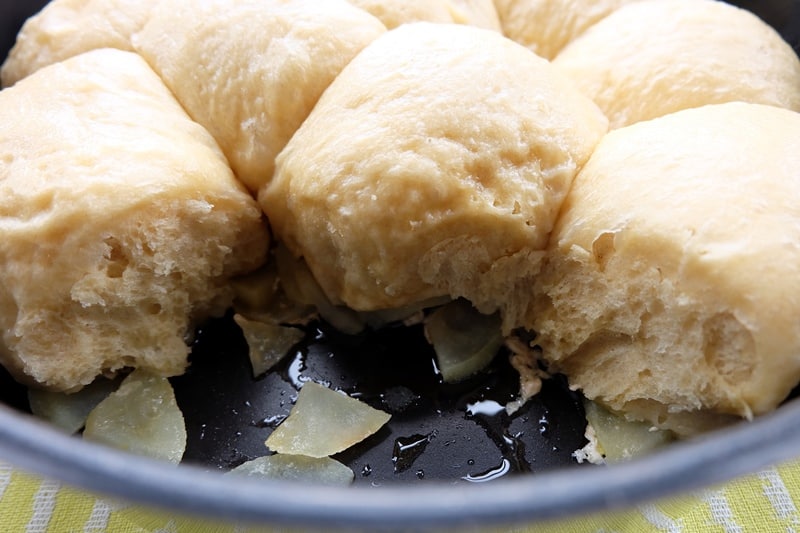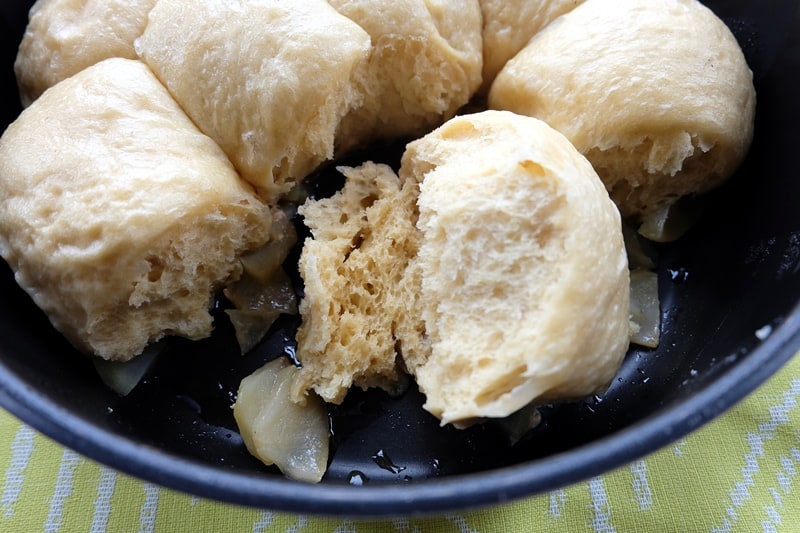 Ingredients
For the dough
500g strong white wheat flour
7g dried yeast
250g milk, tepid
50g unsalted butter, melted
50g sugar (I use brown sugar)
2 eggs
1/2 tsp salt
Zest of half a lemon
For the apple base
850g apples, peeled and chopped into 1/2 cm slices
50g butter
2 tbsp sugar
6 tbsp milk
How to make Dampfnudeln
Combine all dough ingredients in a large bowl.
Knead dough until smooth and elastic.
Place back into the bowl, cover and leave to rest for 45 minutest at room temperature.
Punch down the dough and divide into 12 equal pieces.
Shape the pieces into buns and place onto a pre-floured surface.
Cover with a clean kitchen towel and leave to proof for about an hour. The buns should grow significantly in size during that time.
Prepare the apples while you are waiting.
Once the dough buns are ready, melt the butter in a large (circa 30 cm in diameter) non-stick frying pan (you need a tight fitting lid for it too) on a low heat.
Evenly distribute the apple pieces in the pan and sprinkle the sugar on top, then add the milk.
Carefully place the dough buns on the apple base and cover the pan with the lid. Don't take the lid off again (or even slightly lift it) until the buns are fully done as they otherwise deflate.
Turn up the heat to medium to bring the liquid in the pan to boil.
After 15 minutes, turn down the heat to the lowest level and steam for another 15 – 20 minutes.
Leave to rest for a few minutes once the heat is off before you take the lid off.
Serve immediately.
If you like this Austrian steamed bread recipe, check out this plum preserve filled steamed bread recipe for Germknödel and here are also my fellow #BreadBakers' recipes.
#BreadBakers is a group of bread loving bakers who get together once a month to bake bread with a common ingredient or theme. You can see all our of lovely bread by following our Pinterest board
right here
. Links are also updated after each event on the
#BreadBakers home page
. We take turns hosting each month and choosing the theme/ingredient.