I stumbled upon grape seed flour in a small farm shop in Austria and was intrigued by this little known ingredient. Of course, I had to have it to use it in bread baking 🙂 Here are my notes on baking bread with grape seed flour.
Grape seed flour can be made from any variety of grape, each with its own characteristic taste. When added to bread dough, the resulting loaf benefits from the grape flour's richness of colour and flavour. I've noted down my grape seed flour bread recipe for those of you interested in giving this a go!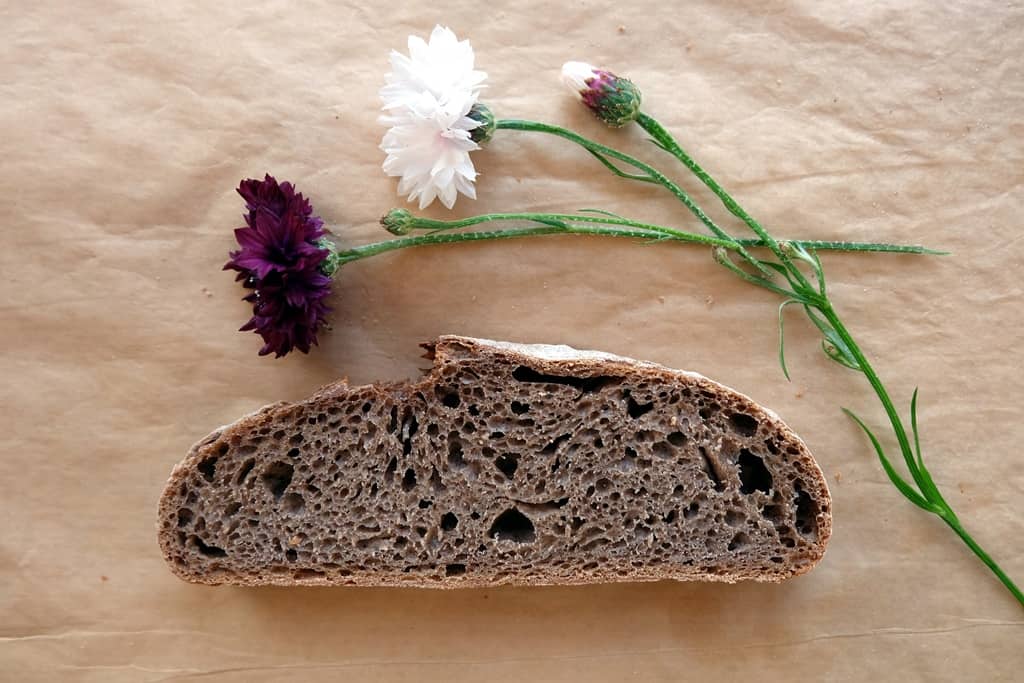 Grape seed flour (which is actually more like a fine powder) is produced from pomace i.e. the skins, seeds and pulp generated during wine-making. Typically, only 80% of the total harvested grape crop is used to make wine, so it's a nice way of using the 'waste' of the wine-making process. The seeds are pressed to extract the oils, and then, along with the grape skins, dried and milled into flour. Grape seeds have long been used to produce grape seed oil, and grape seed flour is just another alternative.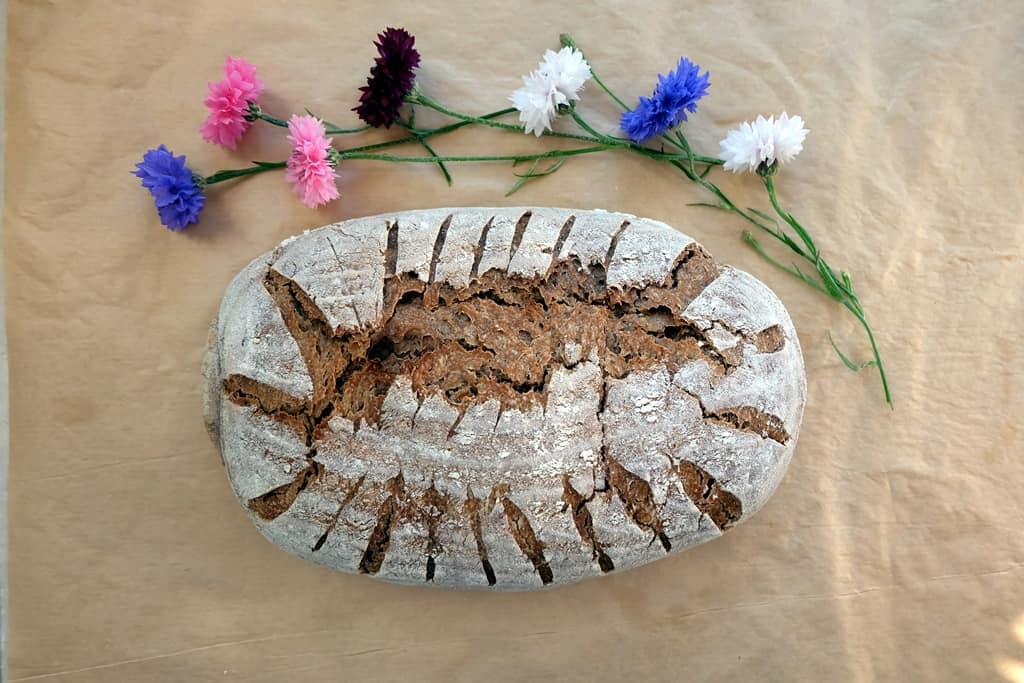 How to use grape seed flour
Grape seed flour can be added to baked goods. The recommended 'dosage' is 5-7% based on the bread's flour content.
Grape seed flour pancakes are another great option. Just use your standard pancake recipe and add a tablespoon of grape seed flour into the batter mixture.
It can also be added to yoghurt or smoothies and used to thicken and flavour soups or salad dressings.
It adds rich colour and flavour with a slightly astringent yet fruity taste. White wine grapes will lend a tan colour to baked goods, while red wine grapes will add a darker, purple-brown colour to them.
Grape seed flour provides a boost of antioxidants and is high in fibre.
Finally, it's a gluten free ingredient.
Grape Seed Flour Bread Recipe
Have fun baking with grape seed bread and pairing it with wine. I used grape seed flour from the Urkornhof in Austria, but you can buy grape seed flour online too. The cold-pressed grape seed flour I used combines seeds from both white and red grape varieties into one flour.
Ingredients
Sourdough
100g wholemeal wheat flour
100g water
Main dough
265g strong white bread flour
35g wholemeal wheat flour
15g grape seed flour
8g salt
180g water
How to make grape seed flour bread
On the day before baking, refresh your sourdough by combining the sourdough ingredients in a medium bowl. Mix well, cover and keep at room temperature for 12 – 16 hours.
On the day of baking, combine 200g of the refreshed sourdough starter (the rest goes back into the fridge until your next bake) with the main dough ingredients.
Knead for 10 minutes and you should have a smooth dough at this point.
Place the dough back into the bowl, cover and rest for 1 hour or so until visibly risen.
Punch down the dough and, on your work surface, shape it into a boule.
Lightly dust the loaf with flour on all sides, then place it into a suitable proving basket.
Cover the proving basket with a polythene bag (to prevent the dough from drying out), then leave to prove at room temperature for several hours until fully proved.
Preheat the oven and your baking dome (if using) 20 minutes before the bake.
Turn out the dough onto the baking dome plate or a baking tray lined with baking paper. Score a pattern with a scoring knife if you like.
Bake at 180°C for 35 minutes and a further 10 minutes without the baking dome lid (if using) to brown the crust.
Cool on a wire rack.