It recently struck me that during all my years of sourdough baking, not once had I baked a pure white sourdough bread. I got stuck right into 100% rye sourdough baking, wholemeal spelt sourdough and wheat-rye combination breads. Yet, I hadn't ever bothered with a basic white sourdough loaf. White sourdough bread is perhaps the most simplistic form of sourdough bread baking. This post is all about using only strong white wheat flour for a plain white loaf of sourdough.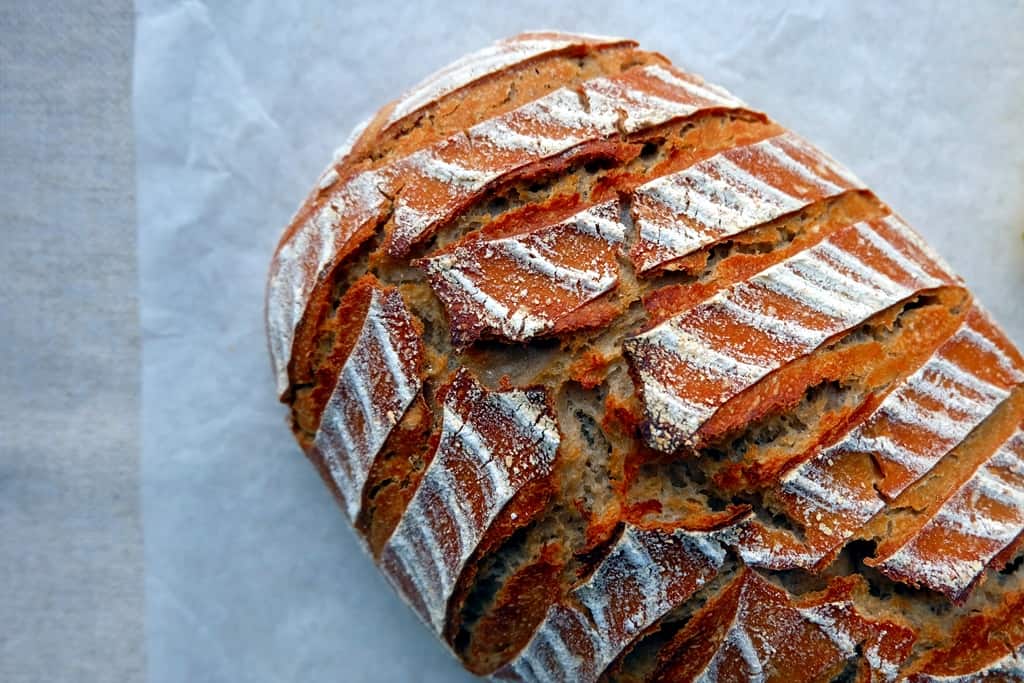 The additional motive for this post was that I will be hosting a Sourdough Toast Morning for this year's Sourdough September event organised by the Real Bread Campaign in the UK.
Friends will be invited for a Sunday morning filled with sourdough goodness, homemade jams, fresh avocados as well as cinnamon toast. I will be preparing different types of sourdough bread for my guests to taste. Wheat-rye combination sourdough, a seeded sourdough loaf, a soft sourdough milk bread. Plus, a basic white wheat sourdough will also be on offer. This is based on the assumption that the plain white sourdough loaf will be the ideal sourdough bread for 'beginners'. I'm hoping all this sourdough amazingness will sell the taste and health benefits of slow fermentation baking to those not yet converted to the good stuff.
So, here it is – a most basic and simplistic white wheat sourdough bread recipe. Sourdough amateur or connoisseur – I promise, you will like it!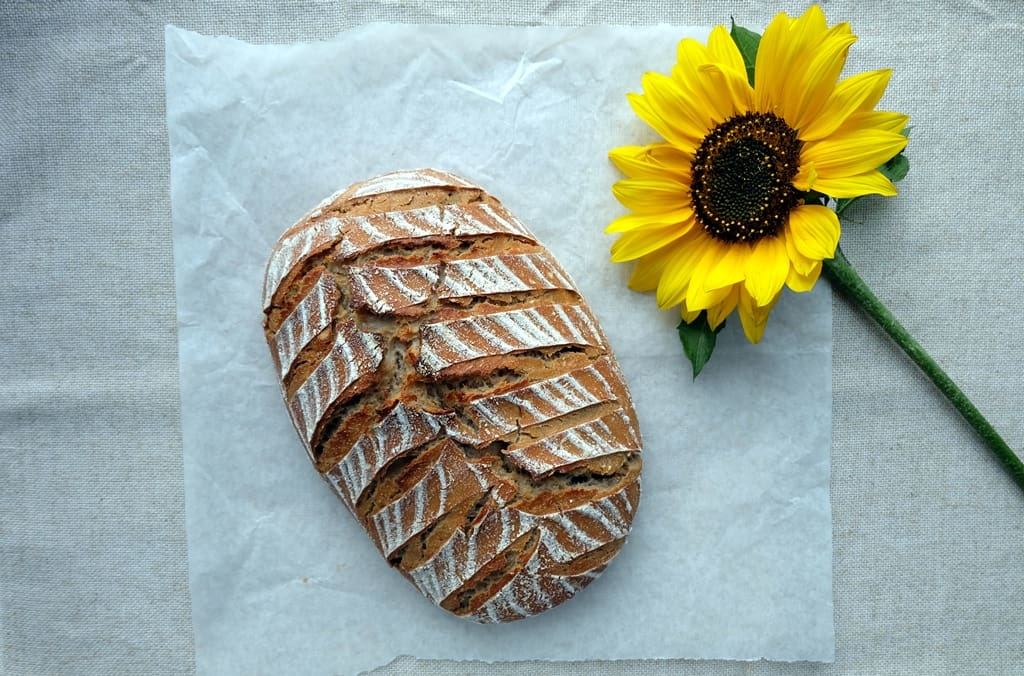 White sourdough bread recipe
If you don't have a sourdough starter yet, get started by making a wheat sourdough starter. If you have a rye or spelt sourdough starter already, you can use a small bit of either of these starters to base the white sourdough bread on. Due to the small amount of starter needed, you can easily go ahead with whatever sourdough starter you have. There will be minimal no-wheat contamination as you are only using 15g of other flour as part of the sourdough starter and this amounts to 3% of the total amount of flour used.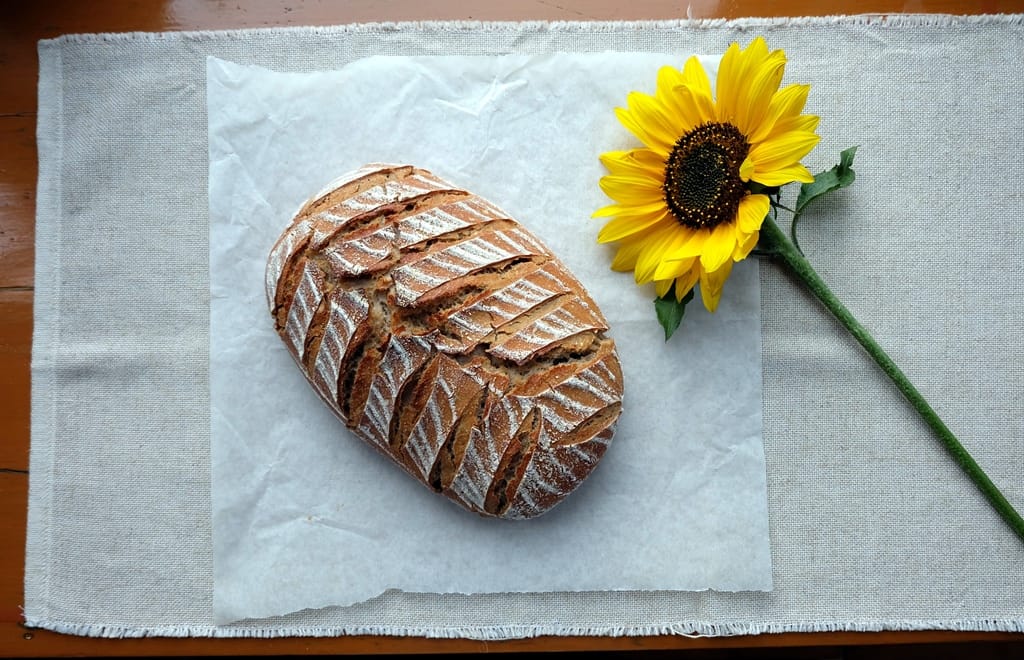 White Sourdough Bread Recipe
If you are new to sourdough baking, a white sourdough loaf is a good place to start.
Ingredients
For the wheat sourdough refresh
30

g

wheat sourdough starter at 100% hydration

150

g

strong white wheat bread flour

150

g

water
For the main dough
435

g

strong white wheat bread flour

260

g

water

9

g

salt
Instructions
How to make white sourdough bread
On day 1, combine 30g wheat sourdough starter with 150g strong white wheat flour and 150g water. Mix well, cover and keep at room temperature for about 12 hours.

On day 2, combine 300g of the sourdough from earlier (the rest i.e. 30g of it goes back into the fridge for your next bake), 435g strong white bread flour, 260g water and 9g salt to form a dough and knead for 10 minutes.

Place the dough back into the bowl, cover with a lid or polythene bag and leave to rest for about 2 hours at room temperature until it has visibly expanded.

Punch down the dough, give it another quick knead, then shape it into a loaf and place seam-side up into a pre-floured proving basket. Cover with a polythene bag to prevent the dough from drying out.

I tend to prove my sourdough breads in the fridge overnight as it fits in better with my daily routine. Whether you're proving in the fridge (I proved the loaf for 24 hours) or at room temperature (the time it takes will vary and may take as little as 2 or up to 7 hours), make sure your sourdough loaf has almost doubled in size before you bake it.

I bake with a La Cloche baking dome for an extra crunchy crust and moist crumb. If you don't have a La Cloche baking dome, turn out the loaf onto a baking tray lined with baking paper once you have preheated the oven to 220°C. Bake for 10 minutes at 220°C and at 200°C for a further 30 minutes. If using the La Cloche, take off the domed lid for the final 10 minutes.

Cool on a wire rack and enjoy the deliciousness of this white sourdough loaf. It's great toasted too!