I visited Nice and the Côte d'Azur a long time ago when I was only sixteen. Unfortunately, I didn't experience much of the classic cuisine provençale. I would love to return and taste all the wonderful dishes: bouillabaisse, ratatouille, l'anchoïade or pissaladière Niçoise, the region's beloved anchovy and onion flatbread.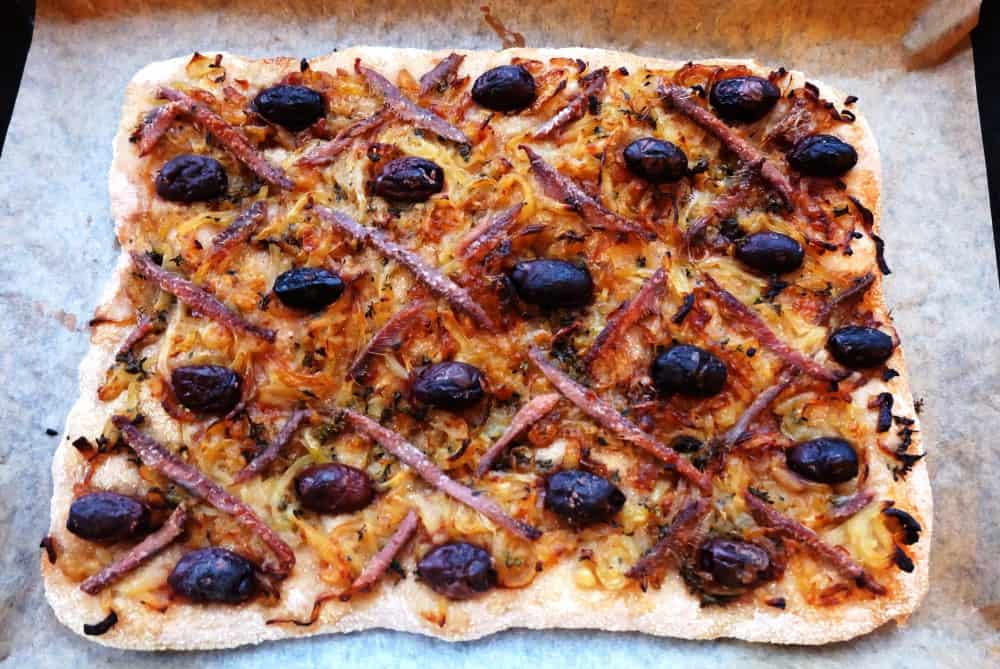 Inspired by this month's garlic-themed#BreadBakers event (hosted by Karen's Kitchen Stories), I decided to bake a garlicky version of pissaladière Niçoise. It derives its name from the ground anchovy condiment know as pissala, a specialty of the coastal area around Nice.
Crudely referred to as 'French pizza with anchovies' by some, this flatbread doesn't come with the cheese topping typical for pizza. Instead, you'll find provençale ingredients on pissaladière breads: olive oil, Niçoise olives, fresh garlic and aromatic thyme and oregano leaves. Most of the ingredients on my pissaladière Niçoise were bought in the shop, but the thyme and oregano came my very own allotment!
Pissaladière Niçoise Recipe
Bakes two, enough for four people
Day 1
Sourdough
30g sourdough starter
100g strong bread flour
80g water
Combine all ingredients in a medium bowl until well mixed. Cover and leave to rest at room temperature for 16 to 24 hours.
Day 2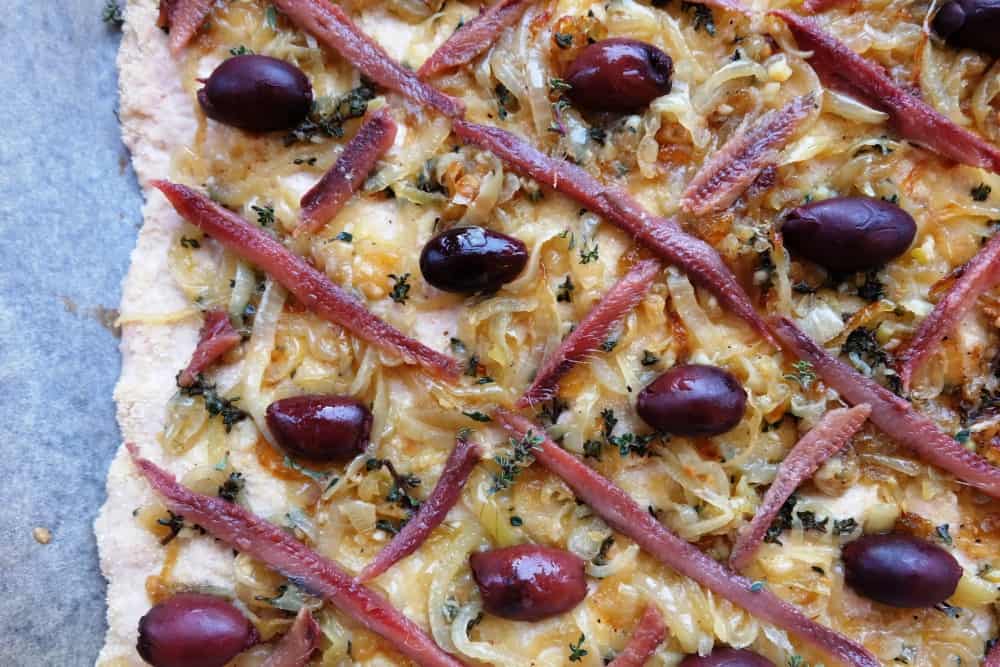 Main pissaladière dough
310g strong bread flour
105g wholemeal flour
260g water
7g salt
25g olive oil
Onion, anchovy & olive topping
6 medium onions, thinly sliced
6 garlic cloves, minced
5 tbsp olive oil
A few sprigs fresh thyme and/or oregano, leaves picked
Salt and pepper, to taste
100g anchovies (60g drained weight), sliced in half lengthways
40 – 50 Niçoise olives, pitted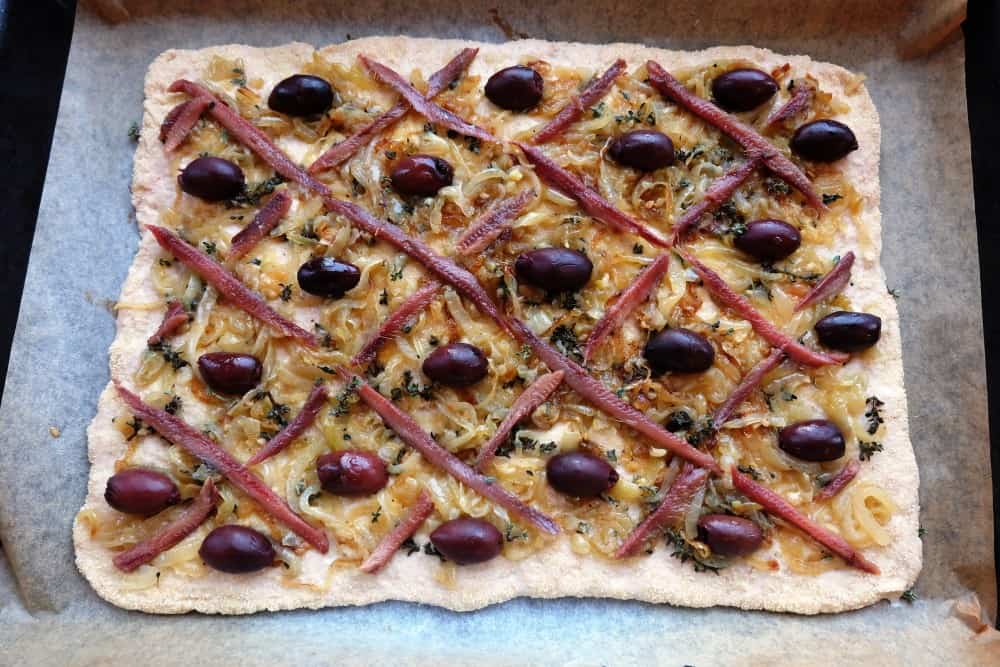 Combine 180g of the sourdough with the main dough ingredients (except olive oil). Knead for 10 minutes and add the olive oil towards the end.
Place the dough back into the bowl, cover and leave to rest for about 2 – 4 hours until doubled in size.
Prepare the topping by sautéing the onions and garlic in the olive oil over a low heat for about 25 to 30 minutes until very soft but only lightly browned.
Take off the flame and add the thyme, oregano, salt and pepper. Leave to cool.
Divide the dough into two equal pieces. Shape into two dough balls on a lightly floured surface. Cover with a kitchen towel and leave to relax for 20 minutes.
Prepare a sheet of baking paper and sprinkle with semolina.
Stretch the dough by hand, you will need to do this slowly and let it relax every now and then. Try to shape it into a rectangular shape about 6mm thick.
Place the dough onto the baking sheet.
Spread the onion-garlic mixture evenly across the dough, leaving 1 cm free around the edges.
Place the anchovies in a lattice pattern on top of the onions. Place one olive in each of the sections formed.
Leave the unbaked pissaladières to proof for another 30 minutes.
Preheat the oven (220°C). Bake on a preheated baking tray for about 20 minutes.
#BreadBakers is a group of bread loving bakers who get together once a month to bake bread with a common ingredient or theme. Follow our Pinterest board right here. Links are also updated each month on this home page.
We take turns hosting each month and choosing the theme/ingredient.
If you are a food blogger and would like to join us, just send Stacy an email with your blog URL to foodlustpeoplelove@gmail.com.