It's picnic time! Well, almost… It's mid-April and in Edinburgh we have maximum temperatures of 8°C and wind gusts of up to 47 mph. So, not quite picnic weather yet, but I'm sure when the Scottish summer comes, it's going to be amazing!
The unpredictable Scottish weather is exactly why a picnic loaf needs to be quick and easy to prepare here. So you can judge the weather in the morning and still have time to make a lovely loaf to be ready for the early afternoon.
This picnic bread (a recipe by Dan Lepard) will take you four hours to prepare and as Dan says, "a homemade loaf turns a simple sandwich picnic into a feast to be proud of".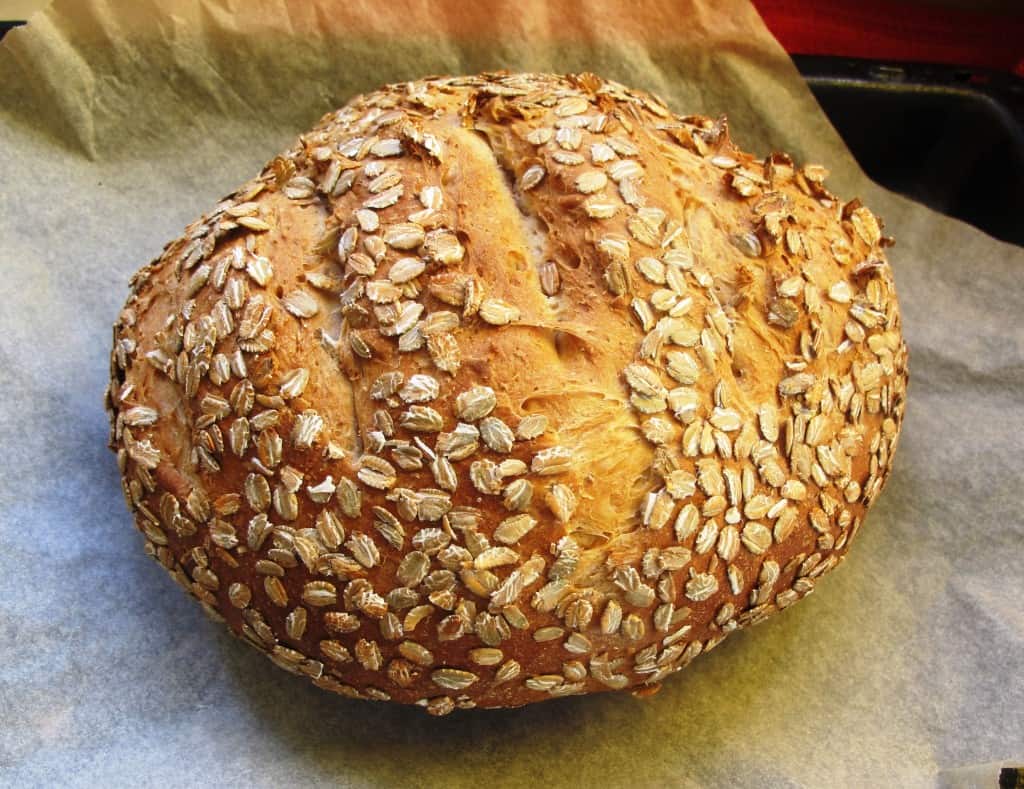 Ingredients
200ml warm water
1 tsp dried yeast
200ml yoghurt
400g strong white bread flour (mix in some spelt flour if you like)
100g wholemeal flour
2 tsp fine salt
2 tbsp olive oil
1 large handful of oats (I used jumbo oats)
Optional: 1 small bunch chives, finely chopped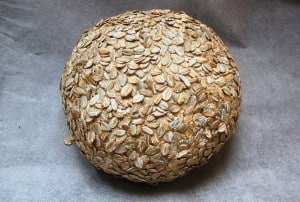 How to bake it
Pour the water into a large bowl, add the yeast (and chives), and mix.
Whisk in the yoghurt, add the flours and salt, and mix again.
Add a little water if the dough is too dry. It needs to have a soft, slightly sticky feel while holding its shape.
Cover the bowl and leave for 10 minutes.
Put a little oil on a clean work surface, knead the dough gently for 10 seconds, return to the bowl, cover and leave for 10 minutes.
Lightly knead once more, return to the bowl, cover, and leave for 90 minutes until risen by half.
Prepare two dinner plates: cover one with a wet kitchen towel, the other with a thick layer of oats.
Line a baking tray with baking paper.
Shape the dough into a loaf (use a little flour if it's too sticky).
First, roll it over the wet-towel plate, then on the oat plate. Try to cover the loaf also on the sides.
Place it seam-side down on the baking tray.
Cover with a cloth and leave for about an hour to rise.
Heat the oven to 220°C (gas mark 7).
Cut a few diagonal slashes into the loaf.
Bake for 40 minutes, until golden.
Dan Lepard's recommendations for this picnic loaf:
Good with soft cheese, salmon or trout, or just butter and slices of salted cucumber.
My recommendation:
Make it without chives, so if it rains, it's a lovely bread to have with your breakfast or brunch the next day!