By Yasmin Sulaiman – One of the things I love most about home-baked bread is that – unlike the pre-sliced, shop-bought variety – it never goes mouldy. White bread does, however, go rock hard when left uneaten for a few days. But that doesn't mean it's destined for the bin; there's still plenty of life left in stale bread and it's an invaluable ingredient to have in your kitchen.
My top leftover bread recipes
Macaroni cheese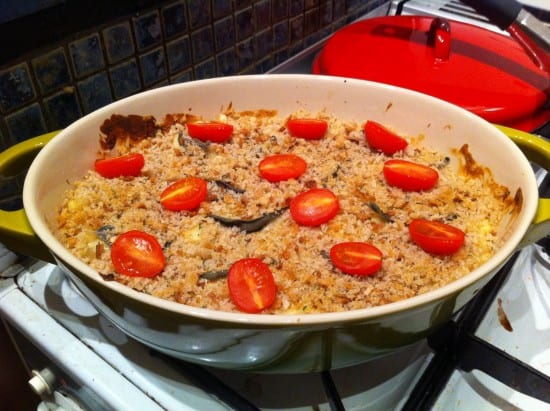 Bread isn't the most obvious ingredient here but adding a breadcrumb topping is a great way to add some texture to this comforting staple. In her recipe for the perfect macaroni cheese, Felicity Cloake suggests making the breadcrumbs with a slice of white bread but I think brown bread or sourdough works well too.
Simply slice off a chunk of whatever stale bread you have and blitz it in a mini chopper or food processor for about 20 seconds, or longer if you like very fine crumbs. For extra cheesiness, add a small chunk of parmesan, pecorino or other hard cheese before you blitz. I like adding thyme leaves too.
Then simply scatter it on top of your macaroni cheese, and place under a grill or in the oven until it browns. In the picture above, I've also added halved cherry tomatoes and some sage leaves to break up the cheesy monotony.
Similarly, you can use leftover bread for pangrattato breadcrumb topping to sprinkle on your favourite risotto or pasta dish
Fattoush
This Middle Eastern salad is a great way to use up leftover pita bread and other flatbreads. There are a variety of fattoush recipes to choose from (the one featured in Sami Tamimi and Yotam Ottolenghi's cookbook Jerusalem looks delicious) but mine is adapted from the Moro cookbook. Serves 2, or 4 as a side dish.
Ingredients:
4 pita breads, or 2 large flatbreads
Half a small red onion
A handful of cherry tomatoes or 2 large tomatoes
Half a cucumber
Some parsley and mint
A small knob of butter
For the dressing:
Juice of 1 lemon
2 or 3 tablespoons of olive oil
A splash of vinegar
Half a tablespoon of pomegranate molasses
1 garlic clove, crushed
A little salt and pepper
1 teaspoon each of sumac and za'atar – the za'atar is optional but the sumac is what really makes this dish, if you can get it. It'll still be tasty if you add neither!
Method:
Set the oven to 180°C/Gas 5.
Melt the butter in a pan and brush over both sides of the pita bread or flatbread.
Place directly onto the oven rack to crisp up – this should take around 10 minutes but keep an eye on them.
When done, leave to cool.
To make the dressing, squeeze the lemon juice into a large salad bowl and add the olive oil, the pomegranate molasses, garlic, salt, pepper and the sumac and/or za'atar, if using.
Taste and only add the extra vinegar if you'd like it to be sourer – I usually do.
Add a little caster sugar if it's too tart.
Mix or whisk to combine.
Finely chop the red onion and add it to the dressing. Leave it to sit in the dressing for at least 15 minutes before adding the other ingredients. This helps diminish that raw oniony taste that many people don't like.
After the onion has steeped in the dressing for a little while, chop up the tomatoes and cucumber – you can deseed them if you like but I don't bother.
Add them to the salad bowl but don't stir yet.
Chop up the parsley and mint – add as much as you like of the parsley, but go easy on the mint.
Then take the cooled, crisp pita/flatbreads and crumble directly into the salad bowl. This is a good job for children and enthusiastic sous chefs!
Finally mix everything together with two large spoons or salad servers and dig in.
This is a pretty easy recipe to adapt – traditionally I think it contains chopped radish and lettuce too. In the past, I've added celery instead of cucumber and even thrown in some crumbled feta cheese.
Soda bread salad
It's not often that I find myself with leftover soda bread, but when I do this is a delicious way to use it up. Serves 2, or a hungry individual.
Ingredients:
A quarter to a half of a loaf of leftover soda bread
One ball of mozzarella cheese – the fresh stuff, not the hard blocks
Some tomatoes – either 3 or 4 large tomatoes or most of a punnet of cherry tomatoes
This recipe is really easy. Just chop up the tomatoes, tear up the mozzarella and cut the bread into bite size chunks, and toss together in a large bowl. Then dress it with your favourite vinegar-based salad dressing. Make a little more of it then you usually would, as the bread will soak up the dressing quickly. A few extra grinds of black pepper and some basil leaves would be good too.
If you can get hold of a punnet of multi-coloured cherry tomatoes – usually a mix of red, green and yellow – these would be great in this salad. However, the green ones can be quite sour so I'd suggest roasting these first with a tiny sprinkling of brown sugar or balsamic vinegar before adding them to the mix.