Irish stew is the order of the day, and what better accompaniment than some homemade Guinness bread rolls. Irish stew, by definition a simple dish, based on the few but substantial ingredients of lamb chops, onions, carrots and potatoes and flavoured simply with salt and pepper, is a superbly rich dish. My Guinness dinner rolls have a light crumb and exquisitely full-bodied flavours, divinely complementing the umami taste experience of the stew. I've also noticed that I'm spot on topic with this month's #BreadBakers theme of 'Irish Breads', hosted by A Day In the Life On The Farm.
I'd baked bread with beer before and achieved some delicious results, but I'd never used Guinness. This Guinness bread recipe very subtly brings out the dark-roasted barley flavours.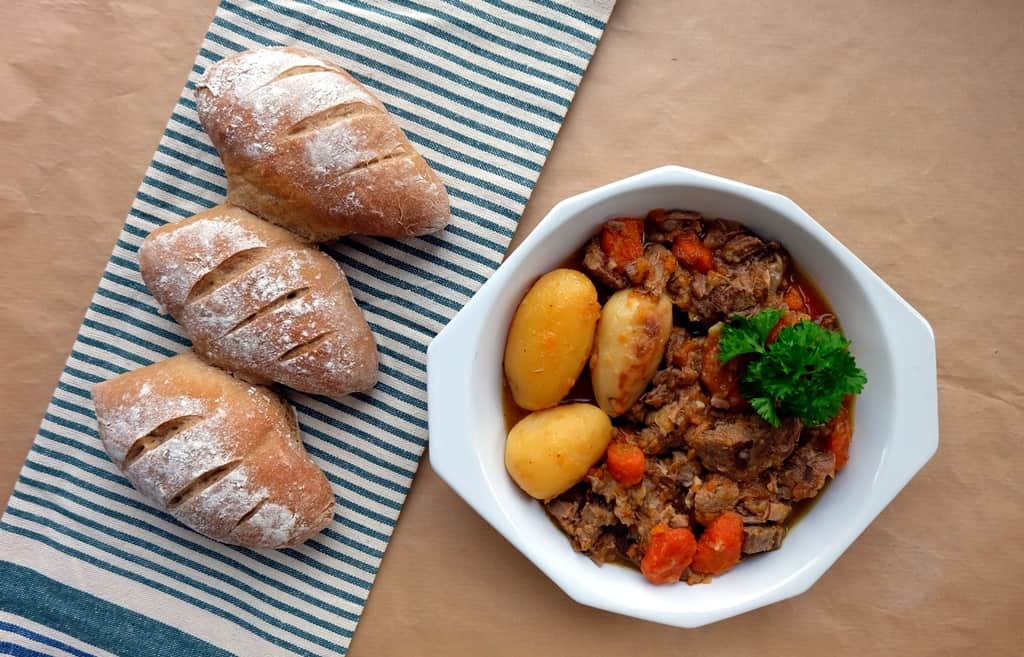 Guinness Bread Rolls Recipe
An Irish stew calls for bread rolls to soak up all the delicious juices and this recipe for Guinness bread rolls does the job perfectly. A wheat-based dough, enhanced with a little added rye and fortified by the ruby colours of that famous Irish stout, produces delicious Irish bread rolls.
Ingredients
550g white bread flour

150g white rye flour

6g dried yeast

10g salt

440g Guinness, at room temperature
75g water
How to make Guinness bread rolls
Combine all ingredients in a large mixing bowl to form a dough
Knead for about 10 minutes

Let rest covered for about an hour until the dough has significanlty expanded in volume

Punch down the dough and transfer to a lightly floured surface

Divide into 16 equal parts, cover the dough parts with a clean kitchen towel and let rest for about 10 minutes

Shape each dough part into a roll (I like to make rolls with pointed ends as the tips form a superb crust), place onto baking trays lined with baking paper, lightly flour the rolls' surface and cover with clean kitchen towels. Make sure to leave enough room between the rolls to allow them to expand unless you like them to attach to each other during the bake, as I did in the photo above.
Leave to rest for about an hour or more until proved

Preheat the oven to 180°C

Bake for about 20 minutes until nicely browned and fully baked through

Cool on a wire rack
Take a look at the Irish bread recipes from my fellow #BreadBakers!