Bannetons are baskets for bread proofing, used to hold shaped loaves as they proof and undergo their final rise. These dough rising containers are also referred to as Brotform in German and Gärkörbchen in Austria and come in various shapes and materials. There is plenty of variety out there, so here is my quick guide to banneton baskets to get you started.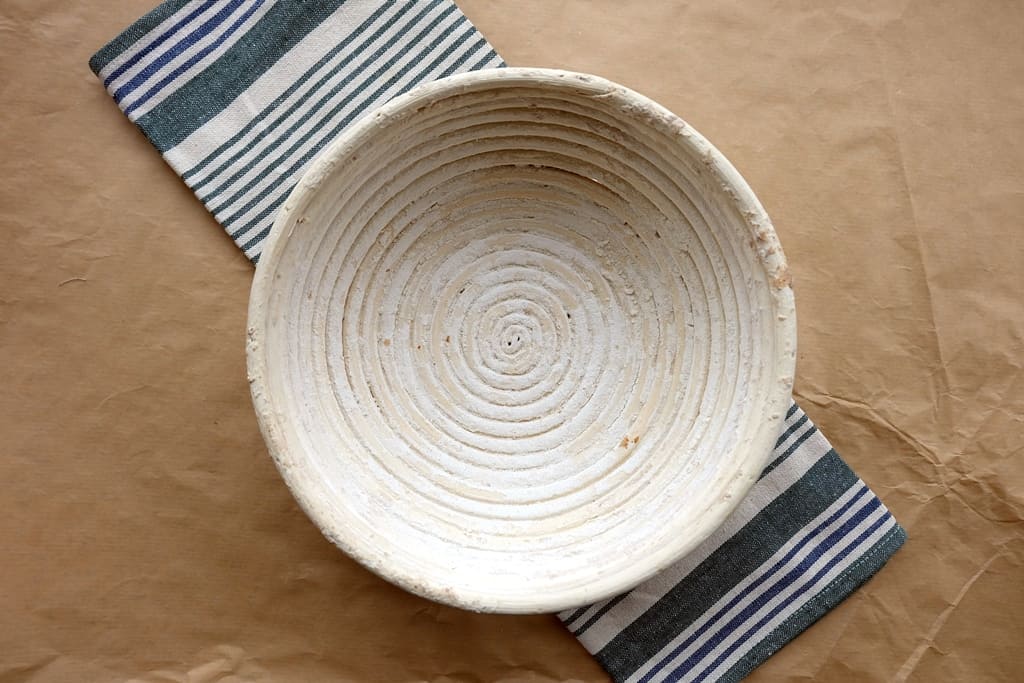 Why use banneton baskets?
Bannetons are great for doughs that are too sloppy to proof as free standing loaf without flowing into a flat bread. Bread proofed in a basket can therefore be wetter as the dough is held in shape during the proofing process. Once proofed, the loaf is flipped or rolled out of the banneton basket and goes straight into the hot oven, giving it little chance to relax into a puddle before the bake.
You'll find that, as the proportion of rye in bread recipes increases, bannetons become more useful, providing lateral support for fragile loaves. For a higher and prettier result, loose doughs are therefore best supported by proofing baskets in order to rise upwards, not outwards.
Great lightness and a very open structure are possible with such (wetter) dough, but only if it can be held in a reasonably coherent shape before being fixed by the heat of baking." Andrew Whitley, Bread Matters
How to use a proofing basket
Using a proofing basket is simple:
Put your loaf into the basket upside down (seam-side up).
Cover the basket with a polythene bag to keep the moisture in i.e. to prevent the dehydration of the surface and to prevent a surface skin from forming
Let the bread rise.
Turn out the loaf onto your baking tray lined with baking paper or La Cloche baking dome or your baking peel, depositing the bread gently on to the surface, before transferring it into the hot oven.
A problem I faced when using my round wicker banneton for the first time was that my dough got stuck in the basket. This is because new cane bannetons need to be conditioned prior to their first use.
Before its first use, lightly mist your cane banneton with water and dust it with a layer flour. For any future uses, lightly flour your basket before you put in the dough and dip your dough in flour before you put it in the basket.
However, be careful, as too much flour results in a thick, floury crust and will diminish the cane's spiral pattern, so you may have to experiment before you get it exactly right.
I like using white or brown rice flour to dust my banneton and to bathe the loaf in before it enters the basket. It will give your loaf a beautifully clean finish.
After use, leave it to dry out for a day, don't place it back into the cupboard straight away.
How to clean a banneton
Brush with a dedicated stiff brush and store your banneton in a well ventilated spot.
I've never washed my bannetons as the brush does the job well. It's not recommend to wash it and absolutely avoid soaking it.
However, every few months, you can place your proofing baskets into the oven at 150°C for 15 minutes to kill potential bacteria which may be lingering.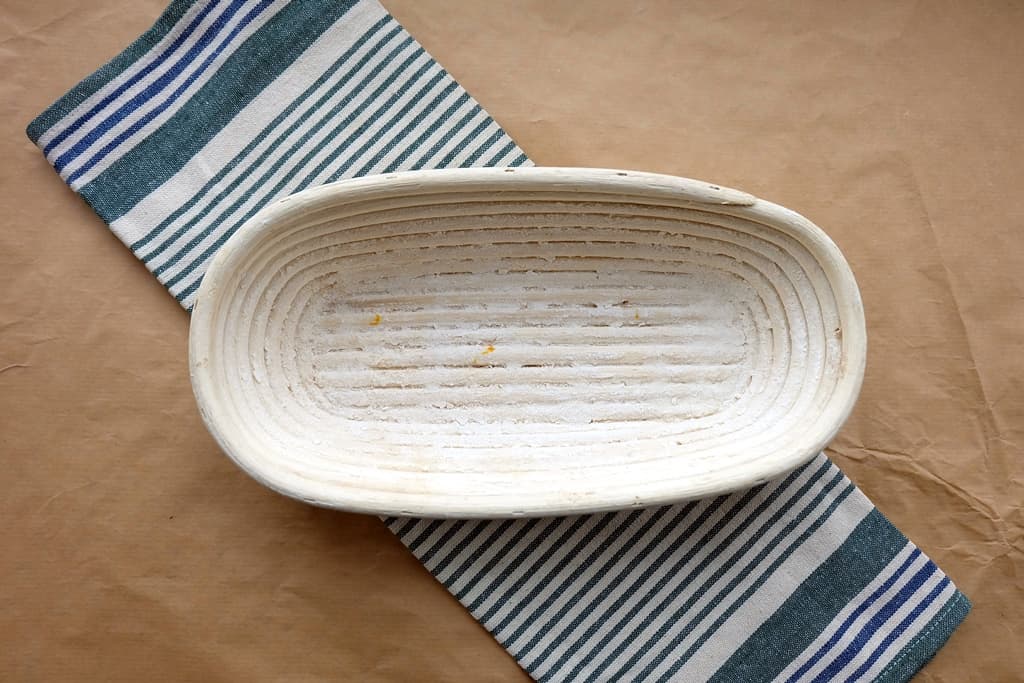 Types of banneton baskets
There are several types of bannetons. I personally prefer cane baskets but here are your options.
Cane wicker bannetons – Wicker makes an ideal container as it allows the air to circulate around the dough and let it breathe. Cane baskets will give your loaves a beautiful pattern and last a lifetime.
Wood pulp bannetons – Mostly made in Germany from 100% local spruce trees and less prone to sticking!
Plastic bannetons – These won't get a recommendation from me…
Lined bannetons – Linen-lined proofing baskets are also a great choice when picking a banneton.
What size banneton should I use?
Proofing baskets come in different sizes, so make sure your dough quantity is aligned with the banneton basket size. An 8 inch round banneton is suitable for approx. 1 pound or 500g of dough while a 10 inch round banneton will be fine for 2 pounds or 1kg of dough. These sizes will give the dough enough space to rise and expand also without spilling over the sides.
If in any doubt, it's usually better to use a slightly bigger banneton as it is not necessary to fill a banneton completely. The important thing is that the dough doesn't spill. You may not get the full spiral effect of the banneton rings by using a slightly bigger size but the banneton will still be able to do its primary job i.e. hold the dough's shape during the proof.
Finally, make sure that the loaf coming out of the banneton fits into your oven and fits into any Dutch oven or baking dome you may be using.
Bestseller No. 1
Emwel Round Bread Proofing Basket - 25cm Large Banneton Proving Basket Natural Rattan Sourdough Proving Basket for Professional Home Bakers (with Cloth Liner, Dough Scraper, Bread Lame)
🍒【PERFECT SIZE FOR BAKING BREAD】1Proofing Basket+ Bread Lame+Dough Scraper+Linen Liner Cloth
🍒【Excellent Craftsmanship, Emwel Brand】This oval banneton basket using natural rattan, absolutely free from dyeing agent&chemicals. Made with natural material, love and care from our making handmade basket masters.
🍒【A GREAT GIFT FOR BAKERS】Surprise your beloved ones, backers, housewives, friends or family members with the natural rattan made beautifully and well made bowl that every one would love it.
🍒【Easy Cleaning & Unchangeable】 High quality and natural rattan can effectively ensure that the bread basket does not change and keep it dry after clean. With linen liner cloth, making cleaning more convenient!
🍒【GUARANTEED QUALITY】 We are committed to offer our customers with the best quality products and great customer support. We are fully confident about our quality and sincerely hope you will be satisfied either. If you are not happy with our basket kit for any reason, please contact us, we will be happy to resolve the problem to your full satisfaction or REFUND.
Bestseller No. 2
10 inch Oval Natural Rattan Bread Proving Basket Set Bortform Bannetons Basket Proving Bowl Bread Proofing Basket with Linen Liner Bread Plastic Cutter Linen Storage Bag 25x15x8cm Hold 500g Dough
Complete Baking Kit : BREAD PROOFING BASKET x1 , LINEN CLOTH LNER x1, STORAGE BAGS x2, STAINLESS STEEL DOUGH CUTTER x1 , BREAD LAME x1,FLOUR STENCILS x16 , COTTON PROOFING CLOTH X1,Silicone spatula x1 ;
Banneton Proofing Basket : Made of handmade, hand-crafted unbleached natural rattan cane that is eco-friendly.Hold up to 1 pounds dough with 10 inches (L) x 5.9 inch (W) x 3.15 inches (H) size.
Made of hand-crafted unbleached natural rattan cane that is eco-friendly, food-safe, and non-toxic. This allows your dough to remove and release nicely, stick less so you can use less flour to dust your banneton. Produces creates a beautiful flour pattern on the crust for a classic look. Ideal for making all types of bread that need time to rise or expand. Perfect for bread baking lovers. Perfect addition to any household that enjoys homemade bread any day of the week.
Whether you are a seasoned bread baker or a novice, using a banneton will help you get a crispier loaf with a deliciously crunchy crust. This is because banneton baskets are made of natural cane and work by creating a slightly humid micro-climate between the dough and the banneton during proofing. As the dough dries it creates a skin, and this is what makes a superb crust on artisan bread. Enjoy your round crispy loaf with a beautiful rising pattern!
2pcs storage bag: green alternative for plastic bread bags. Reusable grocery bag with a drawstring design. Eco-friendly, unbleached, reusable food storage.
Bestseller No. 3
CHUSSTANG Banneton Bread Proofing Baskets -2pcs 10" /25cm Round Banneton Sourdough Proving Baskets Natural Rattan Proofing Bread Basket Tools Bowl(with 2*Linen Liner Cloth+ Dough Scraper+ Bread Lame)
PERFECT SIZE AND KIT: 10in(25cm) L, 6in(15cm) W, 3.35in(8.5cm) H. Allows for 1.76 lbs(800g) of dough for a medium to large size loaf. Perfect for bread baking lovers, Banneton Proofing Basket Set is for professional and amateur bakers.It contains everything you need: 2 ROUND BREAD BASKET, 2 LINEN LINER CLOTH, 1 DOUGH SCRAPER, 1 BREAD LAME.
TOP QUALITY NATURAL CANE MATERIAL: CHUSSTANG handmade proofing baskets which for bread baking is made of natural rattan, lightweight, sturdy! The bread basket is ultra-durable, designed for long time use. It is stick-proof and prevents moisture of your deliciously baked crust.
WELL MADE & EXCELLENT HANDMADE: It is carefully woven by our handmade masters, full of love and care, the ideal choice for large families. Proved to wicker moisture away from the surface for the crispy round crust for beautiful ridges loaf.Smooth surface and no splinter, don't need to worry about hurting hands.
EASY TO CLEAN & EASY TO USE: Banneton Proofing Basket is ideal for making all types of bread that need time to rise or expand; With its durable cloth liner that has an elastic edging that stretches for removing, it can be machine or hand washed; Please wash it with warm water and soap, before drying with a towel and hanging to dry.
AFFORDABLE AND GREAT GIFT: This bread proofing basket set is helpful for a baker and people who like to make fresh and healthy bread by themself. A housewife can make delicious for their little child and it will make much more fun to family.Also it's a good gift for friends,this perfect gift for you or your family and friends will make your bread surprise every time, your loved ones.
Proofing basket alternatives/substitutes
If you are looking for alternatives for proofing baskets, you could simply use a loaf pan to keep your dough in shape or improvise using a bowl lined with a flour-dusted lint-free tea towel. Alternatively, you could also try the all-rounder that is Lékué's silicone bread baker.