I recently discovered that Austrian pumpkin seeds are much bigger and darker in colour, have more substantial flavour and are creamier in texture than regular pumpkin seeds sold in the UK. Reason enough to bake one tasty pumpkin seed bread!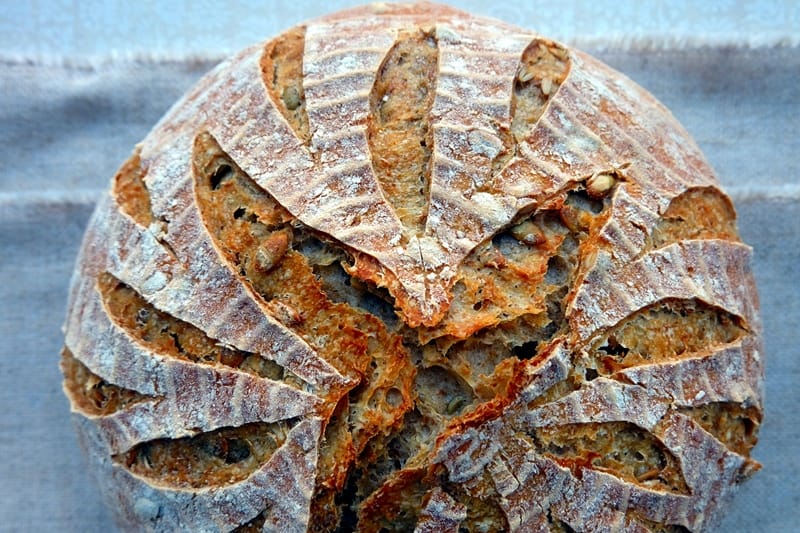 The largeness of Austrian pumpkin seeds makes them an attractive addition to many dishes. I love adding these pumpkin seeds into sourdough breads, but they are also great for snacking, salads or homemade granola. Take a look below, they look stunning, don't they?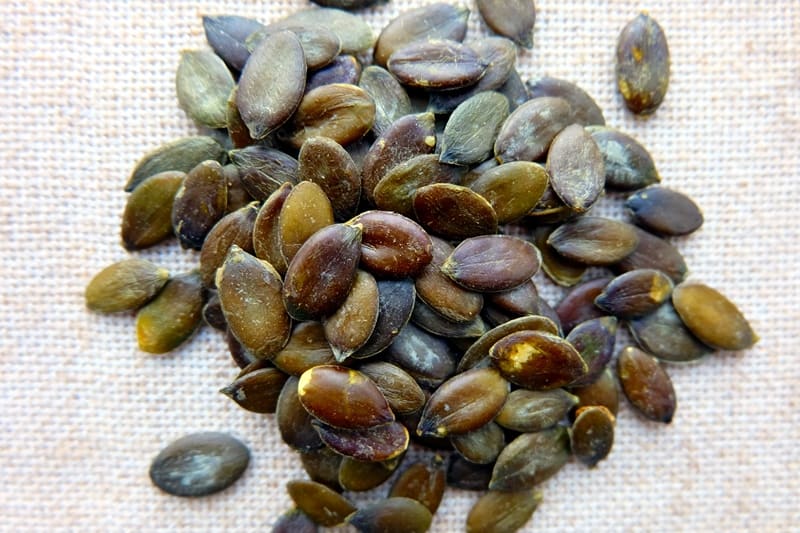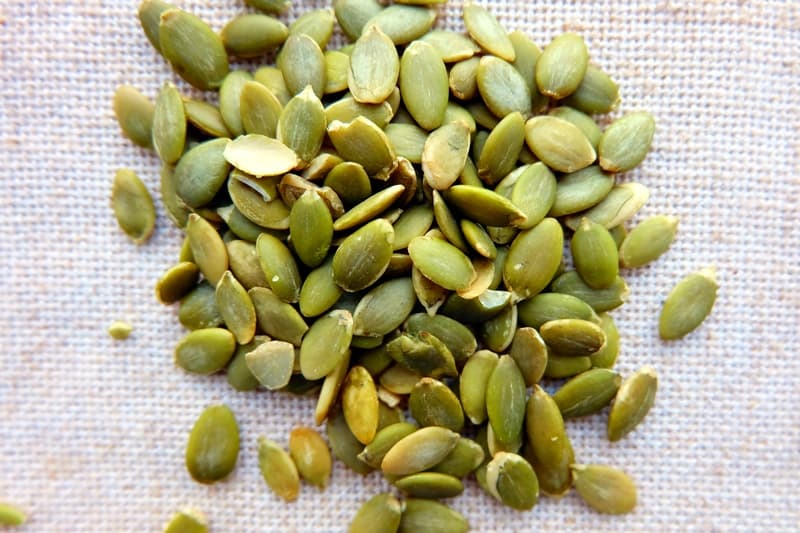 Austrian pumpkin seeds are grown organically in Austria, in the region of Styria. The Styrian pumpkin variety are grown for their hulless seeds alone, while the pumpkin pulp is used as fertilizer on the fields.
The seeds are also made into oil and make a popular foodie gift to bring back from an Austrian visit.
Pumpkin seed bread benefits
Austrian pumpkin seeds contain many valuable nutrients, including polyunsaturated fatty acids, vitamin B1, B2, B6 and numerous minerals such as iron, calcium and magnesium. Most notably they contain phytosterol. Several studies show that phytosterol helps with prostate and bladder conditions. 
Healthy pumpkin seed bread recipe
I use both wheat and a small amount of wholewheat flour in this pumpkin seed loaf recipe. Maize flour is added to give the bread a slightly yellow colour, a picturesque contrast to the green of the pumpkin seeds.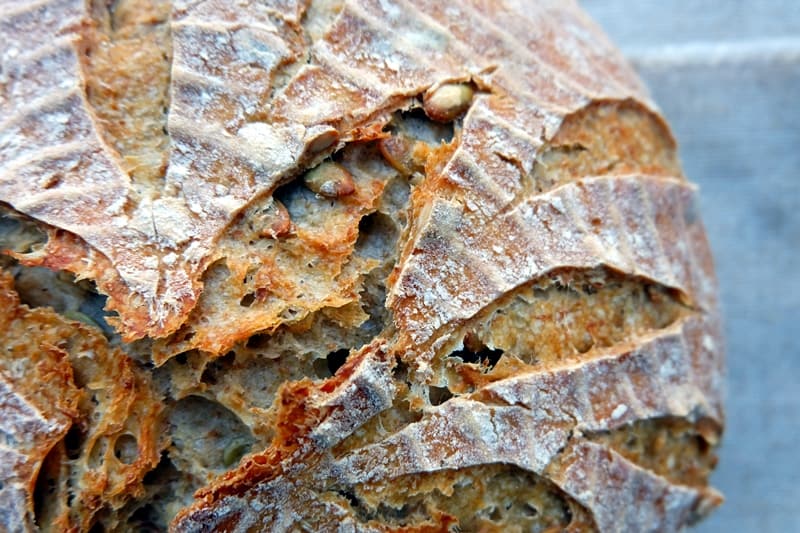 Pumpkin Seed Bread Recipe
This delicious pumpkin seed bread recipe is a winner for any occasion. Delicious for breakfast with butter and jam, for a savoury platter of cold cuts and cheeses, or for dipping into your favourite soup.
Ingredients
Sourdough ingredients (Day 1)
50

g

wheat sourdough starter

130

g

wholewheat flour

50

g

strong white bread flour

130

g

water
Main dough ingredients (Day 2)
343

g

sourdough

475

g

strong white bread flour

115

g

maize flour

11

g

salt

345

g

water

85

g

Austrian pumpkin seeds
Instructions
How to make pumpkin seed bread
Prepare the sourdough on day 1 by combining the sourdough ingredients in a medium bowl. Mix well, cover and leave to rest at room temperature for around 12 hours.

On day 2, dry-roast the Austrian pumpkin seeds in a frying pan until they start to pop and smell nutty.

Combine 310g of the sourdough starter (the rest goes back into the fridge for future bakes) and the main dough ingredients - with the exception of the pumpkin seeds - in a large bowl.

Knead for about 10 minutes, then add the pumpkin seeds.

Work in the seeds until evenly distributed.

Place the dough back into the bowl, cover and leave to rest for an hour or two until the dough has risen visibly.

Punch down the dough, shape into a round, flour the surface and place face-down into a pre-floured proving basket.

Preheat the oven to 220°C half an hour before baking. If you use a La Cloche baking dome, preheat this in the oven from cold.

Once fully proved (after several hours in my kitchen but this will depend on the temperature in your room), turn out the bread from the proving basket onto the hot La Cloche plate.

Put the La Cloche cover back on and bake for 10 minutes at 220°C, then turn down the heat to 190°C for another 40 minutes. Take off the La Cloche for the last 10 to 15 minutes.

Cool on a wire rack.