Very happy with this month's #TwelveLoaves theme as I LOVE crispbreads. Wonderfully practical for snacking, they keep for a long time and are light, thin and snappy! I find rye-based crisp breads particularly tasty, so I've opted to make a rye crispbread recipe which is both full of flavour and easy to prepare.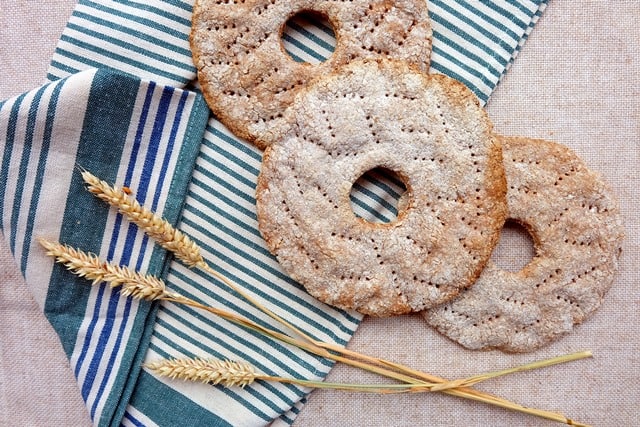 If you are new to baking crispbreads at home, you'll find that they are no bother at all and it's easy to achieve an interesting artisan look and feel. I also like the fact that these long-life breads and primitive convenience foods of the past have reinvented themselves as a tasty modern snack.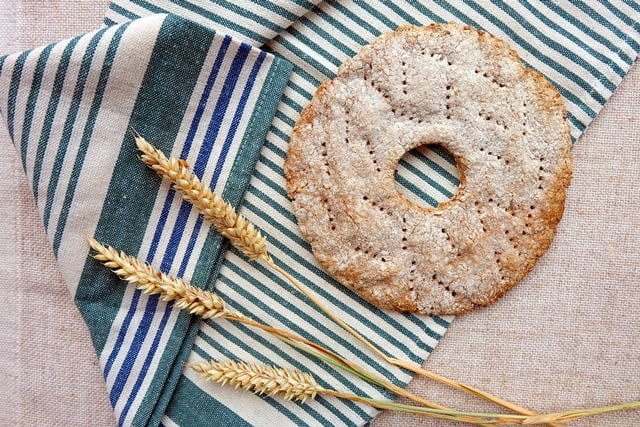 Rye crispbread recipe
Baking crispbreads tends to work better with less glutinous flours such as rye, oat or barley flour as a light, aerated crumb structure is not desirable. On the other hand, using a tiny amount of dried yeast in the sponge helps to lift the texture and improve the structure to ensure the crispbreads are not too dense.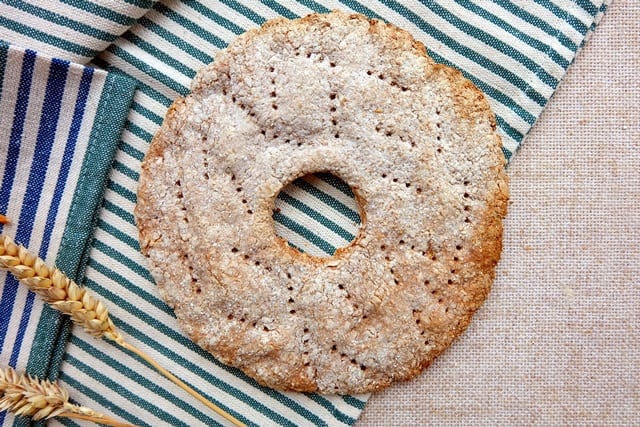 This crispbread recipe uses mainly rye four and I've also mixed in a little bit of oat flour. However, feel free to experiment with any combination of low gluten flours.
Prepare the yeasted sponge of this rye crispbread recipe a day before you bake. Although the recipe uses dried yeast, it's easy to make a sourdough version of this crispbread by swapping the yeast for sourdough starter.
Sponge (Day 1)
1g dried yeast
150g water
100g dark rye flour
50g oat flour
Combine the sponge ingredients in a bowl, cover with a lid and keep at room temperature for approximately 16 hours. For a sourdough version of this recipe, simple replace the dried yeast with 10g of sourdough starter. All other steps can remain the same.
Final Dough (Day 2)
125g dark rye flour
50g oat flour
5g salt
10g olive oil
85g water
Some more flour for dusting: use rice flour for a nice smooth effect
How to make rye crispbreads
Combine the sponge from day 1 and the final dough ingredients in a large bowl and mix well.
Cover the bowl with a lid and rest for about an hour.
Divide the dough into 6 equal pieces.
On a lightly floured surface, shape the pieces into balls.
Lightly dust the dough balls, cover with a tea towel and rest for 10 minutes.
With lightly floured hands, shape each piece into a round flat bread (3 mm thick). Alternatively, use a notched rolling pin which automatically scores the breads, preventing them from rising during the back. Please note that you can then omit step 8 if you use a notched rolling pin.
Place the pieces on a baking tray lined with baking paper.
Using a fork, prick the tops of the breads (this will have a nice decorative effect and will also prevent the dough from creating air pockets during baking).
Using a shot glass, cut a hole out of the centre of each dough round. Traditionally, these rye crispbreads were made in large batches only a few times a year, then hung on poles or cords high up near the ceiling to dry, crisp and store them. It's useful to do this if you intend storing them around a pole or hang them on a cord to dry. Shape another little crispbread out of the dough cuttings to avoid wastage.
Rest for 1 hour.
Place in a preheated oven at 210°C and bake for about 20 minutes until almost completely dried out.
Remove and cool on a rack.
Serve with any number of accompaniments. Try them with marinated herring, cured salmon and beet and dill salad.
If you like this rye crispbread recipe, you might also want to explore this traditional South Tyrolean Schüttelbrot recipe.
More crispbread recipes
#TwelveLoaves is a monthly bread baking party created by Lora from Cake Duchess and runs smoothly with the help of Heather of All Roads Lead to the Kitchen, and the rest of our fabulous bakers.
Our host this month is Camilla from Culinary Aventures with Camilla, and our theme is Crackers, Crisps, and Flatbreads. For more bread recipes, visit the #TwelveLoaves Pinterest board, or check out last month's mouthwatering selection of #TwelveLoaves enter last month's #TwelveLoaves Seeded Breads!
If you'd like to bake along with us this month, share your Crackers, Crisps, and Flatbreads using hashtag #TwelveLoaves!