Bagels are exciting; not only because of their unique taste but also because the baking process involves boiling the bagels before baking them. It's this process that creates the wonderfully chewy interior crumb while leaving the outside browned, crisp and shiny.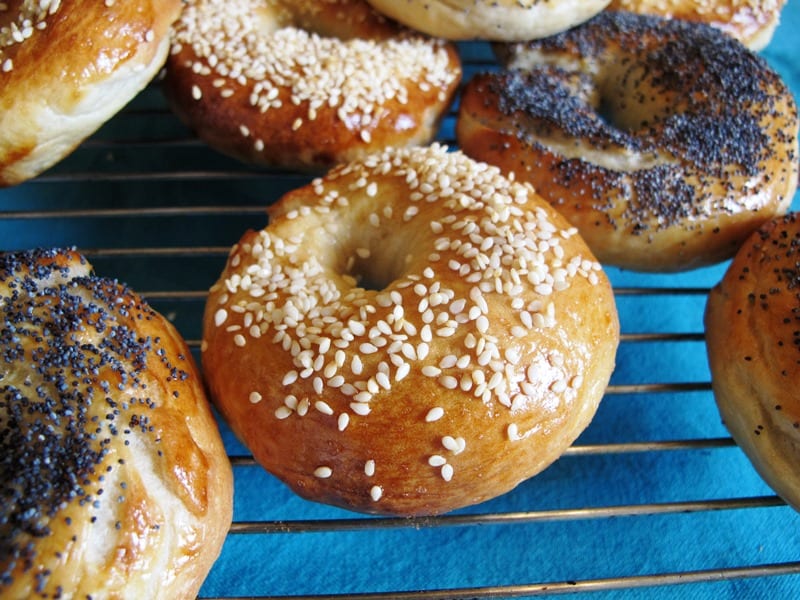 There are two different shaping methods –
'Rope and loop': Makes a rounder bagel and the overlap of the rope ends makes it unmistakably homemade
'Stretch and poke': Better looking and no danger of the loop opening up when boiling
Ingredients (yeast version) – 6 bagels
7g dry yeast
350g strong high-protein bread flour (around 14% protein is good, I used Marriages flour (13.8%))
150g wholemeal bread flour
275g lukewarm water
2 tbsp clear honey
10g salt
1 egg
Ingredients (sourdough version) – 6 bagels
200g sourdough starter
300g strong high-protein bread flour (see description above)
75g wholemeal bread flour
75g light rye flour
135g lukewarm water
2 tbsp clear honey
10g salt
1 egg
Toppings:
How to make bagels:
Combine all ingredients (except the egg) to form a firm dough – might need a little more water depending on the flours you use
Knead for 10 mins for a firm and elastic dough (wetter isn't better when it comes to bagels; the dough should be quite firm)
Slighltly oil a large bowl and also coat the dough with a little oil, place in the bowl and cover with cling film
Yeast version: rest for 1 hour or until it has doubled in size
Sourdough version: rest for 4 hours (this may vary depending on the 'ferociousness' of your starter and the room temperature)
Divide into 6 pieces
Shape each piece into a roll, then form a ring (these should be roughly hand-sized)
Link the crossed over ends with wet hands
Place on baking paper
Cover with a damp kitchen towel as you work
Yeast version: rest for 30 mins
Sourdough version: rest for 1-2 hours
Preheat the oven to 220°C (gas mark 7)
Boil a large pot of water
Lower to a gentle simmer and lower the bagels in approx. 3 at a time or as many as fit comfortably. They should be floating at the top.
Leave 1 min on 1 side, flip over to boil for another minute on the other side
2 mins each side makes a really chewy bagel
Remove and drain, don't use a paper kitchen towel as it will stick!
Place on a ligthly oiled baking sheet
Prepare some egg wash
Brush each bagel with egg wash and sprinkle on the seeds (see toppings above)
Bake for 10 – 15 mins until golden brown
Cool on a wire rack
You can store the bagels in an airtight container for up to 4 days. Best eaten fresh!!
Don't worry about larger holes in the crumb – they are perfect for trapping an extra bit of cream cheese!