Although vegetarian and vegan dishes have become much more common on Austrian restaurant menus, the Gemüsestrudel (vegetable strudel) has traditionally been one of the token veggie dish on many Gasthaus menus. Quite remarkably for Austrian Gemüsestrudel recipes however, these typically come with ham (!). Dairy products (curd cheese, crème fraiche, milk, cheese) are also heavily used in Austrian vegetable strudel recipes. I left the ham out of this version of my mum's vegetable strudel recipe, but you will see, it is still a far cry from a vegan recipe. It's delicious though, and all the hard work that goes into the preparation is definitely worth it!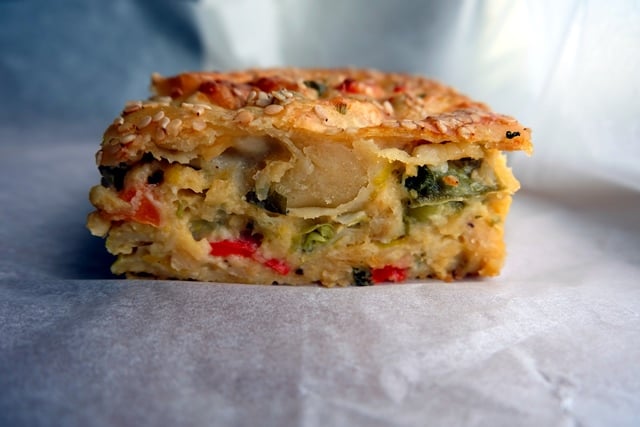 Austrian Vegetable Strudel Recipe
This vegetable strudel recipe can perhaps be more accurately described as vegetable-cheese strudel as cheese and other dairy products including curd cheese feature heavily in the filling.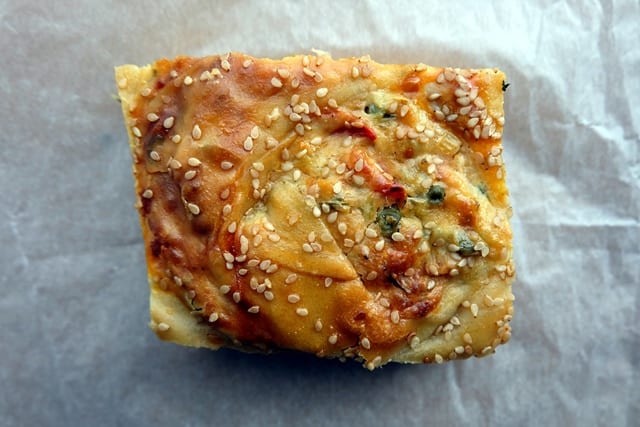 As the strudel dough needs to be rolled out quite thinly, it's advisable to use a very large soft linen cloth (Strudeltuch e.g. 120 x 100 cm) or otherwise a large cotton kitchen towel to roll out the dough and assemble the strudel. This makes it much easier to transfer the dough to the baking tray.
The vegetable strudel recipe below is made with homemade Strudel-dough, but if you are short in time, you can use shop-bought puff pastry or filo pastry.
Any leftovers can easily be frozen.
Savoury vegetable strudel recipe
A deliciously cheesy vegetable strudel, as per an Austrian recipe from my mum. Put together your own vegetable mix based on your preferred veggies or based on seasons. Spring Strudel (Kohlrabi, cauliflower, asparagus, broccoli, spinach, wild garlic, leeks), Summer Strudel (mushrooms, beans, tomatoes, courgettes, fennel, peppers, aubergines, peas, sweet corn), Autumn Strudel (pumpkin, cabbage, root vegetables, potatoes), Winter Strudel (carrots, cabbage, Brussels sprouts, shallots).
Ingredients
Strudel Dough Ingredients
250

g

plain flour

1

tbsp

olive or rapeseed oil

125

g

water

lukewarm - this will help with dough elasticity

1/2

tsp

salt
Béchamel Sauce Ingredients
40

g

butter

1

onion

finely chopped

40

g

plain flour

250

g

milk

1/2

tsp

nutmeg

ground
Filling
200

g

curd cheese

full fat

125

g

crème fraîche

2

egg yolks

250

g

mature cheddar or other flavoursome hard cheese (in Austria I would use Bergkäse)

grated

4

tbsp

fresh herbs

mix of parsley, thyme, oregano, rosemary, marjoram, basil, dill, fennel etc. whatever you fancy or you have to hand

100

g

oats

2

egg whites

1

tsp

corn starch or potato starch

300

g

potatoes

1

green or red pepper

2

garlic cloves

1

carrot

1

small

leek

50

g

frozen peas

50

g

frozen sweet corn kernels

Salt & freshly ground pepper to taste
Topping
25

g

butter

melted

Sesame seeds
Instructions
Prepare the vegetables for the filling
Boil 300g potatoes and mash them. If you prefer a finer texture, you can also use a potato ricer to process the boiled potatoes.

Cut the pepper and the carrot into small cubes, mince the garlic and thinly slice the leek. Using a knob of butter, fry these vegetables for around 10 minutes. Briefly simmer the frozen peas and frozen sweetcorn kernels, then strain well and add to the fried vegetable mix. The vegetables should retain 'bite' and not be overcooked. Altogether, you should use about 500g of vegetables (fresh and frozen). Make sure there is no excess liquid left in the vegetable mixture by the time you set it aside to cool.
Prepare the Béchamel Sauce
Start by placing the butter in a pot to heat up, then add the diced onions.

Fry for a few minutes - don't let the onions brown.

Add the flour and stir thoroughly for a minute.

Add the milk and nutmeg and continue stirring until the sauce has thickened.

Take away from the heat and leave to cool.
Prepare the dough
Combine the dough ingredients in a medium bowl and mix together. I do this with my hands.

Knead well until you have a formed a smooth dough. Don't be tempted to add any more water to the dough. It will come together well, just give it some time.

Shape dough into a ball, brush with a little oil, place back in the bowl and cover the bowl.

Leave to rest for 30 minutes at room temperature. This helps the dough structure to relax and makes it easier to roll/shape later on.
Prepare the filling
In a large bowl, combine the cooled Béchamel Sauce, curd cheese, crème fraîche, egg yolks, grated cheese, herbs and oats. Mix well.

Add the vegetable mixture and mashed potatoes and mix well. Season to taste with salt and pepper.

In a smaller bowl, combine the egg whites and starch and whip until stiff.

Carefully fold the stiff egg whites into the remaining filling. The filling should not be wet so it doesn't soak through the dough while you assemble the strudel.
Shape the dough
Preheat the oven to 175℃.

Flour your work surface (ideally a large linen or cotton kitchen towel) and use your hands to form the dough ball into an even rectangle.

Flour the dough rectangle to prevent it from sticking and - using a rolling pin - take care to roll out the dough into a bigger rectangle.

Line a suitably big baking tray with baking paper.
Assemble the Strudel
Distribute the filling across two thirds of the strudel dough, leaving at least 1 cm around the edges free.

Brush the final third with butter.

Fold in the sides of the dough slightly over the filling to seal the sides.

Roll into a strudel and carefully seal all the ends. If you are using the linen or cotton towel, the rolling can be done just by lifting the towel to roll the dough.

Place seam-side down onto the baking tray. Again, this process is easier if you are using the cloth, as you can lift the strudel much more easily like this and carefully roll it onto the baking tray.

Brush with the egg and sprinkle with sesame seeds.
Bake & serve
Bake for 30 to 40 minutes until golden brown.

Serve warm with a side salad.
Notes
Add variety to your vegetable strudel by adding ground spices such as caraway, paprika, cayenne pepper or chili flakes. You can also add seeds such as sunflower and pumpkin seeds or boiled grains (e.g. rye grains or millet) into the strudel filling if you like. Make sure the grains are no longer wet before you add them.a
Serve with a crisp side salad.