Making homemade baked beans from scratch is absolutely worth the effort. Try my recipe for a stunningly colourful and flavoursome weekend brunch. I promise, you will never want to go back to the shop-bought variety of baked beans again!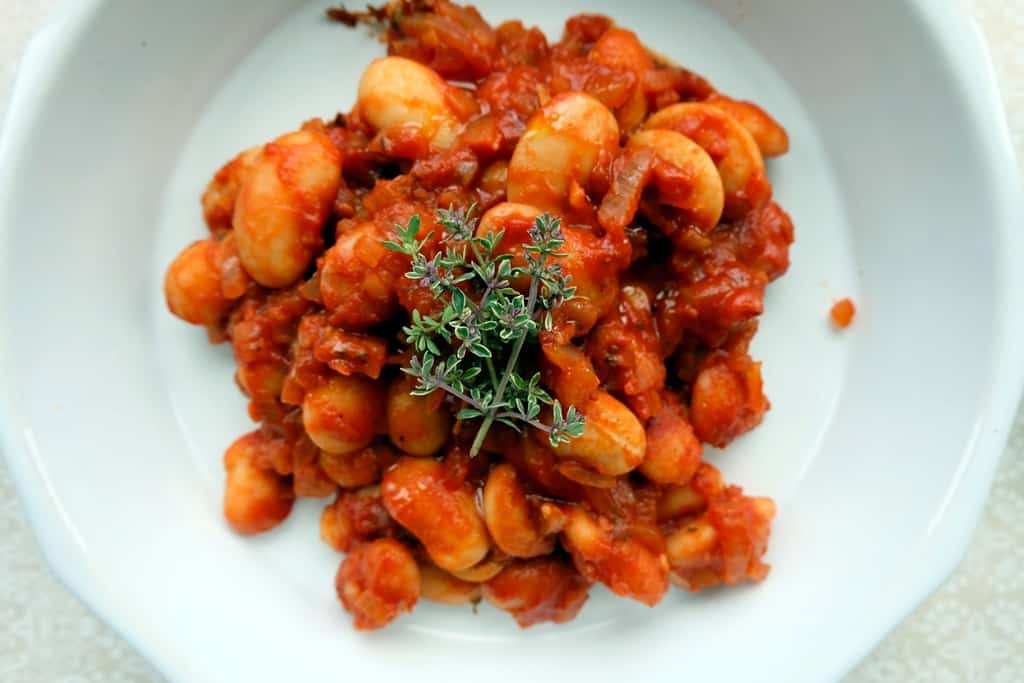 Vegetarian homemade baked beans from scratch
A beautiful vegetarian recipe for homemade baked beans. Your efforts will be rewarded with the rich taste of the tomato sauce, balanced with the wonderfully textured beans.
Homemade baked beans ingredients
180g dried white beans, such as butter, haricot or cannellini (you can use a mix of beans)
2 tbsp rapeseed oil
100g white onions, chopped
2 garlic cloves, grated
200g passata (use passata maker if using fresh tomatoes)
2 tbsp tomato purée
1 tsp smoked paprika
75g red wine vinegar
250g water
Salt and pepper to taste
A few sprigs of thyme (optional)
How to make baked beans from scratch
Day 1
Cover the white beans in cold water and soak overnight.
Day 2
After the beans have soaked overnight, drain them and put them in a large saucepan. Cover them with plenty water and bring to the boil. Reduce the heat and simmer, uncovered, for about 1 hour until the beans are just tender. Top up with more boiling water if required.
Drain the beans and set aside.
Heat the rapeseed oil in a large saucepan over a medium heat.
Add the onion and garlic to the pan and stir for a few minutes until the onion is softened.
Add the passata, tomato purée, smoked paprika, vinegar and water and bring to the boil.
Season with salt and pepper and add the thyme if using.
Add the beans, then reduce the heat and simmer, uncovered, for an hour or so until the sauce has thickened.
Serve while hot with freshly baked bread or homemade potato farls.