Lebkuchen are traditional German Christmas treats which are also popular in Austria and other European countries. Lebkuchen are sweet spiced biscuits made from ground nuts and/or flour depending on the recipe you use, honey and spices. Water or butter are used sparingly if at all. Due to the high sugar content in Lebkuchen, they keep well so you can make them in November and enjoy them all the way through December. Honey is the key element which binds the other ingredients in the dough together. Some Lebkuchen recipes call for up to 85% honey and sugar when compared to flour and ground nuts contents. There are lots of regional variations and some specialty Lebkuchen (Elisenlebkuchen from Nuremberg) are made entirely without flour, using only ground almonds and hazelnuts.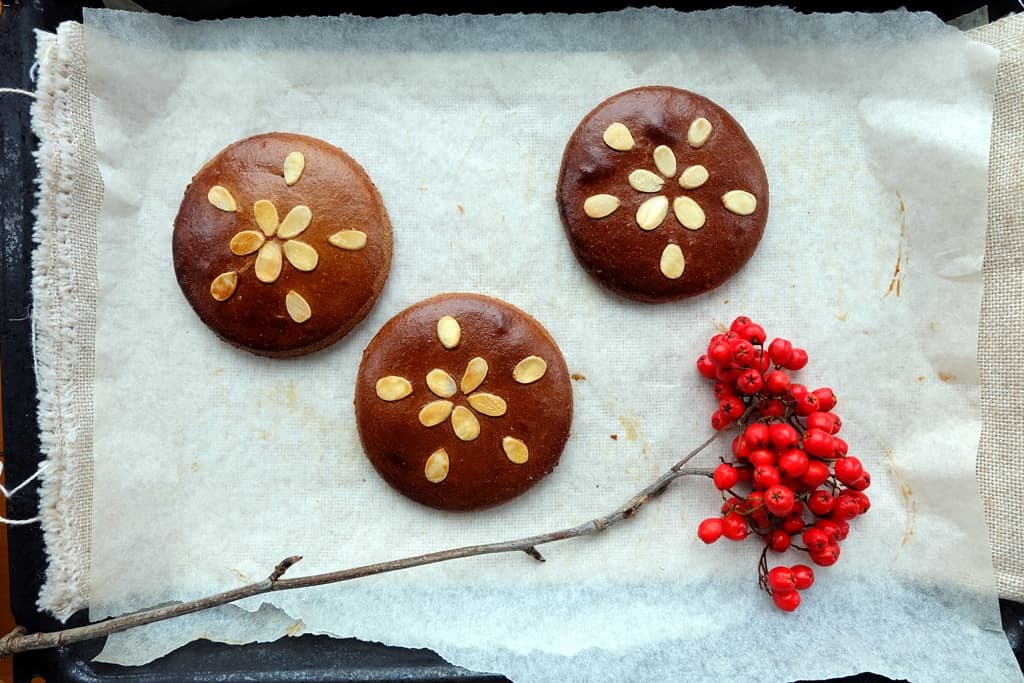 This post features a Lebkuchen recipe made primarily with rye flour. The recipe is quick, straightforward and authentic. The dough is beautifully versatile. You can use different cookie cutters for different shapes and decorate with nuts, white icing or a dark glossy chocolate sauce.
Authentic Lebkuchen
Before I jump into the Lebkuchen recipe, I put together a few essential Lebkuchen need-to-knows.
The Lebkuchen spices
Lebkuchengewürz is the Lebkuchen spice mix which typically includes ground cinnamon, cloves, allspice, ginger, cardamom and other ground spices. Make your own spice blend and adjust the spices you use to suit your taste. Here is my favourite spice combination.
Lebkuchen spice mix ingredients
30g ground cinnamon
9g ground cloves
2g ground allspice
2g ground ginger
2g ground cardamom
2g ground coriander
1g ground anise
1g ground nutmeg
1g ground mace
The Lebkuchen shape
Traditionally, Lebkuchen are large rounds of about 11 cm in diameter. There are also Lebkuchen hearts which are common at Christmas markets and fairs around the year are often inscribed with icing. Use whatever cookie cutters you have, but adjust the baking time accordingly as smaller biscuits will bake through more quickly.
The Lebkuchen tin
Once the Lebkuchen biscuits are baked, it's best to store them in a tin. I really like the Garden Trading biscuit tins but there are plenty of options available. You can add a piece of apple into the tin to store and keep the biscuits moist.
Authentic Lebkuchen recipe
This is a typical Lebkuchen recipe as we would make in Austria. Lebkuchen are also called Lebzelten in Austria. The key ingredients in this Lebkuchen recipe are rye flour, honey, ground almonds and the spice mix.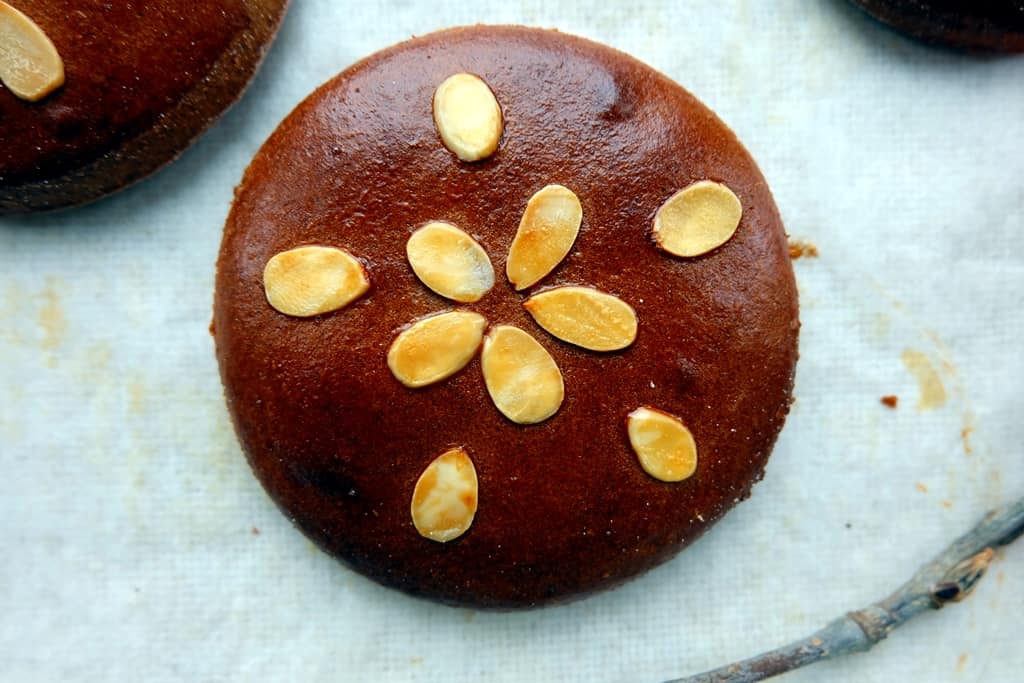 Traditional Lebkuchen Recipe
This is an authentic recipe for Lebkuchen, translated from German. My mum uses the recipe when she does our family's Christmas baking. The rye-based Lebkuchen recipe is super delicious and the Lebkuchen biscuits are wonderfully moist with a beautiful crumb.
Ingredients
Main dough
400

g

white rye flour

200

g

ground almonds

250

g

honey

175

g

brown sugar

2

eggs

1

tsp

bicarbonate of soda

30

g

Lebkuchen spices

see above
Lebkuchen topping
1

egg for brushing

Almond slices for decorating
Lebkuchen icing (optional)
3

egg whites

200

g

icing sugar

7

g

cornflour
Combine the above icing ingredients and whisk until creamy.
Instructions
Day 1
Combine the honey, sugar and eggs in a bowl and whisk vigorously.

Sieve the rye flour, ground almonds, bicarb of soda and spices into a bowl and whisk to mix well.

Add the honey, sugar and egg mixture to the dry ingredients to make a dough. It'll be sticky but shouldn't be too wet to handle.

Shape into a ball, place back into the bowl, cover and rest in the fridge overnight.
Day 2
On a floured work surface, use a lightly floured rolling pin to roll out the dough to 5mm thickness. Make sure you are able to move the dough at all times so it doesn't stick when you cut out the cookies.

Prepare a baking tray with baking paper.

Use your cookie cutters to cut out the biscuits and place on the baking tray. Make sure to leave a little space in between as they will expand in the oven. Repeat the process until you have no dough left.

Brush the dough shapes with egg wash and decorate with almonds slices.

Bake for 10 - 15 mins (depending on size) at 180°C.

Cool on a wire rack
Enjoy the Lebkuchen straight away or store in a tin. Serve with Glühwein, coffee or tea.