Time to try a new Moroccan recipe! I adore the flavours of Moroccan cooking – harissa and ras el hanout spices, the citrus tang of preserved lemons and wonderfully aromatic sweet and savoury ingredient combinations. When this month's Bread Bakers theme was announced as 'peppers', I decided to make a stuffed Moroccan flatbread recipe I'd been meaning to master for a while: msemen maamer. Thank you to our host Sue from Palatable Pastime!
Msemen flatbreads are folded, square-shaped dough parcels which can be either pan-fried or baked. Maamer means stuffed and I have chosen a vegetarian red pepper and onion filling.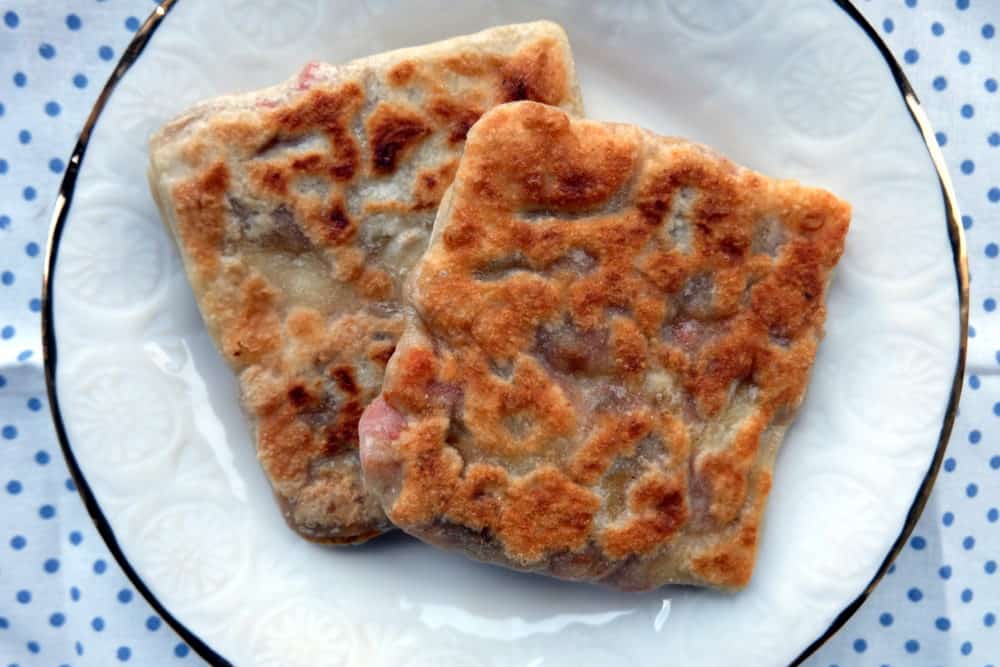 Msemen maamer recipe
The basic structure of this recipe comes from Moroccan food expert Christine Benlafquih although I used different spices for the filling and also prepared more filling than in the original recipe.
Making msemen maamer is a four stage process
Prepare the filling
Make the dough
Shape the dough parcels by stretching, filling and folding the dough
Fry the msemen maamer
A few tips upfront
The dough isn't stretched by rolling it with a rolling pin. Instead, you shape the dough with your hands.
No flour is used on the worktop or dough surface. Lightly oil the dough and dip your fingers into a bowl of oil frequently to avoid it sticking to the work surface or your hands.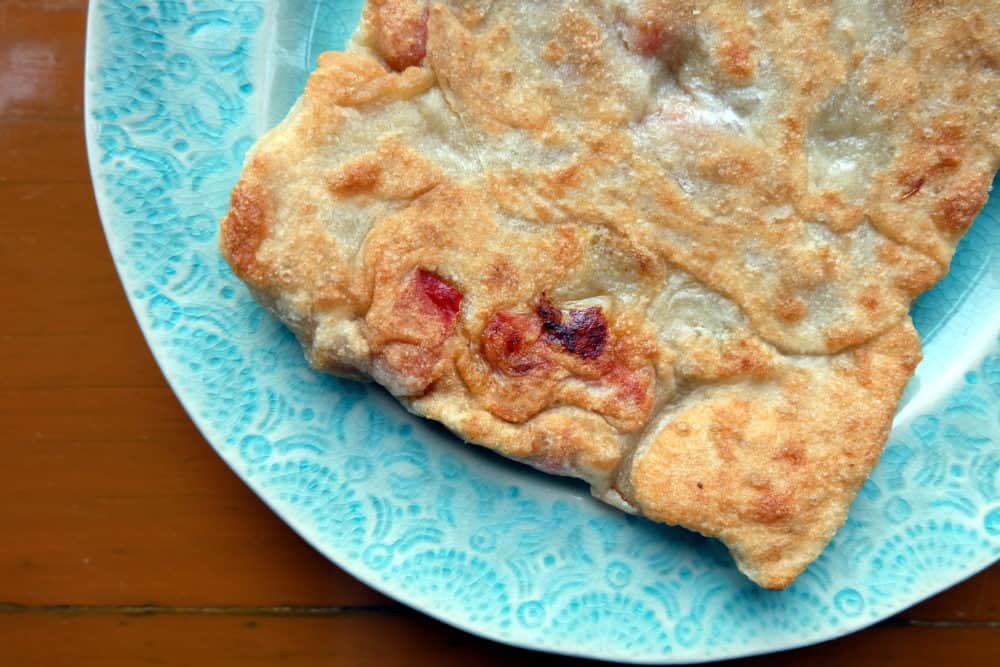 Msemen maamer ingredients
For the filling
2 tbsp olive oil
4 red peppers, finely chopped
2 onions, finely chopped
1 handful fresh parsley
2 tsp ras el hanout
1 tsp paprika powder
1/2 tsp cumin seeds
1/2 tsp salt
1/4 tsp black pepper
For the msemen dough
440g plain white wheat flour
90g semolina
2 tsp salt
1/2 tsp dried yeast
330g water
For folding and frying
200g vegetable oil (I used sunflower oil)
How to make msemen maamer
Prepare the filling
Heat the vegetable oil in a frying pan.
Sauté the red peppers and onions until tender.
Remove from the heat and add the parsley, ras el hanout, paprika, cumin seeds, salt and black pepper.
Make the dough
Combine the flour, semolina, salt, yeast and water in a bowl.
Knead for about 10 minutes to form a soft and pliable dough.
Get ready to make the msemen dough parcels
Prepare a little bowl with the vegetable oil you will need for folding and frying.
Oil your work surface or a baking sheet and also oil your hands and the outside of the dough.
Divide the dough into 8 -10 evenly sized balls and set aside. Brush a little oil on each dough ball to ensure they don't dry out and leave to rest for about 10 minutes.
While you wait divide the red pepper and onion filling into the same number of portions as you have balls of dough.
Shape, fold and fry
On a well-oiled surface and with well-oiled hands, pat the first dough ball into a flat circle. Then sweep and stretch the dough circle further to achieve a paper-thin circular shape.
Distribute 2/3 of one portion of filling across the surface of the dough.
Fold the dough into thirds like a letter.
Distribute the remaining 1/3 of the filling on top of the folded dough.
Fold the two open ends of the dough letter into the center to make a square.
Set aside and repeat with the other dough balls and filling portions.
Heat a non-stick frying pan over medium heat. You can use several pans simultaneously to help speed up the process.
Each msemen maamer now needs to be flattend with oiled hands until nearly double in size. Start with the dough parcel you folded first and in the order you prepared them in. Be careful to ensure that the stuffing doesn't break through the dough surface.
Fry the msemen maamer, turning several times, until golden brown.
Transfer the fried msemen to a wire rack.
Serve while still warm – best eaten on the same day.
---
Here's what the other #BreadBakers prepared
#BreadBakers is a group of bread loving bakers who get together once a month to bake bread with a common ingredient or theme. Follow our Pinterest board right here. Links are also updated each month on this home page.
We take turns hosting each month and choosing the theme/ingredient.
If you are a food blogger and would like to join us, just send Stacy an email with your blog URL to foodlustpeoplelove@gmail.com.