In anticipation of this year's autumn harvest and the delicious grapes my family grow at our old farm house in Austria, I've prepared a grape bread recipe to take advantage of the grapes' delicious sweetness in a celebratory loaf. I'm posting this recipe as part of this month's #BreadBakers get-together hosted by Mayuri's Jikoni.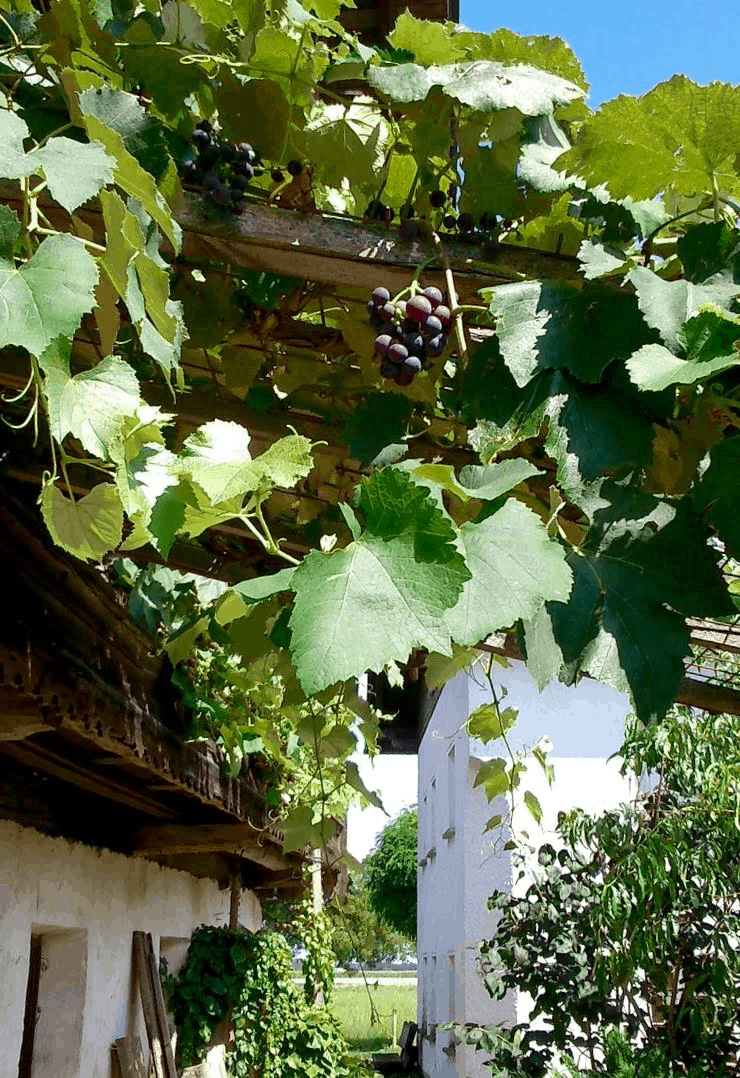 Grape Bread Recipe
My recipe is a wheat bread with 62.5% white and 37.5% wholemeal wheat flour at 62.5% hydration. Try to use end of harvest grapes for this bread to add a good level of sweetness. A big shout-out to Lutz at Plötzblog whose Nußdorfer Traubenbrot provided the recipe template for this bread.
Best eaten on the same day.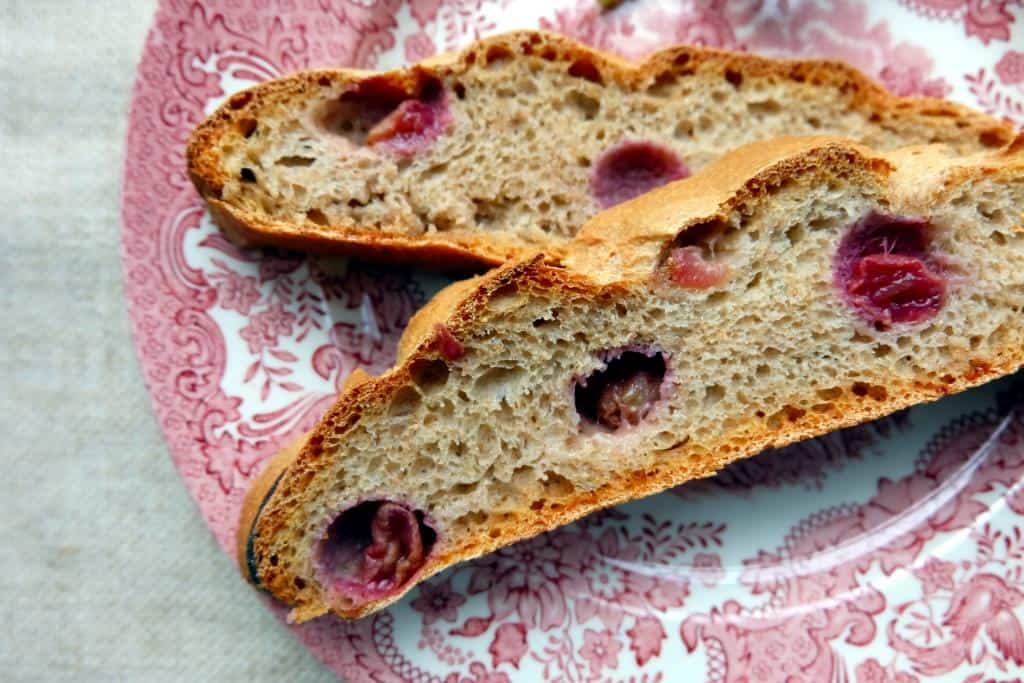 Ingredients
Poolish
200g strong white wheat flour
150g water
A pinch of dry yeast
Wholewheat Soaker
100g wholemeal wheat flour
100g water
Main Dough
50g strong white wheat flour
50g wholemeal wheat flour
3g dry yeast
5g rapeseed oil
7g salt
180g sweet red grapes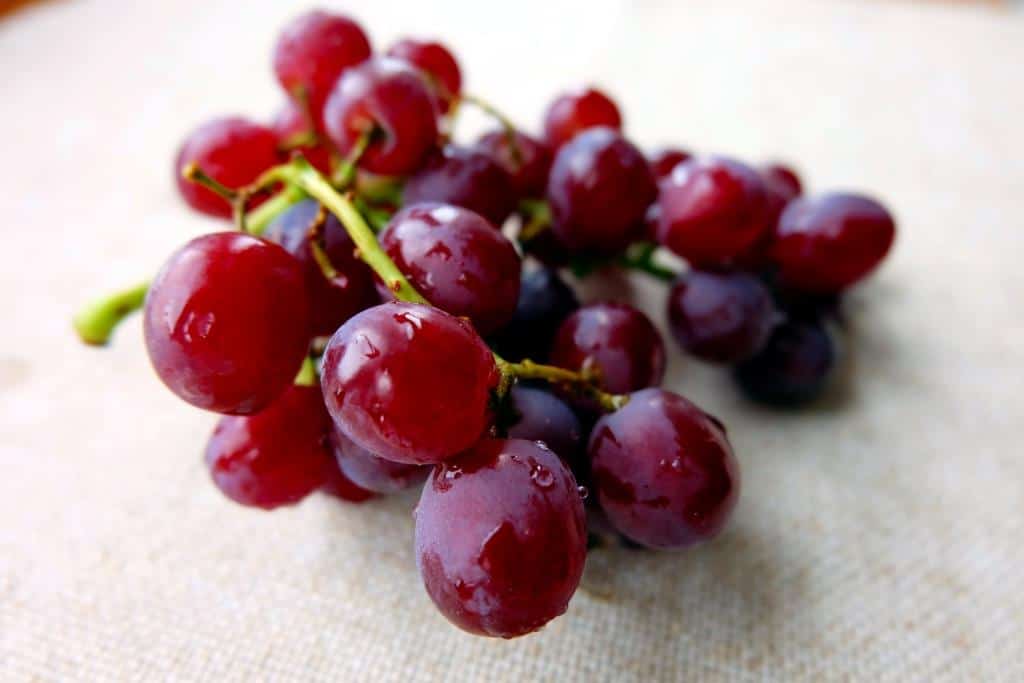 How to make grape bread
On day one, prepare the poolish. Combine the ingredients in a medium bowl, cover and leave to ripen at room temperature for 16 – 20 hours.
Prepare the soaker on day one as well. In a medium bowl, combine the wholemeal spelt flour and water. Cover and place in the fridge for 16- 20 hours.
On day two, combine all of the ingredients except for  itthe grapes (poolish and wholewheat soaker from day one, 50g strong white and 50g wholemeal wheat flour, 3g dry yeast, 5g rapeseed oil and 7g salt) and knead for 10 minutes.
Place back into a bowl and leave to rest at room temperature for two hours.
Knead the dough for a few seconds and work in the grapes. I managed to incorporate 180g of sweet red grapes, but feel free to use more if you can manage it.
Shape into a round flat loaf, place on a baking tray lined with baking paper, cover with a kitchen towel and prove for several hours.
Score with a knife.
Bake for 10 minutes at 230°C and a further 30 minutes at 210°C.
Cool on a wire rack.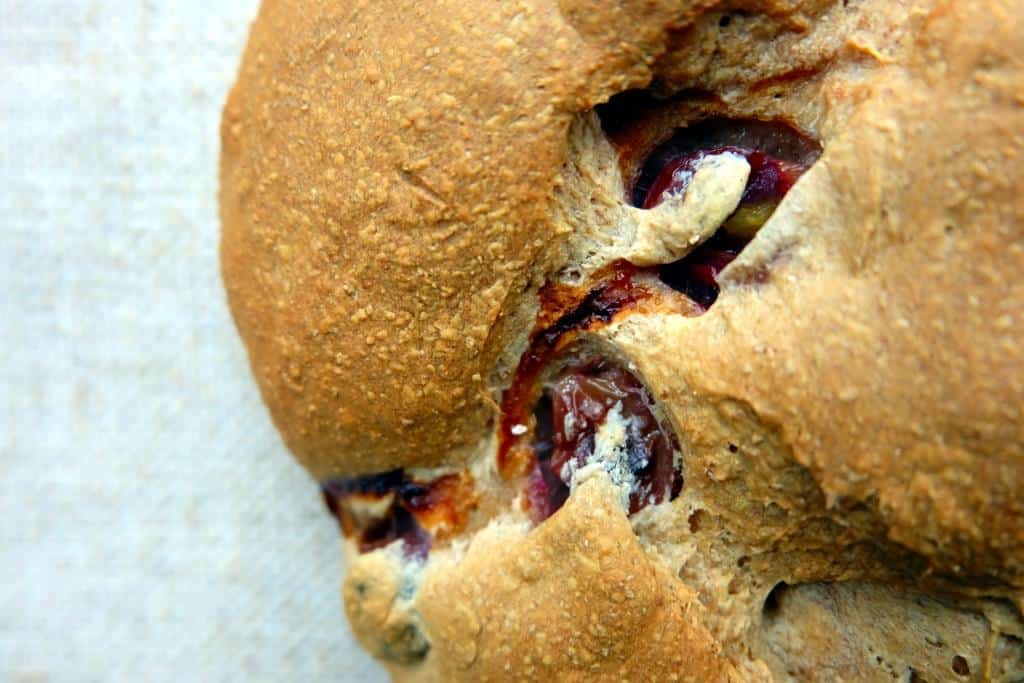 I'd also like to metion schiacciata con l'uva, a delicious harvest grape bread recipe from Tuscany in Italy. Schiacciata con l'uva is a flatbread filled and topped with harvest grapes. Use Andrew Whitley's schiacciata recipe in Bread Matters – it's another great addition to a harvest feast dinner table.
Here are this month's breads from my fellow #BreadBakers:
#BreadBakers is a group of bread loving bakers who get together once a month to bake bread with a common ingredient or theme. Follow our Pinterest board right here. Links are also updated each month on this home page.
We take turns hosting each month and choosing the theme/ingredient.