Poppy seeds feature frequently in Austrian baking. Sprinkled on top of bread rolls, mixed into multi-seed wholemeal loaves or swirled up in sweet dessert bakes, they add a wonderful contrast colour, very distinctive earthy flavour and are fun to bake with. Here, I'm showcasing the delightful Mohnstrudel (poppy seed strudel) as one of my favourite poppy seed bakes.
In Austria, poppy seeds are used for both sweet (Mohnschnecken, Mohntorte, Mohnnudeln, Germknödel) and savoury (Mohnflesserl, Mohnstangerl, Mohnsemmel) bakes. They are even grown locally, so if you should ever find yourself in the Waldviertel region of Austria, you can visit Mohndorf, a village build around Waldviertler Graumohn (a variety of breadseed poppy papaver somniferum).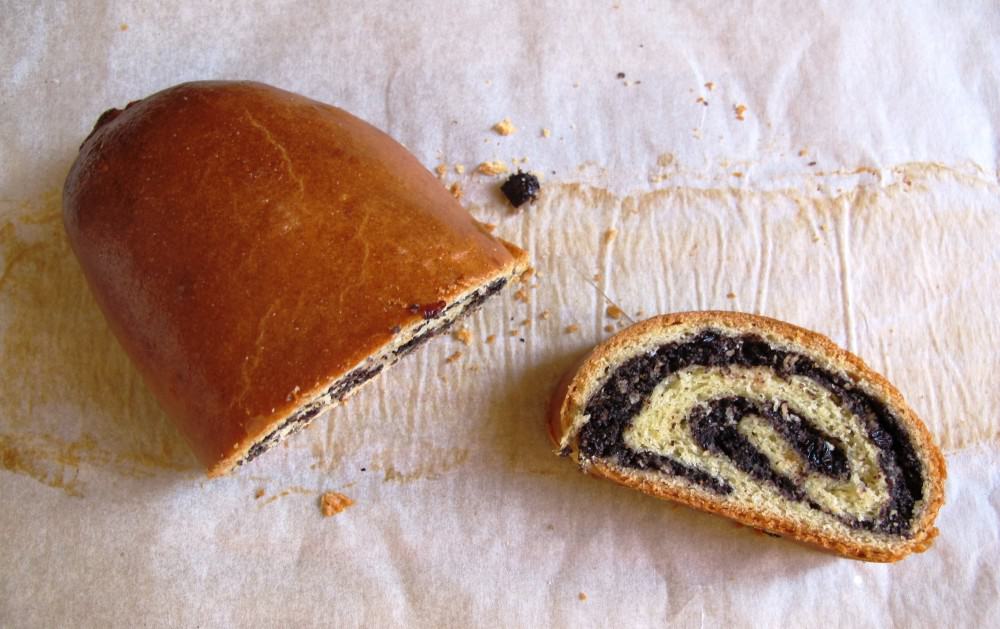 Mohnstrudel Recipe
The recipe requires the poppy seeds to be ground as this will make for a much smoother filling and will also allow the seeds to release their oils and flavour. Unfortunately, you will not be able to use a food processor or pestle and mortar to grind the seeds and you will need to employ the help of your coffee grinder instead.
"The trick to grinding poppy seeds for desserts is to do so just enough to break them open, releasing their oils, while letting them hang on to traces of their crisp contours." Kay Rentschler, NY Times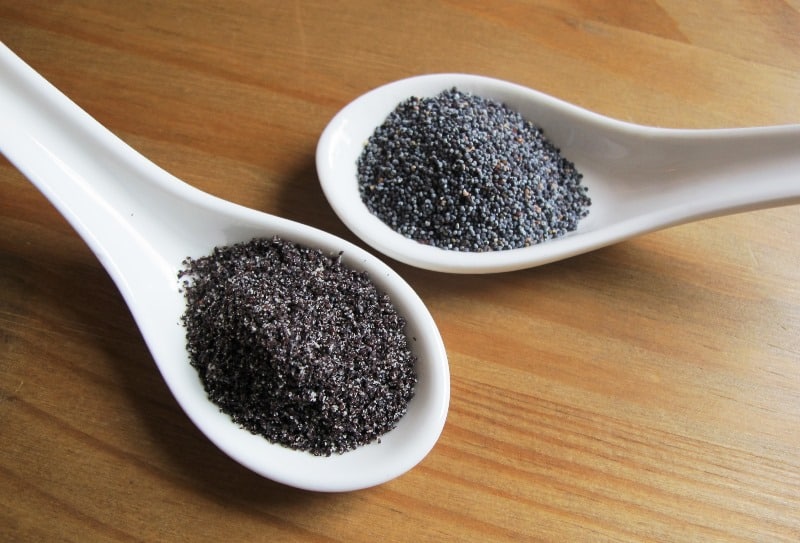 Mohnstrudel Recipe
Delicious poppy seed roll, one of my favourite Austrian teatime recipes.
Ingredients
Ingredients (makes one Mohnstrudel)
Dough
50

g

unsalted butter

softened

85

g

milk

at room temperature

5

g

dried instant yeast

15

g

white caster sugar

1

egg yolk

200

g

flour

1

tiny pinch of salt

Zest of 1/2 lemon
Poppy Seed Filling
30

g

water

20

g

unsalted butter

50

g

honey or brown caster sugar

25

g

Powidl

similar to thick plum jam

1

pinch

of ground cloves or cinnamon

20

g

ground porridge oats

100

g 

poppy seeds

ground

25

g 

currants

I prefer currants to raisins as they are smaller, harder and not as sweet, which works well for this delicate bake

1

tsp

dark rum

I used Austrian Stroh rum at 80%
Instructions
How to make Mohnstrudel
Combine butter, milk, the dried yeast, sugar and egg yolk in a medium bowl and mix together with a whisk.

Add the flour, salt and lemon zest and use your hands to work the ingredients into a pliable dough. The dough should not be stiff but also not too sticky. It should be nice and soft and easy to shape. Knead for 5 minutes.

Place a cover on the bowl with the dough. Keep at room temperature/in a wam place until the volume of the dough has expanded sufficiently.

Prepare the filling about 15 mins before your dough is ready to be shaped.

To do this, add the water, butter, honey (or sugar), Powidl, ground cloves (or cinnamon) into a pan, heat up until it starts bubbling up.

Take the pan off the heat and add the ground porridge oats, poppy seeds, currants and rum and combine well.

Now back to the dough which should have almost doubled in volume by now. On a slightly floured surface, roll out the dough into a 30 x 20 cm rectangle. Use your dough scraper to chop some of the protruding edges off in order to get to the rectangular shape.

Distribute the filling evenly across the dough rectangle, leaving 0.5 cm around the edges free.

Roll up the dough lengthwise. Make sure that no air bubbles get trapped as you do this. Try not to add more length to the Strudel as you roll it up, it should still end up being 30 cm long.

Place the Strudel seam side down onto a baking tray lined with baking paper. Flatten it slightly in order to achieve a more oval than round shape without lengthening it.

Cover with a kitchen towel and leave to rest for approx. 1 hour (depending on the temperature in your room).

Preheat the oven to 180°C.

Just before the bake, brush the Strudel with egg wash.

Bake for 30 minutes or so on the second lowest shelf of your oven, until golden brown.

Cool slightly before serving.
Mohnstrudel Recipe for #TwelveLoaves
#TwelveLoaves is a monthly bread baking party created by Lora from Cake Duchess and runs smoothly with the help of Heather of girlichef, and the rest of our fabulous bakers.
Our host this month is Lora from Cake Duchess and our theme is Seeds. For more bread recipes, visit the #TwelveLoaves Pinterest board, or check out last month's selection of #TwelveLoaves Malt Breads!
For more bread recipes, visit the #TwelveLoaves Pinterest board, or check out last month's selection of #TwelveLoaves Malt Breads!
If you'd like to bake along with us this month, share your Seed Bread using hashtag #TwelveLoaves!